You could be forgiven for thinking we are on an 'anti crapware' crusade this week, what with Marc's excellent How do you handle crapware article, my recent experience installing ImgBurn, and now this article, it certainly seems that way. The truth is, it's all purely coincidental. It is, however, maybe a sign of the times… the way things are going with all this crapware constantly foisted upon us with almost every software installation, it was probably inevitable and is certainly topical.
Everyone here at DCT deplores the worsening situation involving software installations and bundling, and I suspect we are not Robinson Crusoe. Seems developers and vendors are bent on expanding this practice, and they aren't averse to drawing from the sneaky tactics department either.
I first came across Unchecky a few weeks ago and my immediate reaction was… what a great concept! I've lost count of the number of times I've queried clients about toolbars installed on their machines and they've had no idea what it does or where it came from. This is just the sort of situation Unchecky is designed to help prevent.
Unchecky – The software
Firstly, to avoid any confusion, it should be noted that Unchecky does NOT get rid of crapware which has already been installed on the system, it is specifically designed as a preventative measure.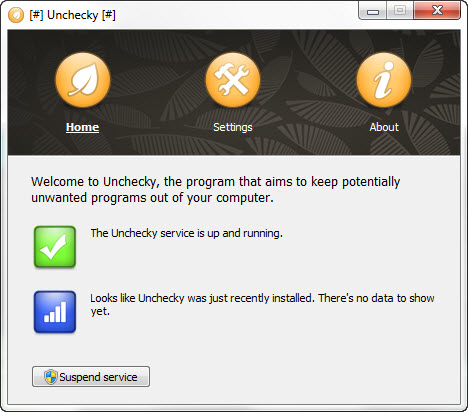 Unchecks – Unchecky automatically unchecks unrelated offers, both saving you mouse clicks and making it less likely to miss a checkbox of an unwanted offer.

Warns – Installers often try to sneak additional programs as a natural part of the installation. Unchecky warns you when you try to accept a potentially unwanted offer, which makes it less likely to be accepted accidentally.
Unchecky – Download and usage
Everything about Unchecky yells simplicity; from the tiny 675KB download through to the minimalistic interface. There is nothing to configure, no settings as such. As the final installation message indicates, just leave Unchecky running in the background and it will simply do its thing: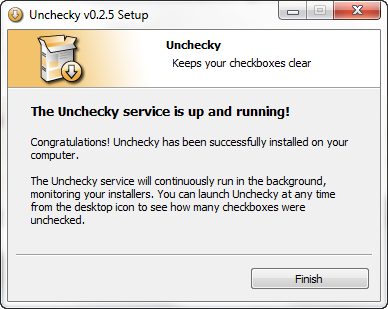 And that 'thing' is preventing unwanted extras from being inadvertently installed on your machine. I tested Unchecky with 5 products renowned for bundling and it worked perfectly with all five, although not always in the exact same manner… more on that later. Out of the five, I chose the popular uTorrent as an example, because it involves no less than three separate 'offers'.
Unchecky in action
The following screenshots show each offer without Unchecky followed immediately by the same screen with Unchecky enabled: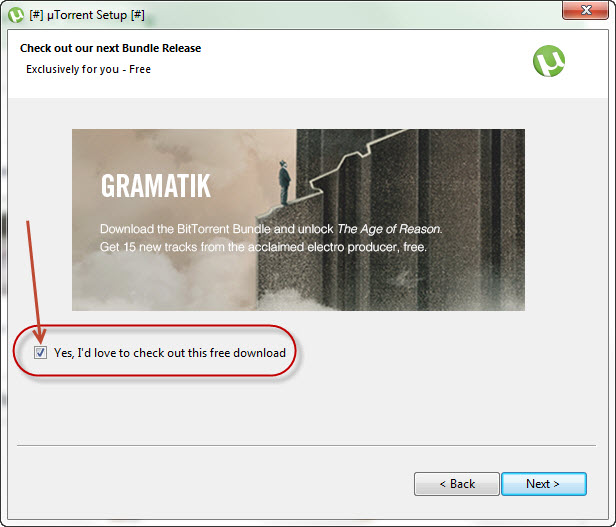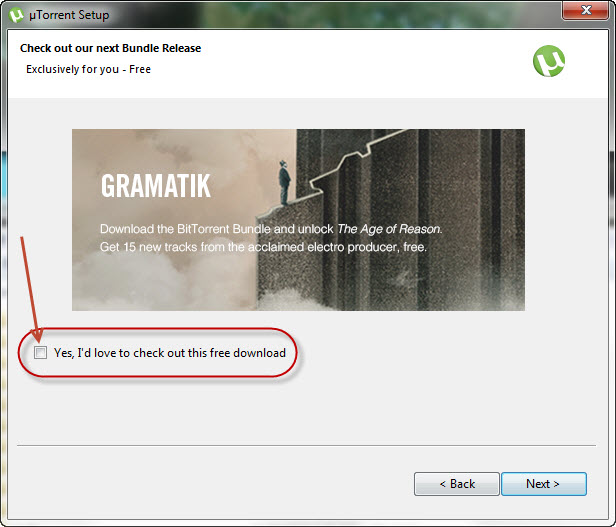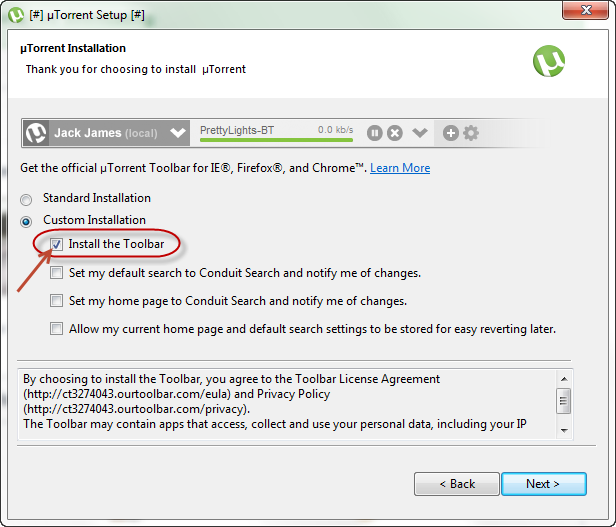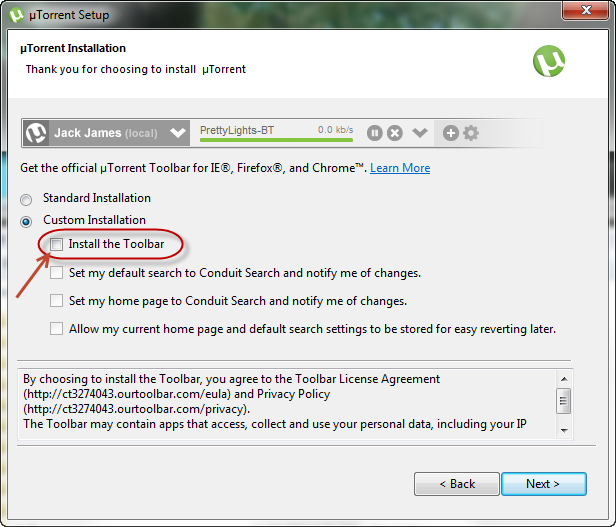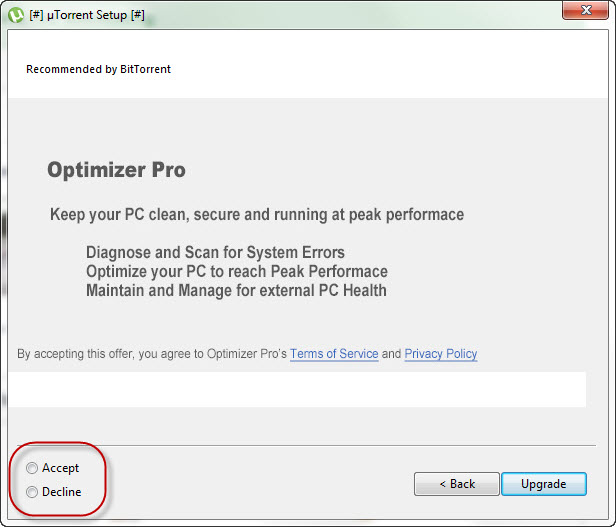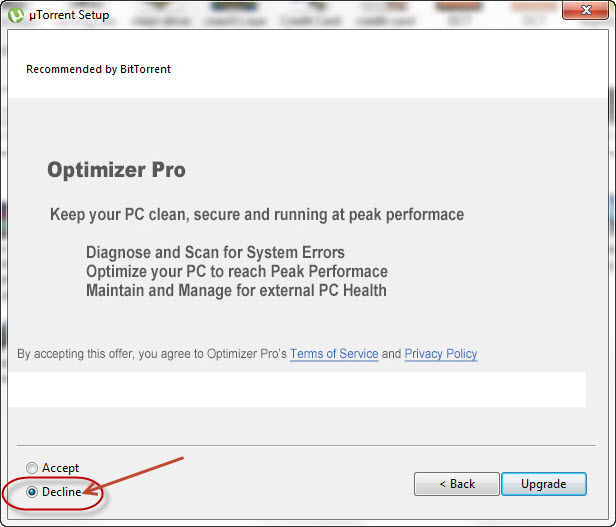 And if a program attempts to install additional crapware surreptitiously, Unchecky pops up with a warning which also includes a decline option:

To further demonstrate Unchecky's effectiveness here is a neat little video created by the developer:
Bottom Line
Testing Unchecky not only confirmed that it is indeed a great concept but that it also works very effectively in practice. I, for one, am going to be installing Unchecky on ALL my clients' machines. If you're one of the many who have been plagued by unwanted toolbars and the like, I strongly suggest you also take a good hard look at Unchecky.
PLEASE NOTE
*Unchecky is still in Beta stage, which means the software is still undergoing refinements. However, I experienced zero issues during testing on my Windows 7 64-bit system.
*I mentioned earlier how Unchecky doesn't always handle crapware in the same fashion; I found that in some instances Unchecky did actually uncheck boxes, as in the uTorrent example. But, in other instances, Unchecky completely removed all reference to the additional bundling/offers. In the case of ImgBurn, for example, which comes bundled with Search Protect and TuneUp Utilities, there was no mention of either during the installation process. In those instances, a post installation check confirmed that zero additional software had been installed on my system… all good!
*Lastly; although it can certainly be a great help, do not make the mistake of relying solely on Unchecky to prevent all unwanted crapware 100% of the time… there is still no substitute for vigilance and caution.