Winners Announced!
[message type="info"]
Ashampoo Backup Pro 11 Giveaway Contest!
Mike McCabe
Jouba Zaic
Mehdi Shishegar
Charles Taylor
Stephen Kimball
Dermot Gordon
Jim Colley
Bob Gilson
Gdant John
Marjorie Sovec
This contest has now expired. Winners will be notified by eMail.
Congratulations to the Winners and Thank You to everyone who participated!
[/message]
Ashampoo Backup Pro 11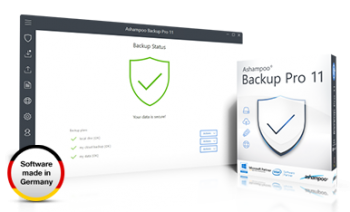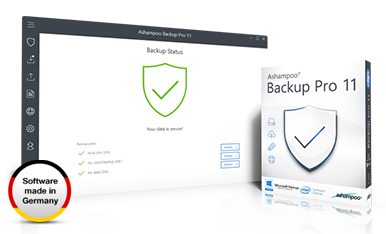 An all new version of Ashampoo Backup Pro 11 is now available. Our friends at Ashampoo have kindly offered 10 licenses to some lucky DCT readers.
Backup Pro 11 normally costs $49.99 (US), with a current introductory price of $19.99(US), but by entering this contest you will have a chance of winning a license for this great piece of software… absolutely free!
Let's take a look, shall we?
Overview
Any regular readers of Dave's Computer Tips knows how often we talk about the importance of performing regular and frequent backups. You can't have too many backups!
Ashampoo has long established itself as a trusted publisher of reliable software and Backup Pro 11 is no exception. I have been eager to give this program a test run. Having done so, I can now pass along my findings to you in this all-too-short review. I will not be able to discuss all the available features, but here are some highlights:
Back up and restore entire Windows systems
Back up data to storage media or the cloud
New: Remedy for ransomware infections
New: Completely new, self-explanatory user interface
New: Intuitive, clear design
New: Handy Windows-based rescue system
Screen Shots
I grabbed some screen shots of my first run and setup of Backup Pro 11. (You can click the images to enlarge them for easier reading if you like.) Here they are: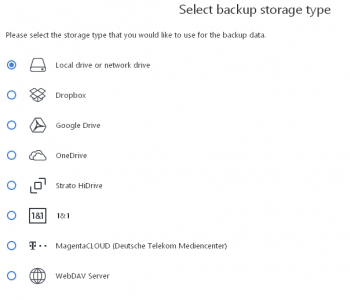 As you can see, the options list of where you would like to create your backups is a diversified one. For simplicity's sake, I chose a local drive.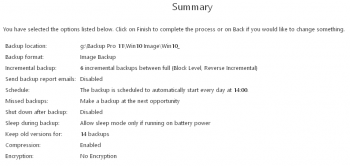 Above, you can see a summary of my choices which Backup Pro displays once a backup Plan is completed.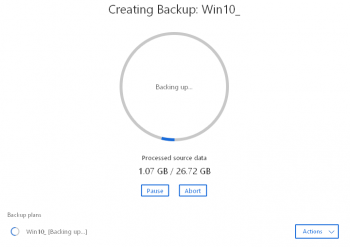 The backup took roughly 7.5 minutes to complete. I also ran a verification afterwards which took another 7 to 10 minutes (sorry, I didn't time it). The verification passed muster.
The resulting backup image of my 26.6GB system resulted in a number of files equaling ~15.3GB; roughly 57%. The actual VMDK file image was a mere ~15MB!
Note: Read about the VMDK file format as explained on Wikipedia.
Should You Buy It?
As a basic but reliable backup solution, I can easily recommend Backup Pro 11. It is very easy to use. The step-by-step setup screens are intuitive and well-explained. The ability to store backups directly to the "Cloud" is a huge benefit and, from what I have witnessed, is not a free feature offered by other commercial offerings. Unless things have changed recently, Acronis for example, offers a cloud backup solution, but it is proprietary and involves an extra fee.
You can use the created VMDK file with a number of Virtual Machines. You can also create a bootable USB Drive or DVD (recommended).
There are only a couple things I wish Ashampoo would add to this otherwise very good program:
An option for Differential Backups (currently I only saw Incremental backups on the options list)
Compression options: The only options I saw were either On or Off. I would like to see a more granular approach.
Certainly, at the very reasonable introductory price of $19.99(US), you can't go wrong.
How to Enter the Contest
We'd appreciate it if you'd take a moment and submit a comment telling us why you'd like to win Ashampoo Backup Pro 11. However, submitting a comment is not required to enter this contest and will have no bearing on your chances.
For your chance to win, simply enter your name and valid eMail address in the spaces provided below, then click Enter Contest. After your entry is accepted you will be presented with options to share the contest on Twitter and/or Facebook. For each person that enters the contest as a result of your share you will earn two (2) extra entries!
Sharing the contest on social media is completely voluntary, but encouraged.
Competition Rules:
To enter, simply submit your name and a Valid eMail address. Your address will not be shared outside this site


You must submit a VALID eMail address. We need to contact the Winner, so disposable eMail addresses will not be eligible

Additional entries may be earned by voluntarily sharing on Facebook and/or on Twitter

Shortly after the contest ends, the winner(s) will be chosen at random

Winner(s) names will be posted on this giveaway page. Please check back here to see the winner(s) name announcement!
The winner(s) will be notified by eMail at the eMail address used to enter the contest – be sure to use a valid eMail address that you check regularly
Winner(s) must claim their license within 5 days. After the five (5) day period, unclaimed prizes will be distributed at DCT's sole discretion

Entrants agree to allow DCT to communicate with them via eMail using the address provided by the entrant when entering the contest
[contesthopper contest="69535″]
—