Using The "Your Phone" App In Windows 10
If you are in front of your computer for a good portion of your day, one app you might want to consider is Microsoft's "Your Phone"
Once installed you have all the functions you would have if you had your phone in your hand.  It is nice to make and receive calls right on your computer using its superior speakers and microphone.
Being able to receive my messages directly on my computer screen is great but being able to use the computers large keyboard to type text message allows me the freedom of saying what I want without the fear of my mood being misunderstood.
I compose a lot of text messages on my phone, but I tend to cut conversations short, leaving them to misinterpretation. I often hit the wrong key on such a small keyboard only to receive a reply of "What". I have even entered text shortcuts, so I don't have to type some of the longer words on my phone's keypad.
Notifications On PC
You may set conditions on what notifications your computer will see and how they will be displayed. You can choose to include standard Text and text with MMS attachments. I find it very helpful to have a text message pop up on my PC screen, allowing me to read the text without having to get my phone which may be anywhere in the house.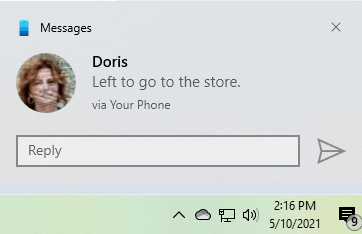 Notification Screen
A new feature just released is the Notification Screen. Prior to this release, there was no way to delete text messages or other notifications from the computer's screen. Now, all notifications appear on this screen and can be customized to include any notification from any app on your phone and deleted in groups or one at a time.
Messages
The Message screen mimics your phone's message screen but in a much larger format. Clicking on any name will give you a running thread of previous texts from and to that person. Like your phone, you can add attachments, emojis, images, and videos. Microsoft just updated the app on Oct 1st and now we can delete any notification from the notification screen including text messages. You still can't delete them from the text message screen but it is a great improvement.
Photos
Clicking on photos is the same as clicking on the phone's Gallery app. Right now, all you can do is view your images in chronological order. There is no way to arrange them by category.  Microsoft needs to give this part of the app a little attention so you can sort by folder, and group by date. The good part is that all of the photos stored on your phone are instantly displayed on your monitor.  Another great option is the ability to drag and copy your photos into any document without having to save them to your computer. All the other functions are there from share to delete any photo.
Open Phone Screen
Another unique ability is to open your phone's screen on the computer.  I have experienced some issues with this on my older desktop computer, but it works fine on my laptop.  I have tried several troubleshooting attempts on my desktop, but none have been successful. To be honest, it is not a feature I would use frequently but I do like things to work the way they are supposed to.
Apps
It might be strange to see your app displayed on the computer because it will only show up within the image of your phone's screen.  It does not open fully on your computer's monitor, only within the confines of your phone's screen.
Samsung And Microsoft
The Your Phone app works with both Samsung "Android" and Apple phones. However, with a growing collaboration between Microsoft and Samsung, you can expect to see several new features dedicated to Samsung users. They have already added the ability to have multiple instances of your phone's screen open on your PC at one time and run multiple Android apps on a PC at once.  You need an Android device with "Link to Windows version 2.1.05.6 or later and Your Phone Companion version 1.20104.15.0 or later. More information can be obtained from this Microsoft Support Page.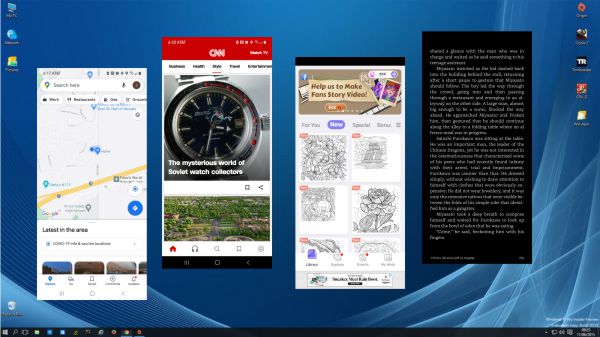 Summary
I highly recommend installing the "Your Phone" app on your PC and link it with your Android or iPhone.
Without a doubt, the best three features are:
Receiving calls while working on your computer. We all receive unwanted calls and when your phone notifies you with a beep or ringtone, your first inclination is to get your phone and see who is trying to contact you. If you are like me, your phone may be anywhere in your house. Running it down to see that it is a Spam call is frustrating at the very least. Now I can just click on decline if it is spam or answer if it is someone I wish to talk to. Note:  I did have to purchase a Bluetooth receiver for my workstation. Until now there was no good reason for the computer to have Bluetooth.
Receiving and writing messages while working on the PC. If I receive a message, the entire message appears on my notification window even if the Your Phone app is minimized. I can read my text while working and reply instantly if I wish.
Drag and drop photos. Once I take a photo with my phone, it instantly appears on the Your Phone app. All the photos currently on my phone are always available to me with this app. I can take any photo or video and use the drag and drop feature to transfer to my desktop, document, or graphic program without having to copy and paste.
—