Microsoft has included a system restore function in Windows since Windows ME as a way of providing protection to the important system files of the operating system. How successful this has been in the past is open to discussion, and many will say it has been less than reliable in versions prior to Vista.
Microsoft took a much needed look at the system restore feature while designing Vista and made many changes for the better. Unfortunately they choose to commit 15% of a computer's storage to System Restore and did not include a method for the user to easily modify any settings related to System Restore. Windows 7 continues with the Shadow Copy storage method introduced in Vista, but changes the disk storage requirements to 300MB as a minimum and 5% of available storage as the default, or 10GB, whichever is less. Windows 7 also adds a very useful way for users to modify settings and interact with System Restore, but before we look at how to change settings we should have a better understanding of the limitations and function of system restore in general.
What does System Restore backup?
System restore in Windows 7 isn't a catch all backup and should never be relied upon as such. As I stated earlier system restore's sole purpose is to Windows itself, not your data!
This is Microsoft's description:
System Restore uses restore points to return your system files and settings to an earlier point in time without affecting personal files…
That seems pretty straight forward, but let's look at what System Restore does protect:
Windows system files – Files are monitored by extension. It is an extensive list, but you won't find .mp3, .doc, .jpg, etc in the list.
The Registry – A snapshot of the registry is taken, but this won't necessarily protect your programs and documents.
User Profile – Files located in user accounts (C:\UserName\AppData) that are directly related to the Operating System.
What System Restore does not protect:
Your documents.
Your photos.
Your music.
Your email.
Your program settings.
Hopefully you can see by the above that System Restore should not be relied upon to safeguard any of your personal data!
When are System Restore Points Created?
If you have ever had the opportunity to restore a system restore point, or found the System Restore applet while poking around, you may have wondered when restore points are created. Looking at the applet it may seem as though the restore points are random, but there is a method to the madness!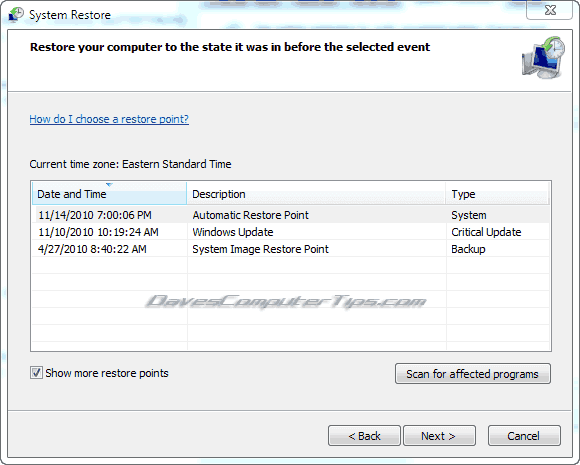 what causes a system restore point to be created?
System restore points can be manually created by the user.
System restore points can be scheduled to happen at specific times by the user.
Program installation – Programs can be written so that when installed they force a system restore point to be created by Windows 7. This provides some protection if there should be a problem during installation, but the number of programs which take advantage of this is very small at the moment.
Automatic Updates – Ever notice that Windows 7 occasionally creates a restore point before installing updates? Any "critical" update will force the creation of a system restore point before installation.
System restore – If you attempt to restore a system restore point Windows will create a new restore point before attempting to restore your chosen restore point from the past. This protects you should the chosen restore point be corrupt, or the process fails for other reasons.
System Image – A restore point will be created when you create a system image. You can learn how to create your own by reading our How to Create a Windows 7 System Image article.
Time – Windows 7 will create a restore point automatically if one hasn't been created in the past 7 days. Restore points created during an Automatic Update to not count in this 7 day time period, as you can see in the above picture. If your computer is off, in hibernation, or sleep the restore point will be created the next time Windows 7 starts.
Hopefully this information gives you a better understanding of what System Restore is doing behind the scenes, and reminds you that System Restore is not a replacement for a good backup! Now head over to our How to Change Windows 7 System Restore article to find out how to change the amount of drive space allotted to System Restore.