Automatic Maintenance Schedule
Windows 10 tries to keep your PC running smoothly by running certain maintenance tasks on a schedule. This includes such things as keeping Apps up-to-date, running virus/malware scans and updating Windows, too, if needed. Windows tries to run these tasks when they will impact the user the least and is set by default to run at 3 AM. To keep this schedule, Windows will sometimes wake up a sleeping computer to accomplish this. I don't ever want my computer wrested from its slumber, and some of you might like the schedule to be changed from something other than 3 AM. In this week's Quick Tips article, we'll show you how to make these simple changes.
Control Panel
Open the Control Panel (To open the Control Panel, you can use the Start Menu, or if you'd rather place a convenient shortcut on your desktop, please read  Windows 10 Quick Tips – Special Desktop Links to learn how.)
Choose Security and Maintenance
That should bring you here: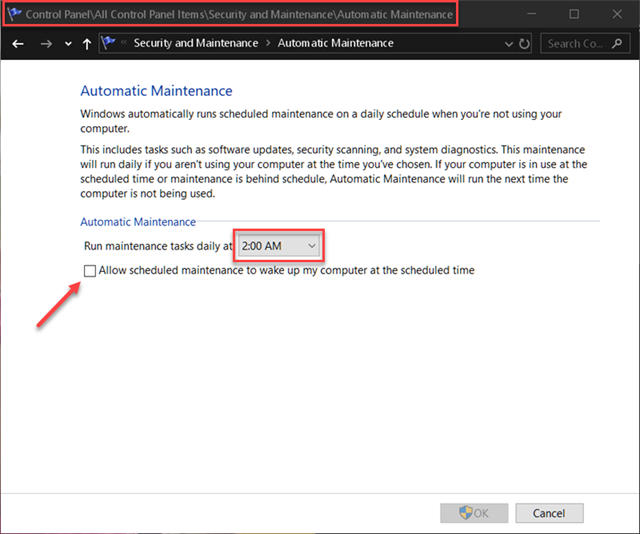 Change the time to whatever suits you best
Tick/untick the indicated box depending on whether you want Windows to wake your peaceful computer to run its maintenance tasks
This has got to be one of the quickest Quick Tips ever!  ?
As always, if you have any helpful suggestions, comments or questions, please share them with us,
Richard
—