Closing In on Windows 10's Anniversary
It was just about a year ago I wrote my first article for DCT.  "Discovering Windows 10". I thought it was time to see just how well Windows 10 is being accepted and what works and what does not.
Reading the posts on this and other sites, shows that many users' early feelings towards Windows 10 was like having your kid sister come along on your first date. Not something one really wants.
However, over the last 11 months, more and more users are joining the fray, some grudgingly and some with open arms. Right now Windows 10 has become the most successful Operating System produced by Microsoft. December of 2015 showed an increase from 75 million to 200 million users. A jump of well over 100%. That large percentage equates to more than a 400% faster growth compared to Windows 8 and more than 75% greater than Windows 7 over the same time period.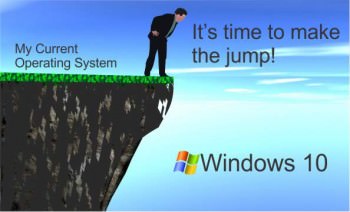 Eight months after its release, Microsoft announced that there were over 270 million users. A lot of that was certainly because it was free and some because it was forced on users. Some installations were less than welcome, mostly by individuals successfully running Windows 7. I still see many of my customers looking at that Windows Update Logo with trepidation. If you are one of them, then the decision to take the plunge or not is looming near. If you are not sure you want Windows 10 for free, I feel confident you will appreciate it less when you have to pay for it. My recommendation is to click the update before the deadline and give it a try. If you are not happy you can quickly go back to your previous version of Windows.
In that first article, I was using build 10049, Coded "Threshold", named after a location on their popular Halo Game. Today I am using build 14316.rs1 with the rs standing for the next major release code named "Redstone". A nod to a mineral in the successful Minecraft game. Redstone has a probable release date that will be very close to one year after the official release making it a legitimate Anniversary Update. It will also be free to all Windows 10 users and is expected to remain version 10 not version 11. Microsoft has hinted that it may name major releases similar to Apples Lion, Maverick, etc.
Windows 10 Upgrade Strategy
Microsoft is obviously trying to get as many users as possible, which is evident by giving free versions of this and possibly all future releases. Remember, the goal of Windows 10 is to have the same look and feel on PCs, Laptops, Tablets,and Smartphones. Microsoft executive Terry Myerson said "they hope to have over 1 billion devices running Windows 10 within the next few years". You can bet that a large portion of their goal is to make Windows so dominate that it will slide over to smartphone users.
Right now most smartphone applications are created for Google's Android OS which runs on over 85% of the smartphones in use today. The sheer number of apps available to the Android OS make it even more popular with users. It is just common sense for a developer to make an app for an OS with that big of a share of the market. However, If Microsoft can up the ante with 1 billion devices, more developers will gravitate towards creating applications for Windows devices simply because of the number of users. That will mean more apps, more ads and more sales so a free OS now might mean big money down the road to MS.
Windows 10 Then and Soon
So what has happened to Windows 10 in this period of time? Well as of mid-January, Microsoft said that it has released 12 updates for the browser, bringing 6,527 bug fixes and 128 "new features and substantial changes". That sounds great but it did give me some concern on how many bugs might still have to be located and fixed in future releases. Most of the general concern revolves around the mistrust created with the release of Windows 8 but perhaps they have made a step in addressing those concerns by involving the users in the development of Windows 10. Even though I know every OS out there releases new builds or updates and there will always be some bugs to fix I am starting to feel confident that Microsoft might finally have a handle on it.
What's New in The Windows 10 Redstone Release?
In Redstone you can expect to see some major improvements across the board. From browser to Maps, from Ink to Linux, Windows is showing at least an attempt at listening to the Insiders they have been leaning on for support, testing and ideas.
Microsoft Edge

The edge browser received several changes. perhaps the biggest is their adoption of extensions. As of this writing there are currently 5 extensions:

Mouse Gestures: Use your Mouse to navigate, close or open tabs, etc.
Reddit Enhancement: Make navigating the www.reddit.com page easier
Pin: Instantly Pin items from a web page to your Pinterest page.  A Pin logo will appear on all pinable  items on a webpage. A great extension for Pinterest fans,
MS Translator: visit a page with a language different than the one you used to start Windows and an Icon will appear allowing you to quickly translate the page.  In the sample below, note that the text translated perfectly but the ads do not.
OneNote Clipper: Capture webpages simply by clicking. The easiest way to save anything on the web to OneNote.
Microsoft Ink Platform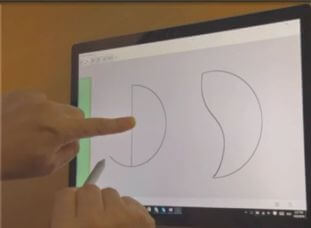 In the Redstone release Microsoft has renewed their commitment to inking with the introduction of Windows Ink. The new version will be available through the taskbar. Look for it to be used with Sticky Notes, MS Office products, in the new Ink Presenter and Sketcher. A great feature and a first for any OS is the new "simultaneous touch and pen" action.
This means you can draw with one hand while your other hand manipulates on-screen tools like the built-in digital ruler. This allows you to the move the ruler with your fingers on one hand and draw straight lines with the other hand. Pen and touch are on by default. There are also clever touch techniques that allow you touch a straight line and draw an arc or circle based on that line. No matter how jagged your drawing is it will auto snap to the correct shape.  The combination itself is like a new tool.
Linux! – Cmd – Powershell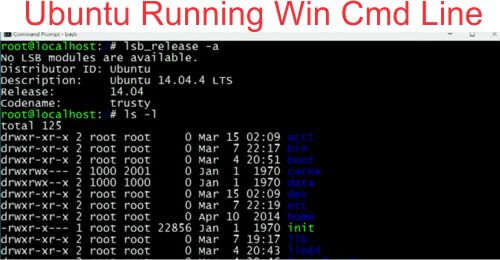 Geared a little bit more for developers but still very cool is that Windows can now run "Bash" (the Unix shell) and Ubuntu! Believe it or not, Microsoft will allow you run Linux in the Native Windows environment. No Virtual Machine(VM) required. WOW. Enabling all users to work in open-source tools on Windows seamlessly has been a goal for a while.  These updates also created improvements to Windows Cmd, Power-Shell and other command-line tools. The people at Canonical, the creators of Ubuntu Linux built a new infrastructure within Windows (WSL) Windows Subsystem for Linux. It is important to note that this will first be released in beta and some things will have rough edges. I really did not see this coming but now that I have watched a live demo it looks pretty exciting. See it here.
Microsoft Maps
Maps have had a major upgrade. They are not as good as Google Earth yet but some of the features are very impressive. First of all the speed is impressive. In their list of "3D" cities the overhead resolution is very impressive and much clearer than Google.  The image below is a Las Vegas Golf Course. In a normal sized image, you can see the mowing lines and the flag in MS Maps but at the same resolution Google Earth is fuzzy. Note: They do have a street view feature but no where close to Google's quality.


All other overhead shots are not nearly as clear, just the 3D cities. No matter what destination you enter it gets there very fast along with a nice column on the side of the screen offering  a very comprehensive list of options like: Hotels, See & do, Shop, Eat & Drink, Banks, Hospitals and Parking. In the image below, the left column appears for every search location.  Click on any option and and the window will be replaced with another detailing the features.  Great for planning trips or on a mobile device.

 Microsoft Connect (Continuum)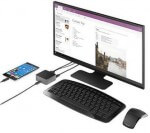 Another very cool feature, primarily for smartphones running Windows 10 is Continuum.  This feature lets you use your phone exactly like a computer on just about any monitor, projector or even a Surface Pro.  Because the device you "cast to" is static, none of your private information ever leaves your phone, so you may use Aunt Sally's computer with her none the wiser because you are actually only using a phone. You are however able to use  a mouse and keyboard. Like playing games? Just send any Windows Game from your smartphone to a big screen or Surface Pro. You can actually use an XBox controller to control the game.  You also have the option of turning the phone into a Touch pad.  Just connect to any external display with the new Microsoft Display Doc, USB-c cable, or wirelessly with Miracast. Imagine just needing a Smartphone  to replace your PC and Tablet.  The Display Dock runs about $99.00. The USB-c Cable is required for Surface Pro Hookup.
More
There are several new features released between builds 14291 and 14316.  Features like Quick Assist (a remote Assistance Windows) has made an appearance but I have not been able to make it work. Another new App, "Test Taker" won't even stay open long enough for me to report on it.
Windows 10, The Perfect OS?
Right now I am personally having the best Windows experience I have ever had with a Microsoft OS and I have had most versions. I liked Windows 7 so much I was really reluctant to make the move to Windows 10 but I took my own advice and made the jump. I have now used insider Builds for about 17 months  with only minor issues and I continue to troubleshoot new insider builds. I also keep an official copy of Windows 10 on my computer that only receives normal updates and for almost a full year it has proven to be easier, more secure and faster than any OS I use. I am running it on a SSD with nothing but smiles.
Bugs in Some Releases
I mentioned that I personally have not had a problem with Windows 10 but that does not mean that my customers have experienced the same love for Windows 10.  Most issues I have had to deal with in the field are driver issues, many having to do with AMD video cards.
There are certainly upgrades messing up a perfectly good machine and creating several blue screens that loop into repair routines that never work.  In an attempt to strengthen security, I think that Microsoft has created a monster for average computer users with Secure Boot.  As a tech I have discovered most of the ways to get around some of these loops but the average user can get frustrated enough to throw their computer away and buy an Apple. Just today I had a service call for a machine that suddenly had giant icons that the user never saw before. The machine would only display a Cortana error message requiring you to restart the computer so it could fix the issue which resulted in an endless loop. This like most of them,  happened after an automatic update. The fix was very simple with a Windows 10 repair disk but most of the individuals I deal with don't want to be fixing anything and I can't blame them. Now might be a good time to remind everyone reading this to first backup, backup, backup then create a Windows Repair Disk. This way, not only will your files be safe, but you will have a shot at fixing the issue.
The Good, The Bad, and The Ugly Since Windows 10's Release
The Good
There are a lot of very good things about Windows 10 starting with, Windows is faster, Microsoft has made a lot of tweaks to make Windows 10 boot and shut down faster. It has a smaller footprint* and it uses a few less megabytes of system RAM and more than 5 gigabytes less storage. *Initially, when you install Windows 10 it will keep a copy of your old OS system, creating a much bigger footprint than before but as soon as you are happy with the OS just delete the old OS and reclaim that storage.
Windows 10 is more secure than any earlier version by using safer, and more, login options. Windows Defender now includes antivirus capabilities to work with the anti-malware from earlier versions. Windows Firewall can be customized to keep you safer than ever before.
Organization of tasks is more fluid and while a few tweaks still have to be made, for example figuring out why both "Settings" and "Control Panel"  coexist and can't be combined in one. The bare minimum look of all the built in apps are sleeker, and cleaner looking than ever before.
I am one of the worst people I know about closing windows and would just rather open a new instance even if the app is already open. Therefore, the Task View has become one of my favorite taskbar tools. Being able to instantly see all your open windows is so much better than hitting Tab+Alt in prior versions, although that combination now has improved like most features. Hint: WinKey+Alt will open Task View.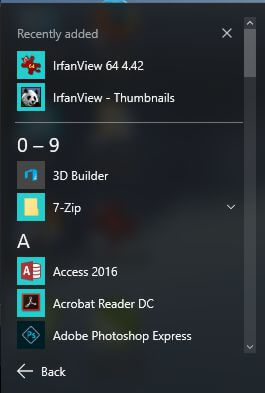 Another great feature is the ability to add additional Desktops. See my article on DCT.
The addition of an "All Apps" view has made a comeback after being eliminated in Windows 8. Thanks to all the flack sent in by thousands and thousands of insider complaints. Unfortunately is is still not as good as Windows 7.
The addition of Cortana. I believe Cortana will be one of the most successful experiments by Microsoft in a long time. With the release of Redstone they are already planning on super charging Cortana's ability to make it work seamlessly with Edge. You will be able to click on any text or image to instantly get more information.
The Bad
Some common, long used operations are now nested in deeper windows. Some tasks that took two clicks to complete can take four. For example, changing the resolution was pretty straight forward but now require you to open additional sub menus.
No support for Outlook Express. There are several alternatives but keeping Express would have made a lot of people happy.
Windows 10 will perform automatic updates that include MS Store items.  That feature, (which you can control as well as opting out completely, not recommended by the way) can use your upload bandwidth for something you did not even want.  Also, in the past you knew just what was being uploaded. Microsoft does not plan on providing that information going forward.
The Ugly
Frankly, I think Windows live mail is probably the worst email program on the planet.  I honestly don't know all email clients available but I have yet to find a better example of "bad".
Windows decided to eliminate the Start Menu in Windows 8 and came back with a poorer cousin version in Windows 10.  Don't get me wrong, I am thankful for it, it is just that they had a chance  to shine and they missed the boat despite thousands of pre-release users complaining about it.. Windows should have learned from Linux. They have been trying to emulate the Windows Start Menu for years and now they have a better version than Windows.
Summary
I am sure you can tell I like Windows, I am excited to see it finally get a handle on many things it should have completed years ago.  Some of the technology is new and frankly no one had it but a lot of it is just Windows not getting on board with what the people want.  We want a SECURE, FAST, EASY TO USE and FLEXIBLE Operating System.  Windows 10 has started to fill that bill in a big way.
jim