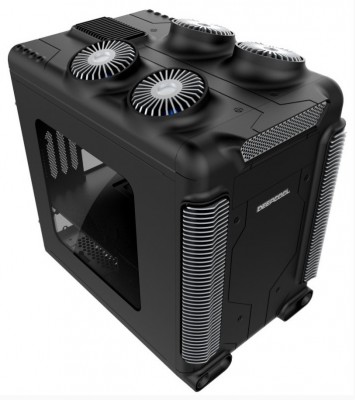 Whatever you decide, then the choice of computer cases available today is mind blowing.
Horizontal motherboard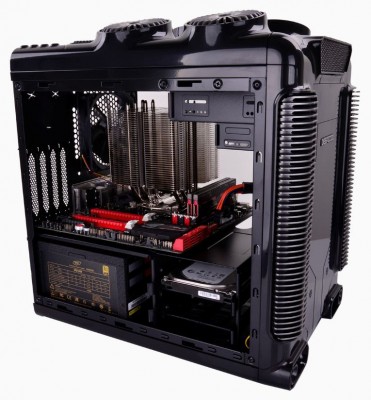 Take the Deepcool Steam Castle pictured above as an example of thinking out of the box. This case is so cute you almost want to cuddle it and take it home to the kids. Historically, motherboards have been fitted into cases vertically with the PSU located at the top. This case allows you to fit the motherboard horizontally, which to me is a totally logical progression in terms of heat dissipation and since heat obviously rises, the four beautifully placed top fans are going to suck all that heat out effortlessly. Another advantage of this layout is the ease of access. Although this case is a Micro ATX size and will also accept Mini ITX motherboards, the key here is the width at around 11″, which will allow you to fit quite a hefty graphics card or two, whilst retaining that small PC footprint.
Recently spotted on Newegg for around US$100.
Not so Mini ITX
Another sexy looking PC case worth a look is the Bitfenix Prodigy, which is strictly Mini ITX and accepts the motherboard horizontally as well. Many are choosing these more compact cases since the Mini ITX form factor is really pushing along at quite a pace and will not only make a tidy HTPC, but many gamers who need the space are also building rigs with a small footprint.
Mini ITX is a very viable prospect today, especially when you consider that a compact water cooling solution can be fitted quite easily and at a very reasonable price.
Talking of thinking out of the box, the Antec Skeleton takes case design to a whole new dimension. Is it a case or an object of desire? Either way, I'd build this simply for the pleasure, in the blink of an eye.
The Skeleton may not be entirely practical, but does that really matter if it looks good sitting on your desk?
A cubism case
If you like you cases squared away and very neat, this little ISK600 case from Antec is totally unobtrusive and would look good even in your living room. It's another Mini ITX case with the added advantage of accepting a standard size power supply.
When size matters
Thermaltake, in collaboration with BMW Group Designworks USA, introduced us to the Level 10 at CeBIT 2009 in prototype form and wowed the industry with its astonishing design, skyscraper size and whopping price tag, which at the time was around $900.
This is one of those computer cases that you either dream about or just purchase because you must have the latest and greatest and weighing in at around 47 lbs (20 kg) and measuring 24 x 12 x 26 inches (60 x 30 x 66 cms), this is a seriously large beast and cannot be ignored.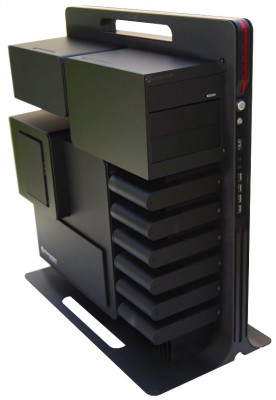 I shamelessly borrowed these design elements from the Thermaltake page, which give a more concise description: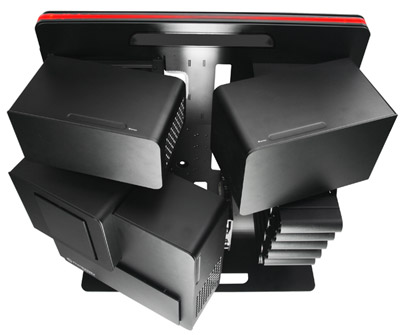 Open Compartment Architecture (O.C.A.)
Ergonomically Positioned and Integrated Handles
Removable Hard Drive Cases for 3.5″ and 2.5″ HDD/SSD
Dramatic Lighting Effect
Exposed Vertical Heatsink
Asymmetrical Balance design
This was later superseded by the Level 10 GT, which arrived in a slightly more manageable size and price range and helped drive this case to be the success it always should have been.
Object of desire or design folly?