I'm presenting this article in response to a recent question on the DCT forum asking which antivirus programs are best. What follows then is a guide to the best free and commercial antivirus products available. Of course, this is merely my opinion based on reputation plus, in some cases, my own personal experiences:
Best Free Antivirus Programs
Good ratings from independent labs. Blocks tracking of Web surfing by advertisers. Site Safety tool not terribly effective at protecting against phishing and malware downloads.
To be honest I haven't tested AVG Free for quite a few years, ever since it went of the rails with over the top resource usage. By all accounts AVG  has now improved considerably, although it doesn't generally rate quite as well for protection in independent lab tests as alternatives. It's also still not as light on resources as other free offerings.
Minus any recent first hand experience and based solely on lab test results plus editorial reviews, I am of the opinion that, while AVG Free would do a good job, it does not represent the best possible choice.
Extremely unobtrusive. No configuration settings. Excellent results from independent testing labs. Very good phishing protection.
Bitdefender Free enjoys a widespread reputation for being one of the lightest antivirus solutions available and also rates very highly in terms of protection. However, after installing Bitdefender Free I was not too happy when forced to create a Bitdefender account. The logic behind offering account creation is reasonable as it provides a central online location from which users can manage protection across all devices running Bitdefender products. However, in my case, I don't own multiple devices and only wanted to install this particular Bitdefender product on a single PC. Yet, I was still forced to create an account, even though I didn't want or need one. If you don't create the required account and log-in within a thirty day period following installation, all real time protection is disabled until you do, so there really is no choice.
Sure, creating an account is not terribly inconvenient but, for me anyway, it's more the principle of the thing. Still, if you don't mind creating a Bitdefender account, adding yet another log-in to the list, and are looking for a lightweight solution offering a high level of basic protection, Bitdefender Free represents a very good choice.
Good results in independent lab testing and malicious URL blocking. Includes several security related tools. Network protection scan can detect home router security problems.
I used Avast Free Antivirus for years and was always very happy with it. Protection is very good, I never experienced any type of infection during all those years. It's relatively light on resources and comes with a couple of useful additional tools included. However, two aspects finally got me looking elsewhere:
Firstly; the program upgrade process can be a tad confusing. Whenever the program is updated a splash screen displays options for both the free and commercial versions. The options are quite clearly defined but it is not too difficult to click on the wrong button. I did just that once, not paying proper attention, and ended up with the commercial version installed following an upgrade and reboot. I then needed to uninstall Avast and start afresh with the free version.
Secondly; I am not a fan of the compulsory registration requiring annual renewal. Again, it's no great inconvenience but I've lost count of the number of my clients' machines running Avast Free with registration expired and definitions subsequently well out of date.
These are probably minor considerations and, provided you're careful during each program upgrade and can handle the registration requirements, Avast Free is a top notch free antivirus.

Easy to use. Simple install. Excellent lab results. Excellent scores in malicious URL-blocking test and malware-blocking tests.
This free cloud based antivirus solution is the only one which consistently scores right up there with the best commercial players for protection. Even though protection is top notch, in my experience Panda Free is not particularly light on resources, although that's not really a major issue considering the generally higher specs of most modern machines. However, there is one decisive negative in my book – it comes bundled with a toolbar and options to change the default search engine and home page during installation: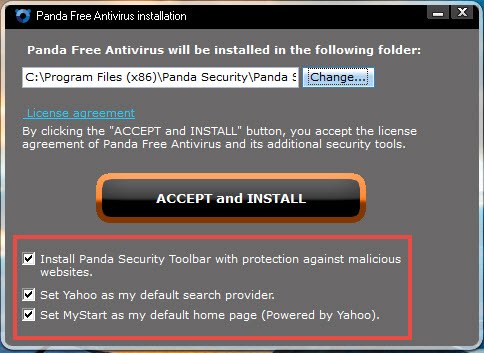 Sure, these options are quite easily disabled, although I'd prefer to see opt-in rather than opt-out. However, a security product behaving in this manner just doesn't sit too well with me. Again, it's more the principle of the thing rather than any real issue.
If you're looking for probably the best level of protection offered by a free antivirus solution, and provided you can overlook the bundling aspect, Panda Free is certainly well worth consideration.
Excellent results in independent lab tests. Good scores in malicious URL tests. Light on resources. Auto Play safety feature. Excellent heuristics. Simple, requiring zero configuration.
Avira Free has always excelled in terms of protection and was once the antivirus of choice among many of the advanced user fraternity. It fell out of favor for a while after bundling the Ask Toolbar and including an overly zealous nag screen. However, the Ask Toolbar has since been dropped altogether and the nag screen is now very occasional. I have Avira free installed across all three systems and the nag screen only pops up every week or two, no different to other free solutions such as Avast. Plus, closing the nag screen involves just a single click, and then it won't appear again for another week or two – a small price to pay for top notch protection at zero cost.
Avira Free is my top recommendation among free antivirus programs. Although, as you can see from the ratings, there is not much to pick between them and any one of the above will do a good job. Selection is pretty much down to individual preferences and very much subjective.
Best Commercial Antivirus Programs
Being a freeware fanatic I've had little to no first hand experience with the leading premium antivirus solutions, plus there is little to pick between them anyway. So, the associated ratings are mainly based on reputation, and particularly that all important pricing. I've concentrated on the basic antivirus offerings available from vendors rather than the more complex suites:

Antivirus/Antispyware. Anti-phishing. Exploit Blocker. Gamer Mode. Social Media Scanner. Advanced Memory Scanner. Device Control.
ESET NOD32's protection scores in independent labs test are consistently excellent, just a smidgeon behind the perfect 100% mark. It is also reputed to be among the lightest of all on resources and extremely easy to setup and use, as well as quiet and unobtrusive.
However, it's in the pricing department that ESET NOD32 raises the bar. Not only is the base price reasonable, it offers a discounted 3 year deal:
The three year deal works out at around $28.00us per annum. When it comes to value for money, ESET NOD32 is right up there. Highly recommended!
Antivirus/AntiSpyware. Movies, Work, Gaming Profiles. Quick Vulnerability Scanner. Safe Online Banking & Shopping. Secure Browsing/Privacy Protection.
Bitdefender has established a reputation for being one of the very best across the board – excellent protection, light on resources, easy to use. I really like the included 'safe online banking and shopping' feature too.
Bitdefender Antivirus Plus costs $39.95us for one year and is another which offers a 3 year deal:
Which works out at around $30.00us per year. Not quite as good as ESET's discount but great value for money nonetheless. Also highly recommended.

Antivirus/Antispyware. Anti-Phishing. Cloud Protection. Exploit Prevention. Safe Surf. Malware Activity Rollback.
Kaspersky is yet another name synonymous with quality security products. Protection is top notch and several additional security tools add appeal. Pricing for one year is exactly the same as the two aforementioned products, $39.95 per year – seems to be a popular standard.
I tried valiantly to hunt down standard discounted prices but alas, there are a number of official Kasperksy sites and everywhere I visited kept coming up with different variations – it's seriously all over the place. I also experienced difficulties coming up with US prices, no matter where I went it kept reverting to Australian dollars. I did come across this one while researching:
However, when it came to writing this article, I couldn't find the link again. Overall though, I got the impression that Kaspersky's discount deals are a little more expensive and do not represent as good a value as either ESET or Bitdefender.
Deal of the Decade!
I was planning on including Avira Antivirus Pro in this article anyway, it is after all a great antivirus program. Then, during my research, I happened upon this amazing deal – 70% discount across all Avira premium products:
I selected Avira Antivirus Pro and these are the discounted prices for 1-year, 2-year, and 3-year licenses, including up to 3 devices: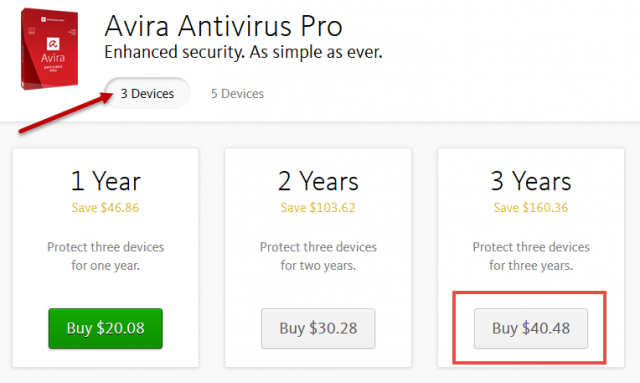 I believe those prices are shown in Australian dollars too so would be even less in US dollars. Grab the deal here: Avira 70% Discount
There are of course, many more antivirus solutions to choose from but I reckon we've pretty much covered the best of the free and commercial offerings. I haven't included any suites here because, quite frankly, in my estimation anyway, they are tad overkill for most home users and do not generally represent good value for the outlay.
As always, comments are most welcome – well, polite ones anyway. 🙂