You can still upgrade Windows 7 to Windows 10 for free but you'll need to act fast!
The end of extended support for good old Windows 7 is just around the corner and while you can still upgrade to Windows 10 for free at the moment, it is quite likely this will not be the case after extended support ends on 14th January 2020.

What Will Happen With Windows 7 After 14th January?
You'll still be able to run and use Windows 7, but the operating system will no longer receive any critical security updates and/or patches. Which will, within a relativity short period of time, lead to a highly insecure environment where it would be extremely unwise to connect to the internet.
Now, I know there are still a lot of Windows 7 fans out there clinging to this old operating system but, seriously, do yourselves a favour and upgrade to Windows 10 now.
Is The Windows 10 Upgrade Still Available For Free?
Yes, it is, on the proviso that you are currently running a genuine Windows 7 operating system. I have very recently tested this out on two of my client's machines and both activated fine without any issues.
How To Upgrade Windows 7 To Windows 10 For Free
In both cases, I utilised the in-place upgrade option. Here's how:
Firstly, you'll need to download the Windows 10 Media Creation Tool. Get it here: https://www.microsoft.com/en-us/software-download/windows10
Run the tool from within Windows 7. Simply double click the downloaded executable. Follow the prompts and when you come to this screen:
Make sure you enable the option to "Upgrade this PC now", then click Next.
The in-place upgrade should now proceed. It is a long-winded process so you'll need to be patient. Finally though, provided your original Windows 7 is legitimate, you should end up running an activated copy of the latest Windows 10.
How To Check If Windows 10 Is Activated
There are two methods to do this. The first is via Settings/Update & Security/Activation:
The second is via Control Panel/System: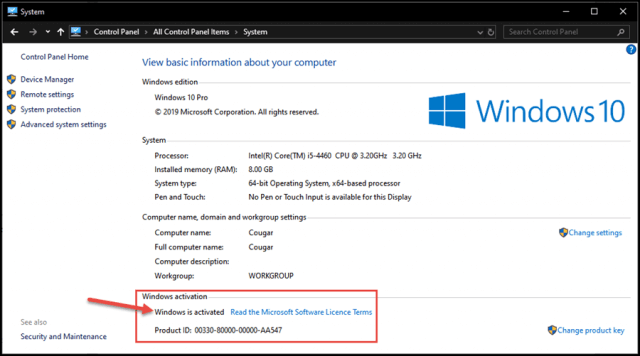 A Wise Precaution!
Just to be on the safe side, prior to initiating each upgrade, I first created an image of the existing Windows 7 system and saved it to an external hard drive. Now, if anything went awry with the upgrade process, I could at least restore the client's machine to its original state, running Windows 7, and no real harm done. In the end, in both cases, all went well and this turned out to be an unnecessary precaution. However, I would still strongly recommend taking this step. Upgrades can be tricky, especially with older hardware involved. Aomei Backupper Standard is a free, very reliable, and easy to use imaging software that will do the job nicely.
As I said, I've used this method twice recently without a hitch but there have to be serious doubts whether it will still work after 14th January. While It is well known that Microsoft would prefer to see everyone running Windows 10, I'm not sure they'll continue honouring these old license keys once the operating system is no longer supported.
Best wishes for a safe, healthy, happy 2020.
—