Wish.com is a site like Amazon that sells a variety of products from various sellers. This site has some questionable business practices. Here are some of their marketing ploys that I really don't like and some tips to make your buying experience more enjoyable.
Log In
First, when you go to Wish.com you'll have to sign up for an account to access the site. Click on Sign up with Email or if you already have an account click on LogIn.
To sign up, you'll need to put in your name, email and create a password and click on Sign Up.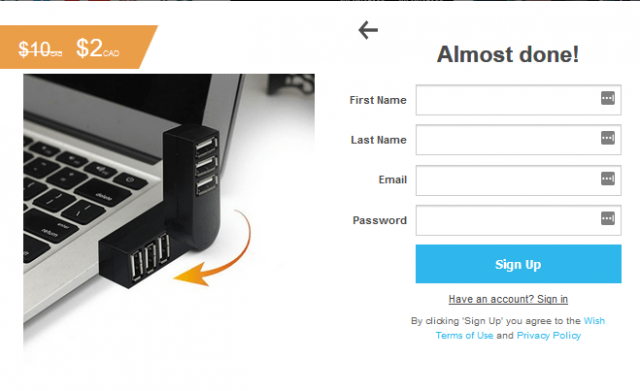 When you log in afterward, you'll usually get a Daily Login Bonus screen. Click on the Continue Shopping! button.
Now scroll through this page and find something you like.
I picked a watch for this example, listed for $185 CAD (that's Canadian dollars).
The first thing I don't like about this ad is you'll notice right next to the $185 price tag that they have a $4,359 price tag scratched out. They are trying to convince me that this is originally a $4000 watch. I searched online to see if I could find this elusive $4000 watch elsewhere. I did, exact brand and model, on another site for about $126 CAD.
I've seen other products marketed the same way. Instead of a gray, crossed-out price tag, I would like a link to these so-called more expensive items to make a comparison.
Ordering
Click on what you want to order and up pops a window with a bunch of info. Read the description carefully because in the comment section there are too many comments suggesting that the item was not what they ordered. For example, someone getting only a camera lens when they expected a camera. Ignore the description by the picture in the right-hand corner– instead scroll down until you see the section named Description, and click on the blue Show More option. You'll get a pop-up with more detailed information.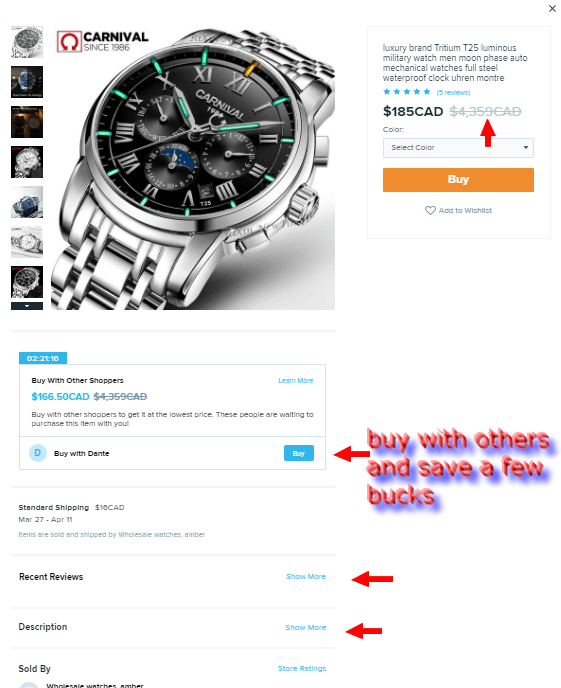 There is a Recent Reviews section but I consider it another blatant attempt to mislead the customer. I bought a webcam and was not satisfied, so I decided to leave a review. It requested that I upload a picture of my purchase (this is optional).
I couldn't understand why until I realized that they take all the comments from a seller and group them together for all the products sold by that seller. Imagine going to read the reviews from one product and then having to scroll through all the comments and hope they are talking about the product your thinking of buying.
If you do decide to order anything, when you get to the final page or invoice page print it up and then bookmark it because it contains some useful information like parcel tracking, contact support, and you can rate your purchase when you receive it.
Conclusions
Would I buy from them again? Small inexpensive gadgets or even Free items for postage, I might take a chance on. I would not trust them with a major purchase like a laptop. And by the way, they accept PayPal.
Have you used Wish.com? Good or Bad, what are your experiences? Tell us in the comments.
—