Today, at the Yerba Buena Center for the Arts, Apple's CEO Tim Cook introduced the new iPad, featuring a Retina display (2048 X 1536), the A5X chip with quad-core graphics and a 5-megapixel camera for capturing photos and 1080p HD video. The Wi-Fi + 4G iPads will connect to AT&T's and Verizon's 4G LTE networks while still providing the 10-hour battery life.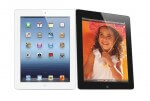 The new iPad will be available on March 16th in black or white. The pricing remains the same as the iPad 2 launch prices.
Wi-Fi only — 16GB ($499), 32GB ($599), 64GB ($699)
Wi-Fi + 4G — 16GB ($629), 32GB ($729), 64GB ($829)
Those for whom the iPad 2 will suffice can purchase it starting today at a reduced price, starting at just $399 for the 16GB Wi-Fi model and $529 for the 16GB Wi-Fi + 3G model.
iPad rumors right and wrong:
– The name – iPad 3 or iPad HD – Wrong. Just iPad.
– Retina display – right.
– Price increase – wrong.
– 4G – right.
– A faster chip – right. Although some rumors referenced the A6 chip, which would be wrong.
– 'Value priced' iPad 2 – right.
– No Home button – wrong. It's still there.
The Retina display delivers four times the number of pixels of iPad 2. The new A5X chip with quad-core graphics has double the graphics performance of the iPad 2's A5 chip.
With iOS 5.1, the new iPad has a number of new features and enhancements including:
– a redesigned Camera app
– the ability to delete photos from Photo Stream
– support for dictation in English, French, German and Japanese
– Personal Hotspot
– works seamlessly with iCloud
Apple also introduced the iPhoto app, along with updates to iMovie and GarageBand. iLife and the iWork apps have all been updated to take advantage of the new iPad Retina display.
iOS 5.1 and iTunes 10.6 are available today as free software updates. iPhoto, iMovie 1.3 and GarageBand 1.2 are available today for $4.99 each from the App Store. Keynote 1.6, Pages 1.6 and Numbers 1.6 are available today for $9.99 each from the App Store. Updates are available for free to existing customers.
In addition to the iPad announcement, Apple also announced a new AppleTV (and no it's not an actual TV.) The new Apple TV features 1080p programming including iTunes movies and TV shows, Netflix, Vimeo and photos in HD. It also features a simpler user interface.
Apple, iPad, Apple TV, Retina, iCloud, iTunes, iPhoto, iMovie, GarageBand, iLife, iWork, Pages, Keynote, Numbers and App Store are trademarks of Apple.