A few days ago I received an email from the developers requesting a review of a new music 'search and download' software called MP3Jam. Three key words in the description immediately caught my attention; free, safe, and legal. So, here it is.
*Firstly, I must point out that MP3Jam comes bundled with the OpenCandy advertising module. OpenCandy itself is generally considered to be quite harmless but it does offer recommendations for additional unrelated software which need to be closely monitored during the installation process.
Download and Installation
MP3Jam is a modest 5.2MB download which scans 100% clean through Virus Total. As already mentioned, installation does require a certain amount of diligence, checking each screen prior to clicking 'Next'. The manner of the recommendations and types of software involved are subject to change for each installation but the next couple of screenshots show what I encountered:
Note that the 'Express' installation is not only recommended but also enabled by default. Proceeding now, clicking Next, will install the Snap-do Browser Widget and apply the associated changes:
However, disabling the 'Express' option and enabling 'Custom' will provide options to decline installation of the additional software:
Simply remove the checkmarks from anything you do not want and then click Next.
To my surprise, the next screen offered even more additional software:
With this one, if you do not want to install the recommended software, simply place a checkmark next to the "I do not accept" option.
Personally, while I can appreciate that freeware developers need a way in which to monetize their efforts, I do not favor these tactics at all. Hopefully, alternative (and better) methods will become available in the not too distant future.
Using MP3Jam
The standout aspect of MP3Jam is ease of use, from its simple yet intuitive main interface through to the actual downloading… it's all very easy. Use the top 'Search' bar to find a particular song, artist, or album. Or simply select a category and scroll through the list.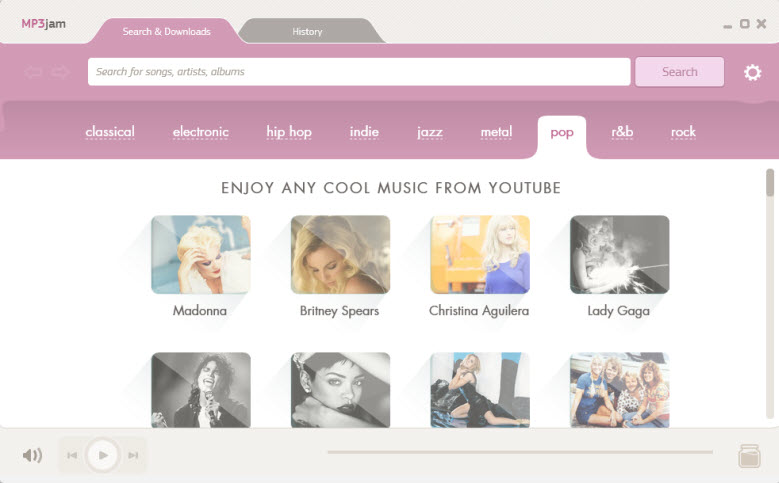 I selected the "Pop'  category and then, for no other reason than their name was near the top of the list, chose Abba. In no time I was presented with a comprehensive list of available downloads. I clicked on the download button next to a track and a progress bar duly appeared – the download completed very quickly.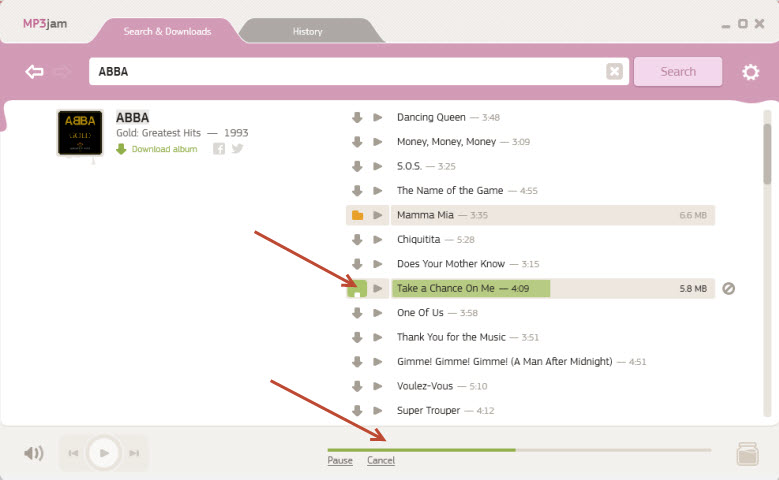 Settings are sparse but the software just works so well that you don't really need a lot of options. Downloads will be saved to the Music Library by default or you can specify a particular folder of you own choosing: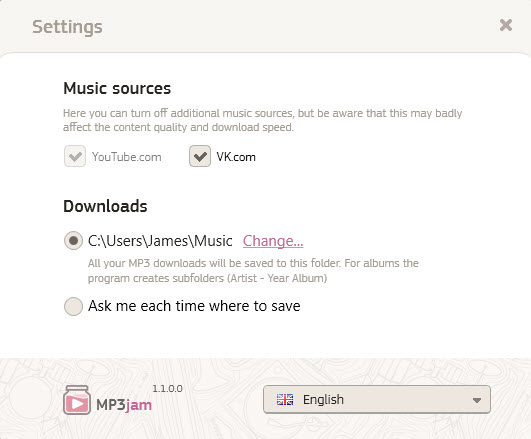 Fast Facts:
MP3Jam absolutely legal and safe for personal use – it gets music from open YouTube database. No illegal sources, no torrents or p2p algorithms.
MP3jam uses its own search algorithm to deliver best results. In contrast to common YouTube downloaders (that use YouTube search), our meta search selects music that matches music query at best.
MP3jam users can download full albums. MP3 tags are provided via open Last.fm API. The algorithm of splitting tracks into albums is the development of MP3jam team.
MP3jam is ideal for downloading old and local music, users can switch on additional music sources (e.g., vk.com) to get exotic songs they want.
Important: MP3jam downloads music directly in MP3 format, extracting audio stream from video on the fly. Files can be further transferred to any device – iPod, iPhone, MP3 player
The Verdict
MP3Jam is one of those programs which is so simple to use it is pretty much self explanatory. I can only stress that OpenCandy is quite safe and if you can overlook the minor inconveniences it creates during installation, I believe you'll find the result is well worth the effort. I would have no trouble recommending MP3Jam to anyone looking for a simple, quick, safe and legal way to download MP3 tracks.