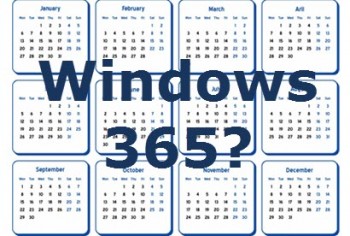 For some time now speculation has been rife that Microsoft will eventually make its operating system available via a subscription based model, not unlike that of Office. It is now being reported that Microsoft recently registered the name "Windows 365", a huge clue that the company may indeed be heading in that direction.
Common sense has always dictated that this move was inevitable, the huge cost of maintaining support for a diversity of operating systems can only be curtailed by getting as many users as possible onto a single platform, and a subscription based model is the most effective method to help achieve that goal.
Before anyone starts to panic, it's pretty safe to assume that, as well as an enhanced subscription package, the Windows distribution model will still offer the traditional option to purchase outright, pretty much the same sort of Office choices that became available with the introduction of Office 365.
I believe a subscription based operating system would be a boon for corporate environments, tax write-offs, plus eliminating the expense of upgrades while always running the latest operating system being just two attractions. However, home users may see it a little differently.
For me personally, and I suspect for many, it all comes down to the bottom line. Fellow tech writer Greg Schultz published an interesting article toward the end of last year discussing a possible pricing structure. Greg's speculations are based on a comparison between the current price of Office Pro and Office 365, not an unreasonable premise:
Let's start by using the price of Office 2013 Professional vs. the price of Office 365 Personal as a base. We'll use Office 2013 Professional, since it comes with the same set of applications as Office 365. Office 2013 Professional currently costs $399.99 and Office 365 Personal goes for $69.99. If we take a percentage, we find that $69.99 is roughly 17.5% of $399.99.

Let's now take the price of Windows 8.1 Pro ($199.99) and suppose that's what the price of Windows 10 would be. If we use the percentage we found for Office 365 Personal and apply it to Windows 10 (17.5% of $199) we can guess that a Windows 10 rental would go for $34.99 per year. <source>
Greg goes on to explain that, based on the same equation, a Windows family pack involving 5 licenses would cost around $49.99 per year. If those numbers are anywhere near the mark, I reckon that would represent a pretty good deal.
At this stage, no-one knows for sure of course, and this is all pure speculation. However, I'm pretty certain Microsoft's goal of getting users onto the same platform will see them motivated toward keeping pricing as low as possible. The amount of money the company will save by not having to maintain support for multiple Windows editions will well and truly offset any discounts.
One tech writer has suggested that the annual subscription may be around $100.00, but I seriously doubt that would be the case. I believe Greg's earlier assumptions to be much nearer the mark. I guess it will depend largely on just what additional features, options, and/or enhancements might be available with the subscription package. In the end, only time will tell.
Would the introduction of a subscription based Windows operating system be a good thing? I believe it would, choices are always a good thing. A traditional purchase will still suit many but a subscription package will also have appeal for many users, and multiple device users, including families, may well be better off financially with a reasonably priced multi-license package.
What do you think?