Does the idea of pouring water into your PC leave you trembling with anxiety? After all, water, shiny components and sparkly volts don't exactly co-exist happily do they? Water is rather wet, seems to leak at the first opportunity and always finds the path of least resistance. But then you realise that you've got a water filled radiator in your car and because of weird science and surface area ratios, it doesn't do such a bad job in the end does it? Remember way back in those days of yore, your car overheated, you pulled over in the middle of nowhere and some bright spark tells you that your thermostat's blown? So you're told to turn up the heat, crank the fans up to full blast, but at least you got home and received your first lesson in the principals of the heat exchanger.
Why water cool your PC?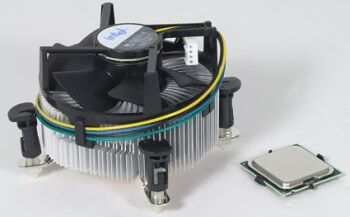 When you buy a new PC it will most likely be fitted with a stock Intel or AMD heatsink cooler over the CPU and for most everyday usage will be adequate for purpose. The same is true if you buy a new, boxed CPU as they are always packaged together, however AMD supplies a more effective twin pipe cooler as standard on their higher end CPUs such as Phenoms and for very good reasons: they may well be overclocked and generate more heat than a standard Sempron.
On the other hand Intel simply supply heatsinks with different thicknesses depending on the CPU but the trend seems to be towards a slimline heatsink, albeit (sometimes) with a central copper conductor. I mention this because only last week I was presented with a case in point. When moving away from stock to either more effective air cooling or water cooling with a radiator, one has to consider budget and case configuration because some air coolers are so large that they simply won't fit the case. On the other hand, with water cooling one must consider where to mount the radiator. Water cooling tends to be quieter than the larger air cooled heatsink options, but it is more expensive. I run one PC with water and the other with a giant Cooler Master V6, six pipe heatsink cooler. Both are extremely effective at keeping heat at bay, with the Corsair water system being barely audible. Why water cool? Most agree that water is a better thermal conductor and will bring a hot CPU back down to normal far quicker than air cooling.
When stock CPU coolers just don't cut it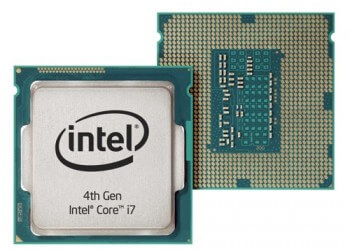 It was a pleasant surprise when a university student brought his PC to the shop , mainly due to the very high spec of the components inside a very shabby and completely inadequate computer case. The CPU was an Intel i7 4790 which was paired with a Zotac GTX 970 GPU. Clearly a serious combination of gaming hardware let down by the case, but more importantly, the puny stock Intel CPU cooler. Not only was he using it for gaming but also for 3D image rendering using Autodesk 3ds Max and therein lay the problem; random blue screens when rendering images or playing high end games. Blue screens often point to any number of different causes such as memory or hard drive failure, but in this case I was fairly confident that the issue was heat, and so it proved to be. Running HWmonitor in the background with 3ds Max working a serious amount of rendering, I saw the CPU temperature shoot up to 96c (204f) and even hit 100c at one point, which clearly is going to produce problems, not to mention possible damage to the processor. According to CPU World, the maximum operating temperature of this CPU is 72.72c and according to Intel, the Tcase (IHS) is 74c. Not only that but the idle temperature never went below around 55c, which rang alarm bells in the first place.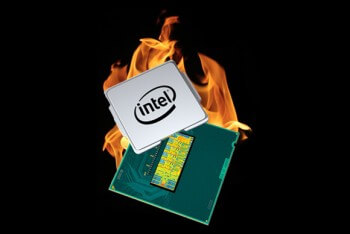 Fortunately the student's budget allowed for a decent upgrade and bearing in mind that Buenos Aires gets very hot, he agreed with me that we should fit a Corsair water cooling system, which of course also required a shiny new case to put everything in.
Open loop or closed loop?
PC enthusiasts have been experimenting with different ways to keep CPUs cool for many years and water cooling was largely born in the kitchen using whatever materials came to hand. An open loop or custom water cooling system usually consists of a block, pump, reservoir, radiator, tubing and fittings (joints). It's pretty much a labour of love, doesn't take any prisoners, and the liquid used will determine how often the coolant needs to be changed. It's a purist's delight actually, but if you don't have the time or inclination it's a pleasant surprise to find that all-in-one or closed loop water cooling is now very much in the mainstream of PC modding at affordable prices.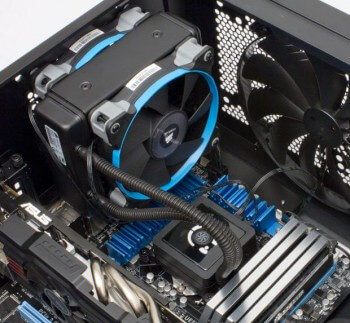 All the requisite components in a closed loop system are built into the kit, with the pump on the block and the reservoir effectively becoming part of the radiator.The beauty of this of this kind of set up is that the coolant never needs changing and the risks of accidental leaks, although not unknown, are greatly diminished. Our friend the student opted for a Corsair H100i GTX system which comprises a block with built in pump and a large 240mm radiator with two 120mm fans.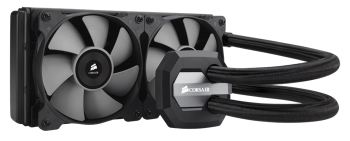 Fitting the system in your PC
Fitting is a relatively simple procedure which is made a lot easier if you have a well specced and modern PC case with pre-drilled mounting holes, preferably at the top (where the PSU is fitted at the bottom of the case). Fortunately I had the previous experience of fitting my own H100i a few months ago and, whilst a daunting experience at first, it soon becomes an exciting learning curve. As with most cooling kits, Corsair supply mounting brackets for both Intel and AMD sockets and in the latter case, the motherboard doesn't even have to be removed from the PC case, such is the simplicity of the AMD socket arrangement as opposed to Intel's maddening and archaic push and click set up. But that Intel push and click is all but a distant memory when the backplate is fitted, because the whole arrangement is finished off with four sturdy thumbscrews which complete the job of giving the block as tight a fit as possible to the processor.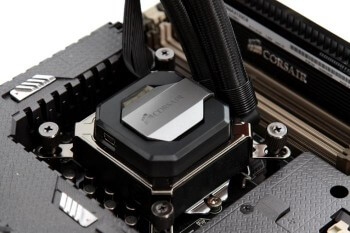 The two 120mm fans are normally mounted in a pull orientation so that cooler air is pulled onto the radiator, into the case and if you have one fitted, exhausted through the back of the case. The cable connections are very simple and will connect with the CPU fan header on the motherboard and the USB to one of the USB headers.The USB connection is so that the device is recognised and can be controlled the the Corsair Link software.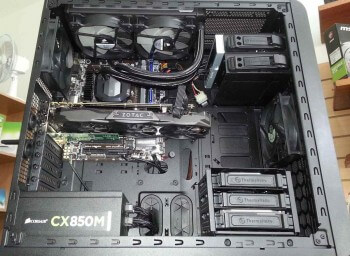 Customise your system

With the Corsair Link software you can monitor temperatures and fan speeds and even change the colour of the LEDs on the pump itself. One of the most useful features of Link is being able to set the fan speeds on the two 120mm fans. On my system I have them set to quiet, which is about 850 rpm for each, which is perfectly adequate for a stable and cool system. You can even upload your own PC photo to match the template for the various fan and temperature settings, which is pretty cool.
What isn't cool though, is that the software is a tad flaky, has a tendency to crash and will often not even recognise the H100 unit in spite of firmware and software upgrades. Frankly, it's the kind of software I use once in a while and when it annoys me I just shut it down and make sure it doesn't load with Windows.
And what about our student, I hear you ask!
As expected, when I fired up the system and went straight to the UEFI/BIOS, I found an idle temperature of around 25c (77f), which is far cry from the previous idle temperatures of 55c and with Windows loaded, a few programs running in the background, including the odd YouTube video, the CPU temperature struggled to get beyond 30c with an ambient temperature of around 20c. Even in a graphic intensive game, there wasn't much shift above 30c and the highest temperature I recorded using 3ds Max was around 35c. Needless to say, our student was chuffed to bits and with any luck will pass his good fortune on to his mates and they'll be queuing up at my door next week.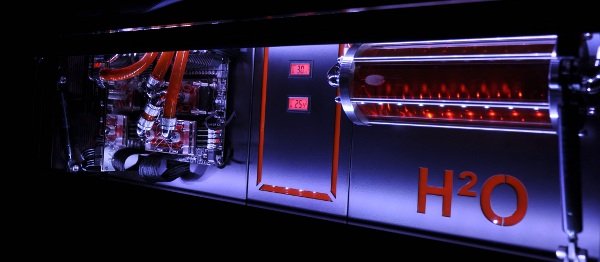 Clearly, water cooling isn't for everyone and a decent, less expensive custom air cooler should be considered prior to water cooling, particularly for those graphic intensive jobs. However, if you're a gamer, 3d modeller or simply love modding and want to keep your rig frosty cool, I can highly recommend water cooling, whether it be from Corsair, Cooler Master, Thermaltake or any other manufacturer.