I'm pretty sure regular DCT readers would be well aware by now of my intense dislike for Windows 10's forced automatic updates. It doesn't seem to matter how much I change Windows 10's update settings to try to prevent updates from downloading and interrupting my work flow, they'll continue to download WHEN THEY FEEL LIKE IT, and often at the most inconvenient of times.
Recently, I have taken to disabling the services which Windows Update relies on and only enabling them now and then WHEN I'M READY. Just recently, however, I came across a new freeware called StopUpdates10, which safely prevents Windows 10 updates from initiating: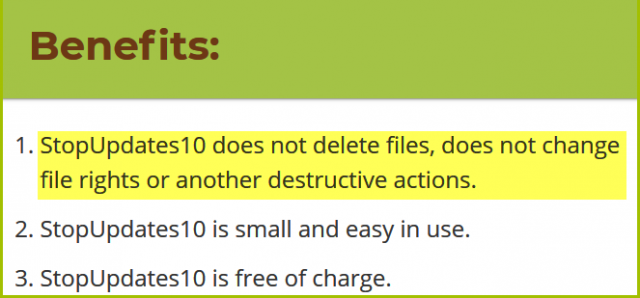 At first I thought this utility would probably just be a script which disabled and re-enabled the services associated with Windows update, but while I'm still pretty sure that would probably constitute part of StopUpdates10's overall process, according to the developer it also creates the policy Registry keys necessary to block updates: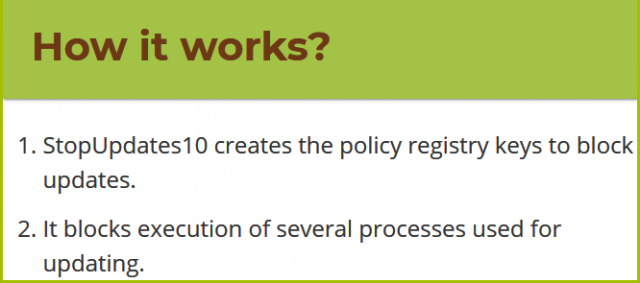 StopUpdates10 Download And Usage
One of the main reasons StopUpdates10 caught my attention, apart from the obvious, is because there is a portable version available. Always a big plus in my book. The download is a 1.24MB zip file. Simply extract the contents and then run the extracted executable: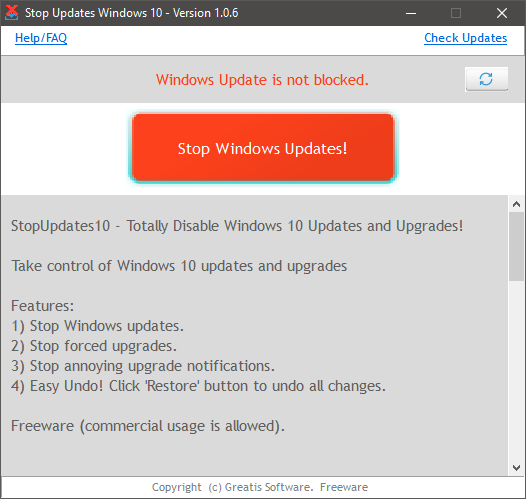 As you can see from the above screenshot, StopUpdates10 is a very simple little utility to use. Just click on the big red button to "Stop Windows Updates!"… that's it. When you're ready to check and see if any updates are available, simply run the software again and click the "Restore Windows Updates" button:
I could go into more detail, but there is a font of information on the product page, including a little video of StopUpdates10 in action, plus direct download links for both the installable and portable versions. So, I'd suggest you pop on over to StopUpdates10 and read through the developer's ample description.
Final Verdict
There are a number of these types of utilities available, however, somewhat ironically, most of the others (if not all) have been rendered useless by recent Windows 10 updates. And while StopUpdates10 does not include options to selectively prevent certain types of updates while allowing others– something which I'm pretty sure would be very difficult if not impossible to implement– its portability and sheer simplicity make it a very appealing option.
Cheers… Jim
—