I don't mind saying I've been backing up since day one. My first computer was a 486SLC. It only had a floppy drive and that's what I originally used. They would only hold about 1.4 MB of data. At the time, you really didn't need more than that. For files too large to fit on a floppy I used a program called Axeman (no longer available), and HJ-Split, which is still available.
These days, with DVD burners and flash/external hard drives, there isn't much need for splitting files. For document backups I still use CDs and DVDs. For full system image backups, I have a Verbatim Store 'n' Go external hard drive. I also have a few laptop drives and two desktop SATA hard drives. It doesn't hurt to have a few backups.
No Drive Letters
I use both Macrium Reflect and the Windows 7 built-in backup. Normally, I would just plug in my backup drive and run the backup program, but this time when I plugged it in, the drive did not show up in Windows Explorer. I tried the other hard drives and had the same problem. Flash drives worked perfectly.
So, I went to the Start Button and Right-clicked on Computer in the Start Menu, then clicked on Manage. Then I clicked on Disk Management in the Computer Management window. The drive(s) I plugged in were listed but, for some reason Windows did not automatically assign a drive letter.
AutoMount
So, online I went and found this simple solution:
Open up a Command Prompt (Run as Administrator) and type the following and press Enter after each line:
diskpart
automount enable
exit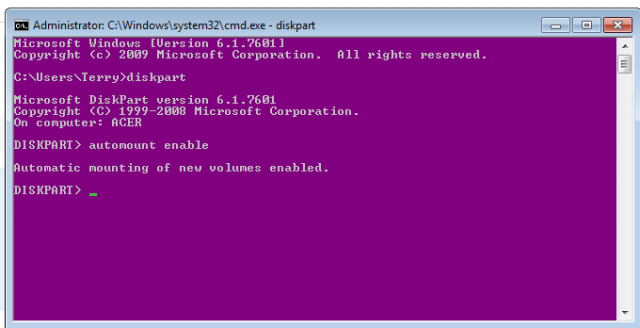 If done properly, you should get the message: Automatic mounting of new volumes enabled.
I don't know why or how this happened, but luckily it was easy to fix. If your drives still don't show a letter, then unplugging and re-plugging them in should work.
Note: Be certain the drives aren't active when you unplug them. That's a good way to lose data.
—