The new settings in Office 2013 take you to the File | Save As menu when you click the Save button. This occurs in most Office 2013 applications – the Save and Save As buttons are exactly the same when you are working with a new document. One would most likely not even notice this unless you are one of those folks who starts a lot of new documents rather than working on documents created by others. So if you do create a lot of your own new documents this feature can be a bit distracting.
Follow the steps below to learn how to disable this feature:
Open any Office 2013 application in which you would like to change the settings.
Click the File tab.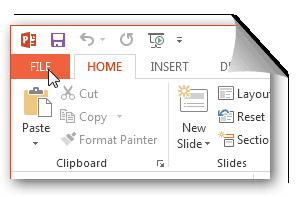 From the resulting menu, click the Options icon.
In Options, click the Save tab.
In the right-hand pane, select Don't Show the Backstage when opening or saving files,
Click OK.
When clicking the Save button when working on a new document, worksheet or presentation, it will now open the traditional Save As menu from Windows Explorer.