In 1941, Dennis Ritchie, the father of C and co-creator of UNIX, was born.
Windows was once written in C and UNIX underpins both Mac OS X and iOS. While Dennis Ritchie's contributions are largely invisible to consumers, his contributions are critical to the digital revolution that we are experiencing today.  Dennis Ritchie died on October 12, 2011.
Learn more at http://www.wired.com/wiredenterprise/2011/10/thedennisritchieeffect/.
In 1983, Radio Shack announced their Color Computer 2.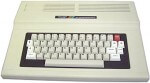 The Color Computer 2 (CoCo2) had a better keyboard and a more integrated circuitry than the original Color Computer. 

There were two models – one with only 8k ROM (Color Basic) called Standard Color Computer 2 and another with 16k ROM (Extended Color Basic) called the Extended Color Computer 2.
Learn more at http://www.old-computers.com/museum/computer.asp?st=1&c=508.