In 1993, 
Compaq announced its Presario line of personal computers.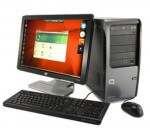 Starting at $1,499, the Pentium 4 2 GHz basic system configuration included a 20 GB 7200 RPM hard drive, 128 MB of PC800 RAMBUS memory, 48x CD-ROM drive and a 17″ CV735 monitor.
Learn more at http://www.hp.com/hpinfo/newsroom/press/2001pmc/pr2001082701.html.
In 2001, version 6 of the Internet Explorer web browser was released.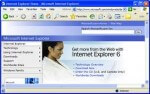 It was the default browser shipped with Windows XP and Windows Server 2003, and was also made available for Windows NT 4.0, Windows 98, Windows 98 SE, Windows Me, Windows 2000, and Windows Home Server.
Learn more at http://en.wikipedia.org/wiki/Internet_Explorer_6.