In 1998, Intel launched the 333 MHz Pentium II chip.
It was codenamed Deschutes. It didn't offer much of a performance boost over its predecessor, a 300 MHZ chip. However, using a new fabrication process allowed for a smaller die size and less power consumption.
Read more about Pentium II chips at http://www.pcguide.com/ref/cpu/fam/g6PII-c.htm
In 1697, Isaac Newton received Jean Bernoulli's 6-month time-limit problem and solved the problem before going to bed that same night.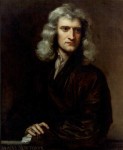 In solving the problem, he invented a new branch of mathematics called the calculus of variations.
Learn more about the calculus of variations at http://www.britannica.com/EBchecked/topic/89193/calculus-of-variations
In 1895, mathematician Arthur Cayley died.
Cayley made important contributions to many different areas of mathematics — the algebraic theory of curves and surfaces, group theory, linear algebra, graph theory, combinatorics, and elliptic functions. In addition, he formalized the theory of matrices.
Learn more at http://www.britannica.com/EBchecked/topic/100792/Arthur-Cayley