[message type="info"]The winning names have now been drawn… and the winners are:
Harris Evans
Dave O\\\'Dell
Sharon Lippincott
Charlie Copeland
Gareth Smith
Lindsay Fotheringham
Tracy Johnson
Wendy Arcand
Patrick Fox
James Mowrey
THIS GIVEAWAY HAS NOW EXPIRED!
Congratulations to all winners and thank you to all entrants. A special thanks to all those who 'Shared' or 'Tweeted'.[/message]
iSkysoft has most kindly donated ten (10) licenses for its very good PDF Editor software for us to giveaway to our subscribers. This is the latest full version (4.0.1) of iSkysoft PDF Editor which would normally sell for $69.95us but you now have the chance to win a license absolutely free. Thank you iSkysoft!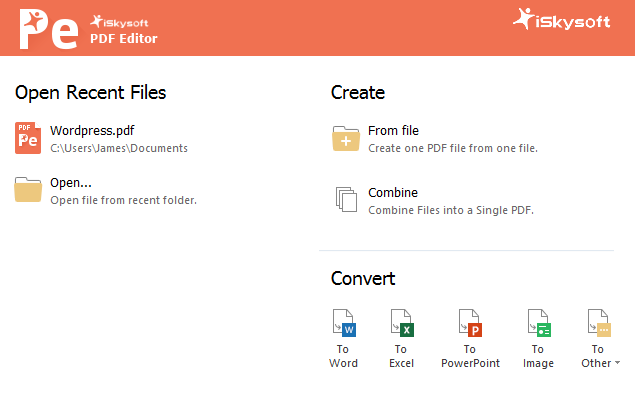 A Smart Program that will Edit, Convert and Create PDFs

iSkysoft PDF Editor for Windows makes it possible to edit your PDF documents on a large scale as in an Office Word processor.

Edit PDF as easy as on Microsoft Office Word
Encrypt your PDF files with password
Convert PDF documents to MS Word, PowerPoint and Excel
Create PDF files from Word, PowerPoint and Excel
Markup and annotate PDF documents Easily
iSkysoft PDF Editor – The Software
PDF has become the universally accepted default document format and anyone who works with PDF files these days needs a professional PDF editor. iSkysoft PDF Editor is just such a software, providing just about every conceivable feature one could wish for.
Installation is straightforward and clean with zero bundling or unwanted extras to worry about. At the completion of installation, the user is presented with options to enable a right click menu item and set iSkysoft PDF Editor as default: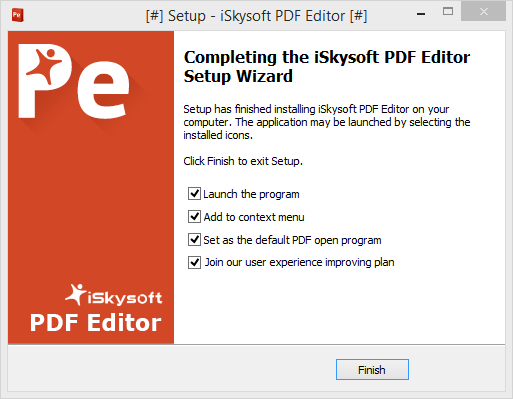 I found iSkysoft PDF Editor's interface surprisingly intuitive and very easy to comprehend and work with: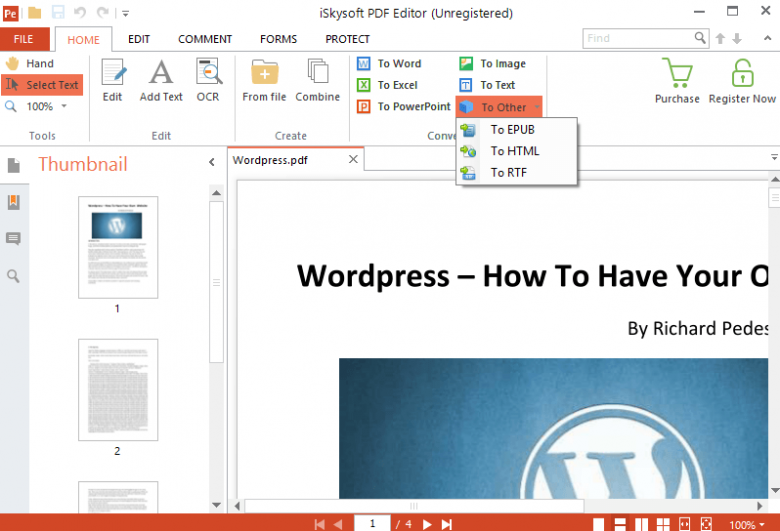 Each tab across the top the interface opens a new set of associated menu items from iSkysoft PDF Editor's terrific range of features. It's all pretty self explanatory so I'll just let the screenshots do the talking:



See, I told you iSkysoft PDF Editor includes an amazing range of features and options!
Read more details regarding iSkysoft PDF Editor and its many features here: iSkysoft PDF Editor Home Page
iSkysoft has also published a comprehensive instructional page which includes multiple guides to help users get the most out of all those features, available here: 101 Tips To Advance Your PDF
Forget about installing multiple PDF tools to get the job done, iSkysoft PDF Editor is your all-in-one professional solution.
iSkysoft PDF Editor – The Giveaway
How Do I win?
We'd appreciate it if you'd take a moment and submit a comment about the iSkysoft PDF Editor software. However, submitting a comment is not required to enter this contest and will have no bearing on your chances.
For your chance to win, simply enter your name and valid email address in the spaces provided below then click Enter Contest. After your entry is accepted you will be presented with options to share the contest on Twitter and/or Facebook and each share will get you an additional entry. Sharing the contest on social media is completely voluntary, but encouraged. It works as follows:
Submitting name and email address gains one entry = one chance to win.
Then, sharing on Facebook gains one additional entry = two chances to win.
Tweeting on Twitter gains one additional entry = two chances to win.
Sharing on Facebook plus Tweeting on Twitter gains two additional entries = 3 chances to win.
Competition Rules:
To enter: simply submit your name and a valid email address.

You must submit a VALID email address. We need to contact the winner so disposable email addresses will not be eligible.

Additional entries may be earned by voluntarily sharing on Facebook and/or on Twitter.

Shortly after the contest ends the winner(s) will be chosen at random.

Winner(s) names will be posted on this giveaway page. Please check back here to see the winner(s) name announcement!
The winner(s) will be notified by email at the email address used to enter the contest – be sure to use a valid email that you check regularly.

Winner(s) must claim their license within 7 days. After the seven (7) day period, unclaimed prizes will be distributed at the sole discretion of DCT.

Entrants agree to allow DCT to communicate with them by email using the address provided by the entrant when entering the contest.

By entering this contest your are explicitly granting permission for DCT to pass your email address on to iSkysoft. THIS APPLIES TO WINNERS EMAIL ADDRESSES ONLY. iSkysoft requires an email address to associate with each license.
[contesthopper contest="34693″]