*Seeing how I am a two finger typist at best and the name of this software is just too long to be continually typing out in full, any further reference in this article is abbreviated to BART.
*At time of publishing this article, BART is is Beta mode and, according to the listing on MajorGeeks, is "Freeware (During beta)", which suggests the software will eventually be subscription based. However, I couldn't locate any information in that regard on the official home page and, considering the number of similar free tools already available, I doubt Bitdefender will go the premium route. Then again, MajorGeeks may know something I don't.
Bitdefender Adware Removal Tool – Download & Usage
Bitdefender Adware Removal Tool for PC is a free app that identifies and removes unwanted apps such as adware, malicious hijacker programs, annoying toolbars and other browser add-ons. Keep the apps you like, get rid of the programs that bug you. The tool will only erase those apps that you wish to be removed. It scans your computer for adware, and produces a list of apps marked for removal.
Download consists of a rather hefty 41.8 MB executable and is available direct from Bitdefender here: http://labs.bitdefender.com/projects/adware-remover/adware-remover/. The software is portable, no installation required, simply double click the downloaded file to run.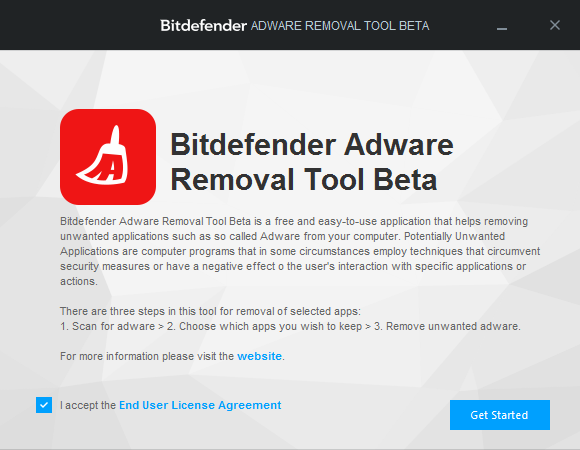 There are no settings or configurations at all, just accept the EULA and click the Get Started button, and a scan will then automatically commence: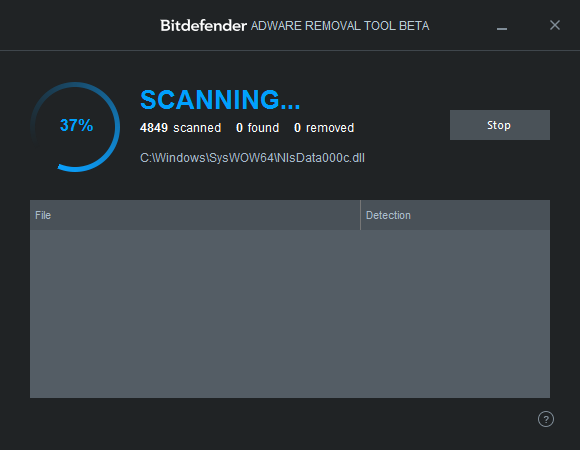 Bitdefender Adware Removal Tool – Testing, Testing… 1, 2
Rather than just scan my known clean machine I decided to put BART through a simple test. I downloaded 3 known nasties –  the Ask Toolbar, Conduit Toolbar, and MyWebSearch – and installed them in a virtual machine running Windows 8.1. I then ran a BART scan and the following screenshot displays the end result (time to completion for the scan was approximately 7 minutes):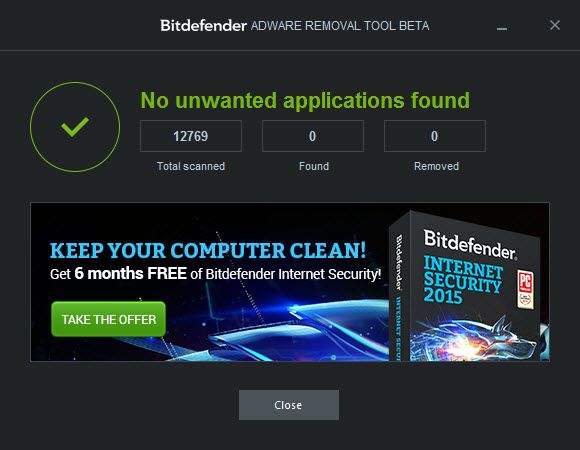 "No unwanted applications found"… what the!! Okay, so now, to make doubly sure the PUPS were actually installed in the system, I ran a follow up scan using MBAM (Malwarebytes Anti-Malware):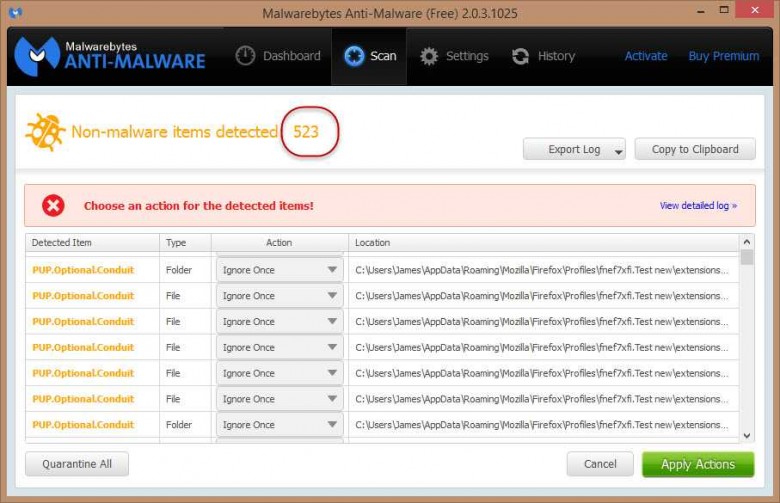 As you can see from the above screenshot, MBAM flagged more than 500 items associated with the deliberately installed PUPs (Potentially Unwanted Programs).
Bottom Line
I don't really need to say too much do I, the results pretty much speak for themselves. Suffice to say that this Beta software appears to need a lot more work yet.
BTW: As if we need any further proof that insidious toolbars such as Ask, Conduit, and MyWebSearch are a menace to computer users everywhere, each installation was accompanied by multiple requests to install ancillary software of an equally dubious nature.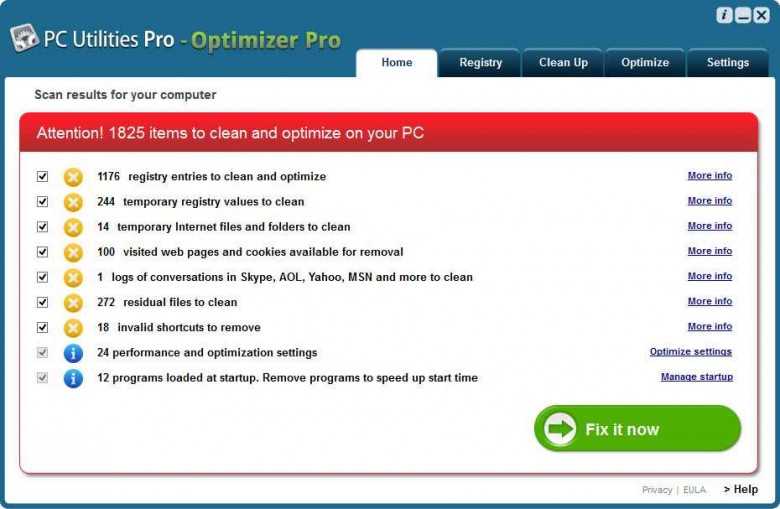 Of course, we all know what happens when we click on the Fix it now button, don't we.