When Vista hit the market we were one of the first to provide instructions for backing up the OEM Vista activation files using the Activation Backup & Restore software. When Windows 7 was released we updated our article, How to do a clean install of Windows 7 without activation on your OEM computer. Many, including myself, have used this method to make re-installing Windows easier by not requiring the license keys to be manually entered and restoring the original activation status.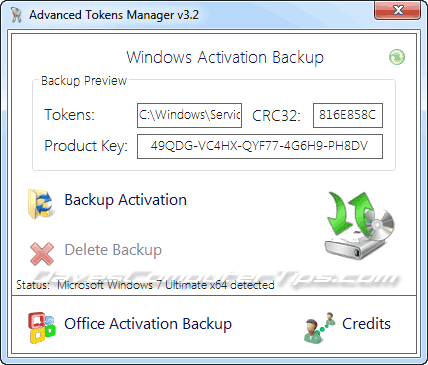 Times changes and the ABR method is still relevant, but there is a new kid on the block – Advanced Tokens Manager.
Windows Vista and later Windows operating systems, along with Office 2010, use a collection of files called a token to store the activation status of a computer. Advanced Tokens Manager allows you to backup and restore these tokens, as does ABR, but adds a nice user interface and some expanded operating system compatibility. If you use our Windows 7 clean install guide the programs should be interchangeable so you can use whichever you like. You can use the program to backup tokens to simplify re-installation at a later date or to prepare for a clean installation of Windows without entering that long license key or having to go online for activation!
Advanced Tokens Manager supports:
Windows Vista
Windows 7
Server 2008
Windows Home Server 2011
Small Business Server 2011
any server based on Server 2008
Office 2010
You can download Advanced Tokens Manager from the author's site (3mb).