I've gone through lots of keyboards over the years chasing the perfect one for me. I am not a gamer so my demands are low, all I've ever wanted is just a simple keyboard with easily distinguishable keys. As I've approached that age where everything seemingly starts to fail, I've experienced increasing difficulty with seeing what's written on the keys.
So many keyboards come with silver or grey print on black keys – what are they thinking!? I finally decided that, for me anyway, white keyboards with black print were the best option – that is, until I came across the terrific AZIO large print backlit keyboards.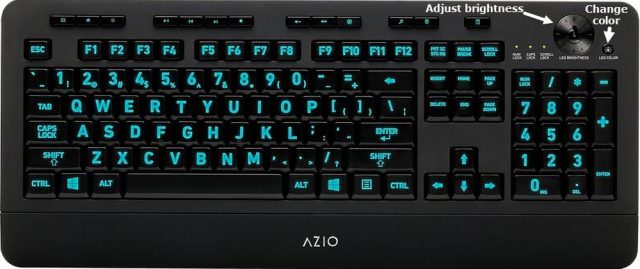 The image above shows the model I purchased roughly 18 months ago, the AZIO KB506, which comes with 5 interchangeable backlight colors and a dial to adjust brightness up and down. There is also a cheaper model available, the KB505U, which comes with 3 interchangeable colors and no brightness adjustment. However, at the price, I opted for the slightly up market model.
I am not for one minute suggesting that these particular AZIO models are high-end keyboards, they are not. They are made in China (although what isn't these days), they are wired (which is my preference anyway), and although perfectly responsive, the rubber membrane keys are somewhat clicky. However, the one great benefit these keyboards offer is the large print backlit keys which make it a breeze to see them clearly under almost any conditions. The ambient light in my workspace is not great and I do not like working under a bright light, so this keyboard is the perfect solution.
AZIO KB506 Quick Specs
Easy to see large print keys
5 interchangeable backlit colors – red, pink, blue, cyan, and chartreuse
Backlit brightness adjustment wheel
USB wired
Built-in quick access and multi media hotkeys
I can personally attest to this keyboard's durability. Being a writer, my keyboards get quite a bashing. I'm also a smoker and somewhat untidy at the computer (which actually flies in the face of my normal character), so my keyboards suffer quite a deal of abuse. This keyboard has never missed a beat in the 18 months or so.
The All Important Price

At the time of writing this article, US residents can pick up the AZIO KB506 for around $25.00 (US) plus delivery, although they are quite a bit more expensive in Australia (around $60.00AU). I took the gamble and paid $54.00 for mine on eBay and it has proven to be exceptional value, easily one of the best purchases I've ever made. Obviously these keyboards are not going to suit everyone, but if you are elderly, somewhat visually impaired, or use the computer in a low light environment, I can highly recommend these AZIO large print back-lit keyboards.
—