Apple held their "Spring Forward" event on March 9th. While new MacBooks were announced, the star of the show was Apple Watch. While much was revealed at Apple's September 2014 event, several burning questions remained — pricing, release date, and battery life.  Well, these are burning questions for me or anyone else who plans on getting Apple Watch.  I am happy to say that these questions were answered at the latest Apple event. But, first, let's take a look at what was revealed back in September.
Apple CEO Tim Cook announced the coming of Apple Watch during the Apple event in September 2014 by saying "we have one more thing" with an obvious nod to Steve Jobs. He also said that Apple Watch will "redefine what people expect from a watch" and it is the "most personal device we ever created."
Quite a bit of information about Apple Watch was revealed. Calling it a "revolutionary product", Mr. Cook announced that a digital crown on the side of the watch is the means for zooming, scrolling and returning to the Home screen. It consists of infrared LEDs and photo diodes that translate the rotary movement into digital data. He likened it to other revolutionary products such as the Mac's mouse, iPod's click wheel and iPhone's multi-touch display.
According to Sir Jonathan Ive, Apple's Senior Vice President of Design, Apple Watch has a flexible retina sapphire crystal display that senses touch and force.  So a tap will have a different meaning and outcome than a press.
It was also revealed that there are three versions of the watch that come in two different sizes: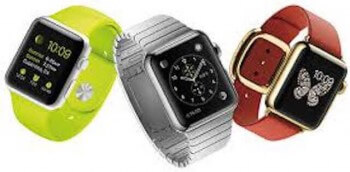 Apple Watch consisting of a polished case made from a custom alloy of stainless steel.  It is available with a stainless steel or space gray stainless steel case and features a sapphire crystal display.
Apple Watch Sport features an anodized aluminum case in silver or space gray.  Its display is strengthened ion-X glass.
An 18-carat gold Apple Watch edition has a case in yellow or rose and has a sapphire crystal display.
Also, we were told there would be six  interchangeable wristbands available:
Stainless steel link bracelet
Sport band
Leather loop
Leather classic buckle
Leather modern buckle
Milanese loop
Lastly, it was revealed that Apple Watch is compatible with iPhone 5, 5c, 5s, 6 and 6 Plus, is compatible with Apple Pay and will "start at $349."
So, that's what was revealed in September. Now for the answers to those burning questions:
Price – While we knew that the starting price is $349, that's all we knew. We now know that the price ranges for each model are:
Apple Watch Sport starts at $349 for the 38 mm (1.5 inches) version; $399 for the 42 mm (1.65 inches) version. There will be ten different models.
Apple Watch starts at $549 to $1,049 for the 38 mm (1.5 inches) version; $599 to $1,099 for the 42 mm (1.65 inches) version. There will be twenty different models offered.  The price variance depends on the band selected. They range in price from $49 to $449.
Apple Watch Edition ranges in price from $10,000 to $17,000 and will be offered in eight different models. I'll just say – Wow.
Release date – Apple Watch will be available for pre-order and preview at Apple Stores on April 10th. It will be available for purchase (and shipping) on April 24th. In addition to the US, it will be available in Australia, China, France, Germany, Hong Kong, Japan and the United Kingdom
Battery life – Tim Cook commented at the September event that Apple Watch is made to be worn "all day." That being said, there had been some speculation about Apple Watch's ability to make it through the day without needing to be charged. Apparently, "all day" is eighteen hours, as Tim Cook announced at the "Spring Forward" event. For some, including me, that is sufficient but I suspect that for many, it is not.
In addition, it was announced that there are already "thousands of apps" for Apple Watch. Definitely a good start as long as they are quality, useful apps. Apps can be downloaded by an iPhone from the Apple Watch Store.
So, we now know the necessary details regarding Apple Watch. Will Apple once again revolutionize an industry by creating a device that we didn't even know we needed? Only time will tell.