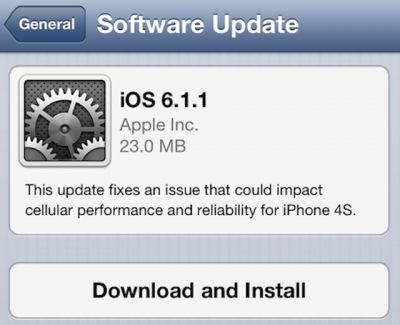 Earlier this week, Apple released iOS 6.1.1.  It "fixes an issue that could impact cellular performance and reliability for iPhone 4S."   Note that this iOS update is for iPhone 4S users only.
Another update is expected some time next week to address the remaining known issues with iOS 6.1.
The first issue is the ability to physically hack into a locked iPhone running iOS 6.1. As shown in a video on YouTube, it is possible to get past the locked screen and make calls, access contacts and photos and review call logs. Fortunately, that's a far as an interloper can get. There is no access to any other apps.
The update also does not address the battery life issue reported by many users after downloading iOS 6.1. According to an Apple support article,
When you respond to an exception to a recurring calendar event with a Microsoft Exchange account on a device running iOS 6.1, the device may begin to generate excessive communication with Microsoft Exchange Server. You may notice increased network activity or reduced battery life on the iOS device.
Apparently, since I don't use Exchange, the decreased battery life would not be an issue for me.  Also, I don't lock my phone.  That's not a good thing, I know.  All in all, since I haven't updated my iPhone 5 to iOS 6.1, I might as well wait until iOS 6.1.2 at this point.