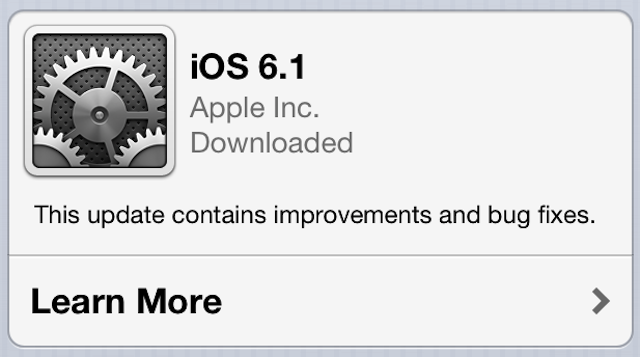 Apple released iOS 6.1 on January 29th. I haven't gotten around to updating my iPhone and iPad yet. Usually I wait a couple of days as opposed to weeks after the release date but things have been fairly hectic lately. For reasons explained below, I think I'll wait for the next update to come out before updating.
There are a couple of new features in iOS 6.1, such as:
LTE Support for more carriers. For a complete list of carriers can be found at www.apple.com/phone/LTE/
You can now use Siri to purchase movie tickets through Fandango (US only)
If you are an iTunes Match subscriber, you can download individual songs for iCloud.
There is a new button to reset Advertising Identifier – (when I saw this, I thought 'Huh?')
So, I think a little explanation is in order. The button (Reset Advertising Identifier) can be found in Settings – General – About – Advertising. iOS 6 introduced the Advertising Identifier. This is a non-permanent, non-personal device identifier. Apps will use this to give you more control over advertisers' ability to use tracking methods. iOS 6.1 adds the ability to reset the Advertising Identifier. If you choose to limit ad tracking, apps are not allowed to use the Advertising Identifier to serve you targeted ads. For now, apps are not required to use the Advertising Identifier so you may still receive some targeted ads. In the future, all apps will be required to use the identifier.
• Bug fixes – No details were provided, which is pretty standard.
Earlier, I mentioned that I am going to wait for the next update before updating and here's why. There has been anecdotal evidence provided by users on Apple's support forums of issues with iOS devices running hot and having greatly diminished battery life once the device has been updated with iOS 6.1.
The cause of the problems is not known but, as reported by Computerworld, some blogs are proposing the theory that the OS gets in an infinite loop with Exchange mail servers which, in turn, causes the fast battery drain. Some users have even reported resolving the battery issue by deleting and reinstalling their email accounts.
The bottom line is, if you haven't updating your device's OS to 6.1 and there is nothing that you absolutely have to have in the new version, consider holding off updating your device until Apple's next iOS release.