World Backup Day
The 31st of March is World Backup Day and our friends at Aomei are giving away their Backupper Pro software to celebrate.
"AOMEI Backupper Professional edition, an advanced backup and restore software, contains all features of the Standard edition, provides complete and reliable PC backup and restore strategies for Windows 10/8/8.1/7/XP/Vista. System Clone, Backup Scheme, Dynamic Disk Backup, Dissimilar Hardware Restore, Merge Images etc. and many useful features are available. As [a] disaster recovery solution, it will help you recover lost data and restore system effortlessly.
Backup: supports incremental/differential backup, file/folder backup, system/disk backup, event-trigger backup;
Restore: supports selective file restoring, dissimilar hardware restore(Universal Restore;
Clone: supports OS migration from HDD/SSD to HDD/SSD without reinstalling;
Sync: supports file/folder sync, real-time sync;
Utilities: pxe boot tool, create bootable USB or CD/DVD, command line backup and restore, etc.
Multi-Language: support English, Français, Deutsch, 日本語, Simplified Chinese and Traditional Chinese." ~ Aomei
The following screenshot shows the Backupper Pro main screen and shows some of  the many features included in this program: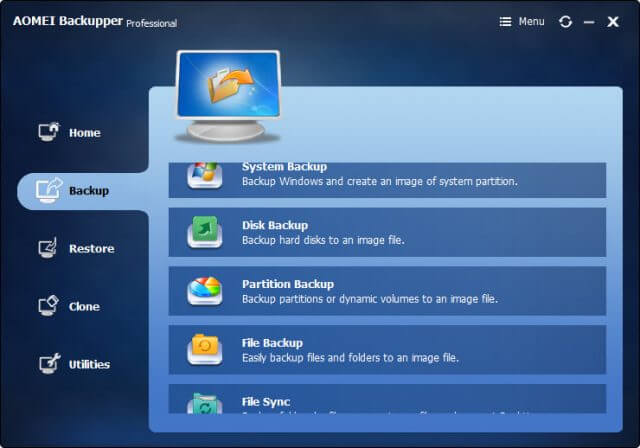 One very nice feature is the ability to create bootable media for this software. This means that you will be able to run Backupper Pro even if Windows fails to boot. The above link will take you to the official Aomei Backupper Pro page where you can read all about how this fine program can help you to backup/recover your important data.
Conclusion
We at Dave's Computer Tips are constantly reminding you to make backups. A proper backup system will make your computer bullet-proof. This is your chance to try out a great backup solution free of charge. Don't waste this opportunity.
You can use this Download Link to get your free copy and a license will be included.
This license is only good for the duration of the giveaway (March 25 through April 1, 2019)
It cannot be used to re-install the program if you should decide to uninstall it
It is meant for home/personal use. No commercial use of this program is allowed without express permission from Aomei
Our readers have pointed out that this license will expire in one year's time
Take advantage of this World Backup Day giveaway. This doesn't happen often!
—