Changing the WHS 2011 workgroup
At this point you will be looking at the following screen.
Do NOT fill in the requested information. Instead hold down the control key and press the f10 key (shift+F10), which will open a command prompt. At the prompt type control system followed by the Enter key.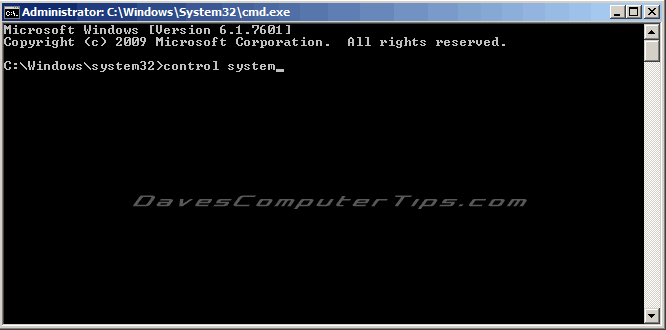 This will open the System applet from the control panel. Notice that the default workgroup is "WORKGROUP" and there is a link that will allow you to change the setting – you will not see this once setup is complete.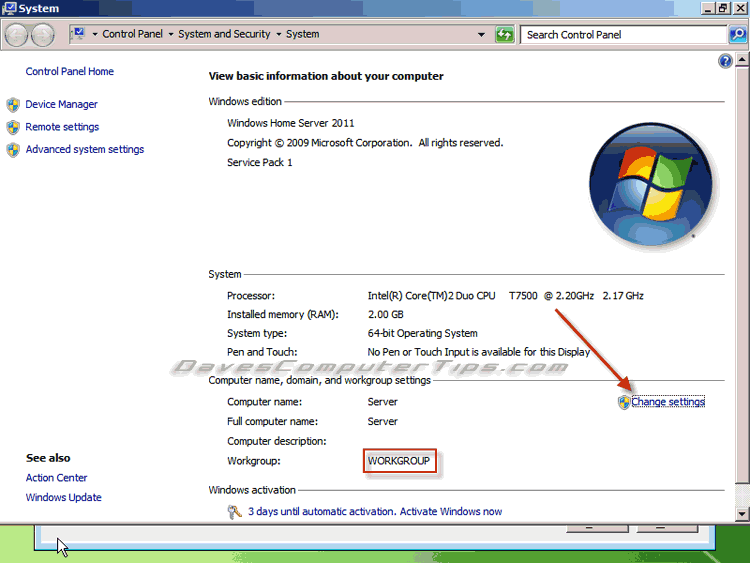 Clicking the change settings link will open the system properties window. Click on the Change button.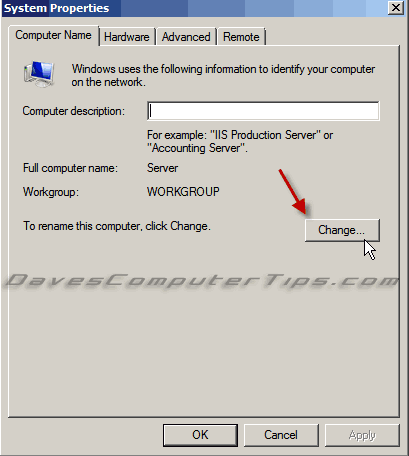 Type the name of the workgroup you prefer and click OK to close the popup window.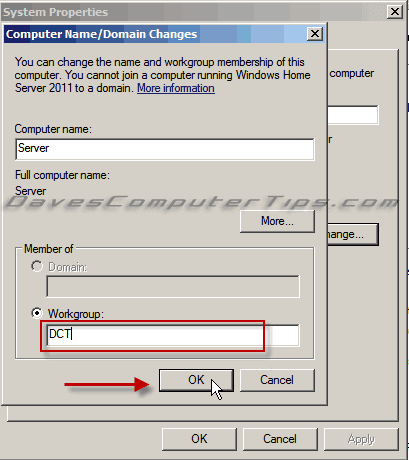 You will receive a welcome to the new workgroup (DCT in this example). Simply click OK to close the welcome message.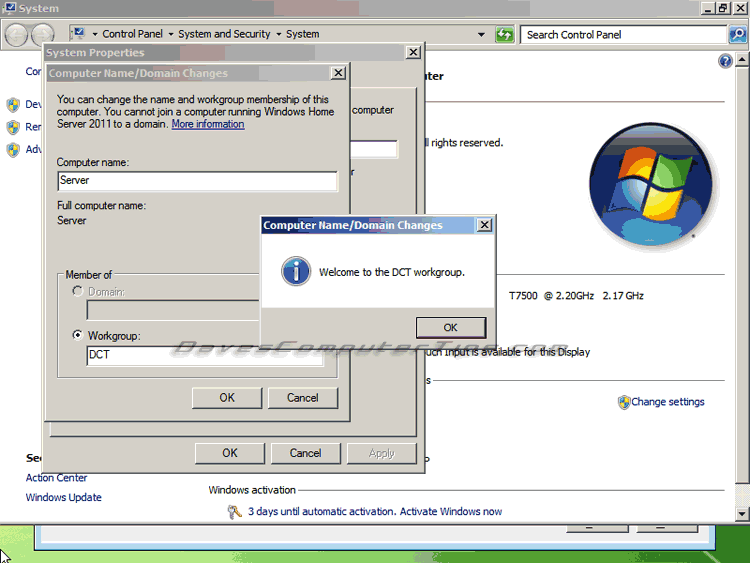 Next you will receive a warning that the computer must be restarted for the changes to take affect. We don't want to interrupt the setup process so click Restart Later.

Close the System applet by clicking the X in the upper right corner.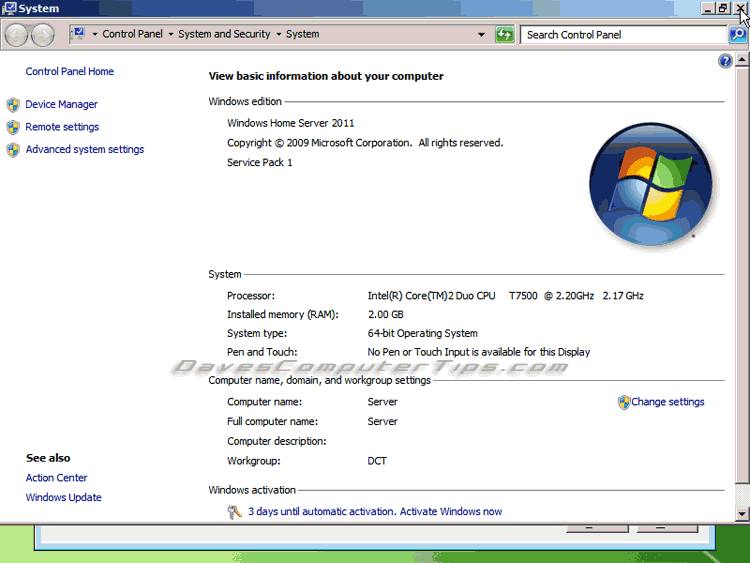 Close the command prompt window by clicking the X in the upper right corner. Hey, we're right back where we started!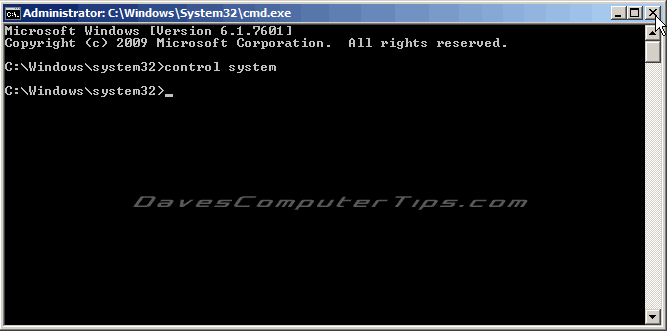 Finishing up the Windows Home Server 2011 installation
Enter the name you would like the server to be known as on your network (DCT-SERVER in this example). Enter a secure password and re-enter it again to confirm. The password requirements are 8 character minimum (more is better) and it must contain at least 3 of the following categories: uppercase letters, lowercase letters, numbers, and symbols. Be sure you enter a password hint in case you forget the password. Click Next to proceed.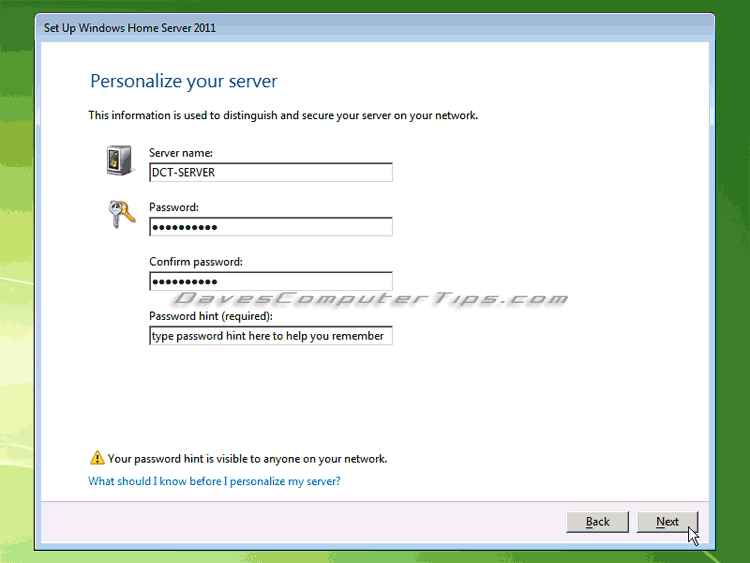 Click on Use Recommended Settings.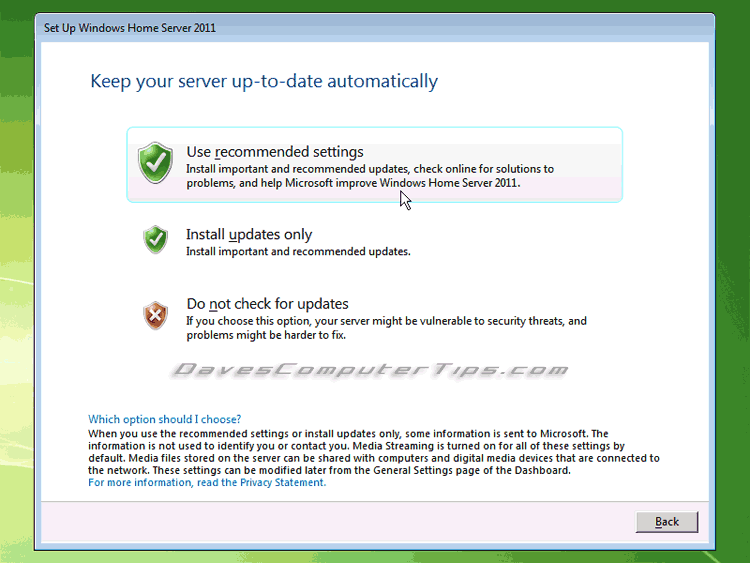 We're almost home. Setup will continue for a few more minutes as you watch this screen in anticipation. Have another refreshing beverage.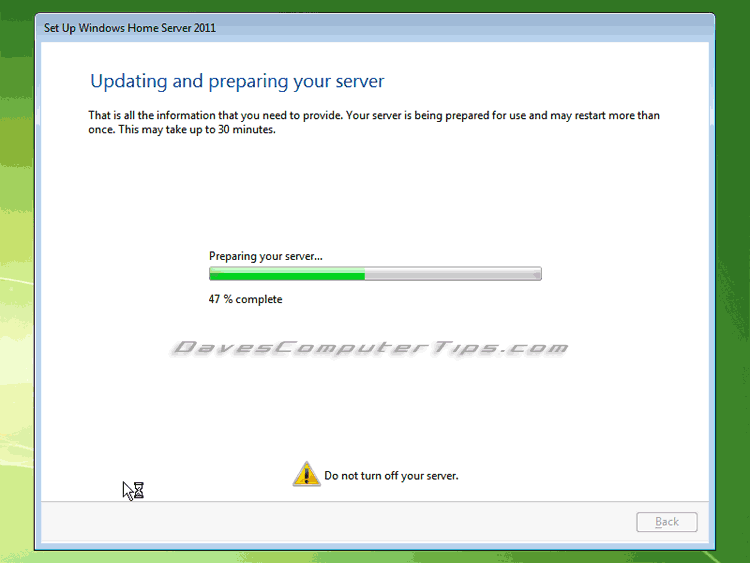 WHS will restart and you will be greeted with the following screens.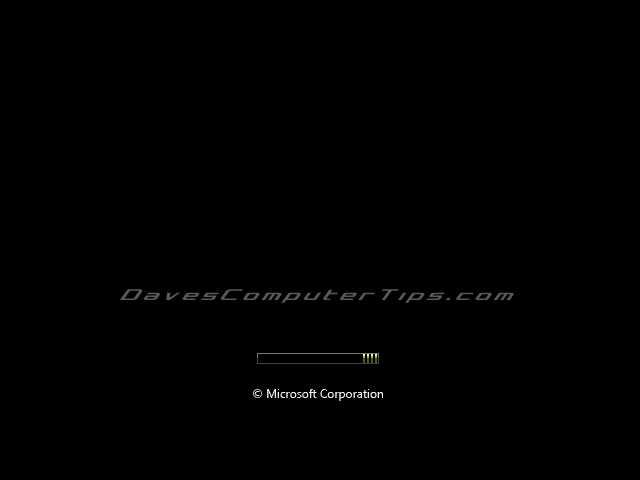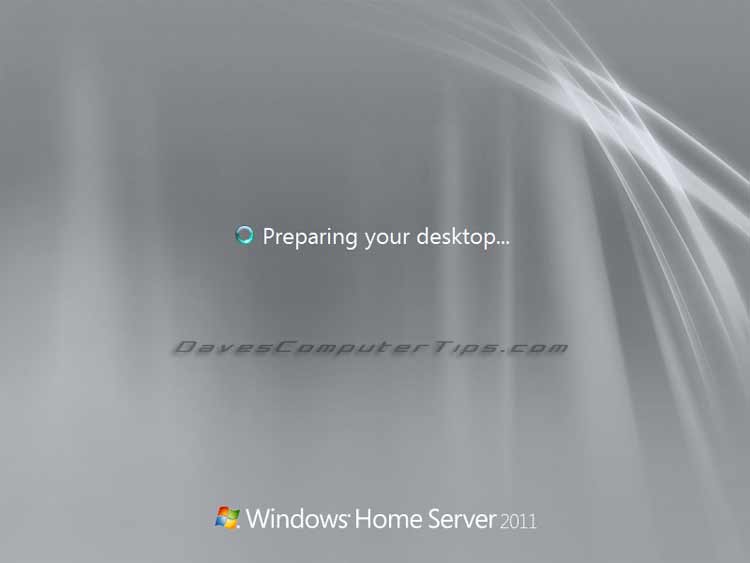 Another brief view of the desktop before installation continues.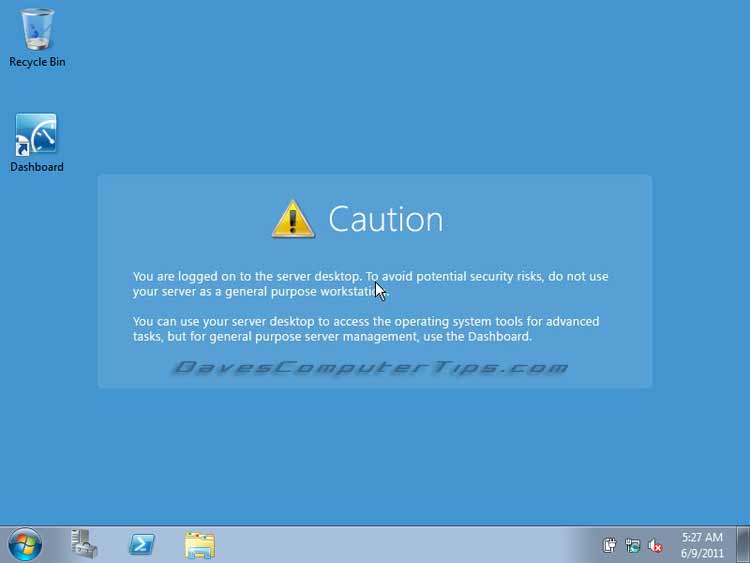 Setup continues…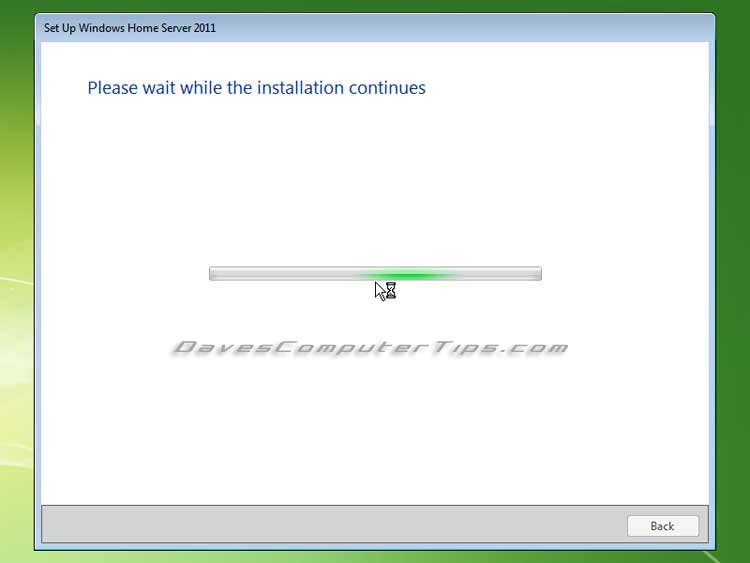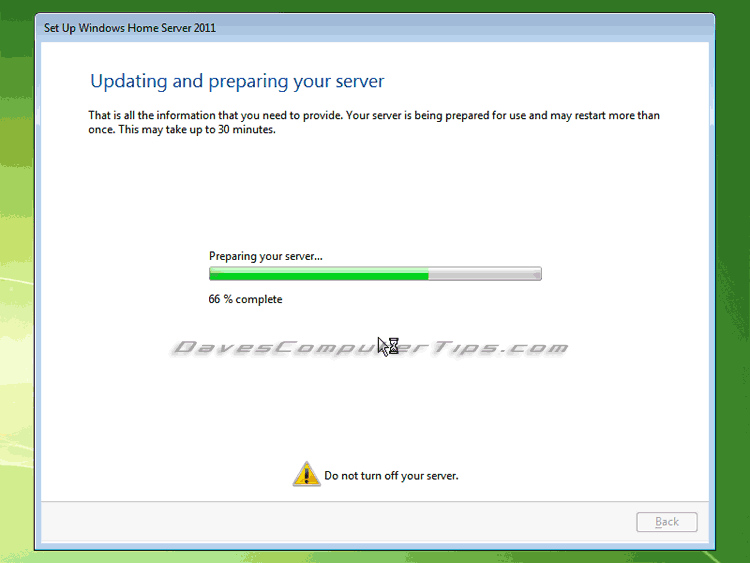 Ta Da! Setup is done and you can now install the connector software on each client computer on your network!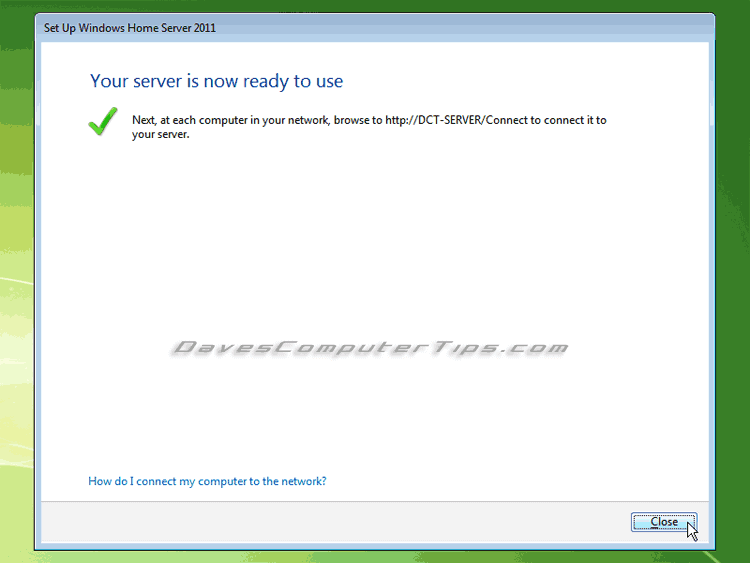 Now you can get a good look at the desktop of the underlying Server 2008 operating system. This isn't where you will conduct your normal day-to-day dealings with the server, but it won't hurt to poke around if you wish.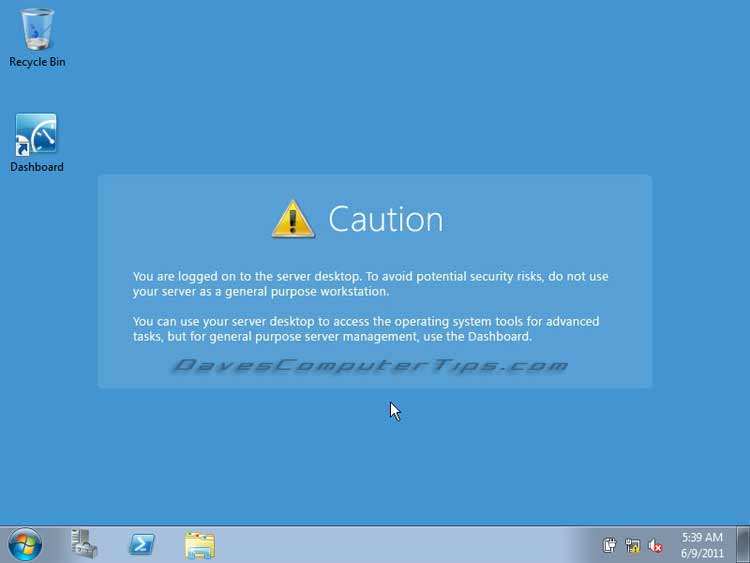 There you have it! Microsoft Windows Home Server 2011
is available for $59 at the time of this post. If you have an unused PC lying around this would be a great use. For those without existing hardware please consider building your own! The functionality and usefulness of WHS 2011
will save you a lot of hassle and provide some neat features to your home!