We all know what is coming out this December right?  If you don't know than you have been living under a rock (or just not in tune to your Jedi Force). This epic movie has my geeky Jedi-force growing stronger. With that being said, it got me thinking of all the cool Star Wars gadgets out there. So in my Star Wars mind I tuned into my own force and found some amazing Star Wars gadgets that everyone should have, especially with the upcoming holiday season.  Even if you are not into the Star Wars movies you will definitely be geeking out over these top Star Wars gadgets.  You tech geeks are going to love this list too.
Now that I have amped you all up over this list I keep talking about, I guess that I should start sharing.  But first you must watch the trailer to get in the mood.
Now that we have that out of the way here is the 10 top Star Wars Gadgets for the true Jedi. To get on this list was no easy feat. There are tons of very cool Star Wars gadgets out there but I feel these are the ones that deserve to be on top. Now these are not in order of best to worse. I feel you can be the judge of which one tops your list. Let the GEEKING out begin!
STAR WARS Darth Vader Lightsaber Portable Battery Charger: Official Licensed Star Wars Series!
Power up your Mobile Devices.
May the Force be with you!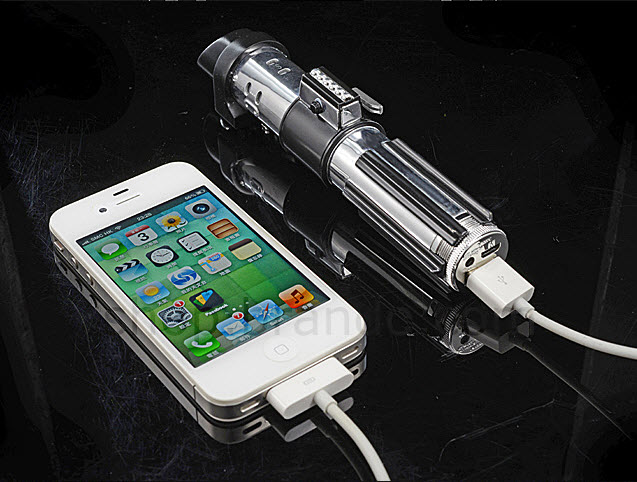 This is something that would impress your friends or your date. While you are eating lunch you can pull this baby out and start charging. This is a conversation starter. Find more info here.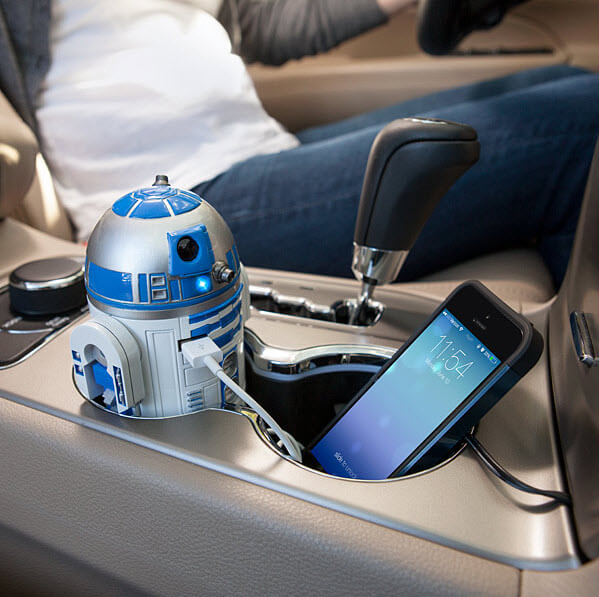 Keeping with phone chargers here is another one that you should get. One for the house and one for the car. R2-D2 can be your little buddy while you are on the road or flying your X-wing. Love this one. Find more info here.
Star Wars R2-D2 Bluetooth Speakerphone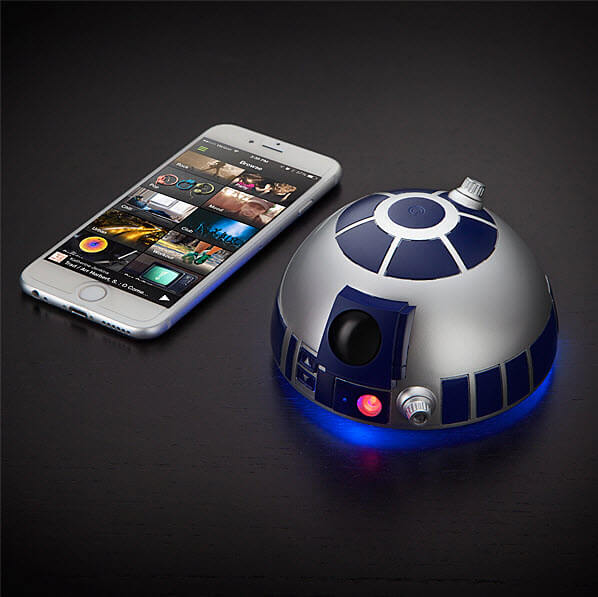 Figured we all love R2-D2 so if you are going to buy a car charger than you will definitely want this. This Bluetooth Speaker phone does more than just help you with your phone calls. It comes with some surprises which will have you geeking out. Find out more info here.
Star Wars Remote Control Ultimate Millennium Falcon Quad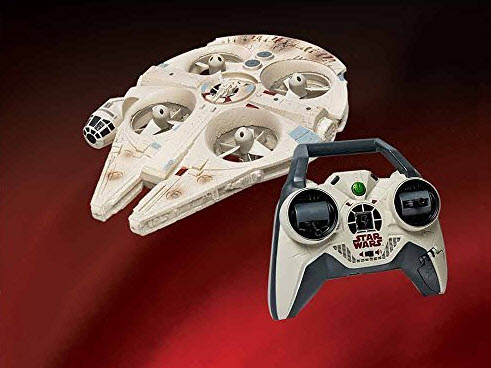 Now this one I would have to fight my kids for. What little kid (or big kid) wouldn't want to fly this baby around the neighborhood or at least in the house. So add this to your Christmas list. (Han Solo and Chewbacca not included). Find more info here.
Sphero BB-8 App-Enabled Droid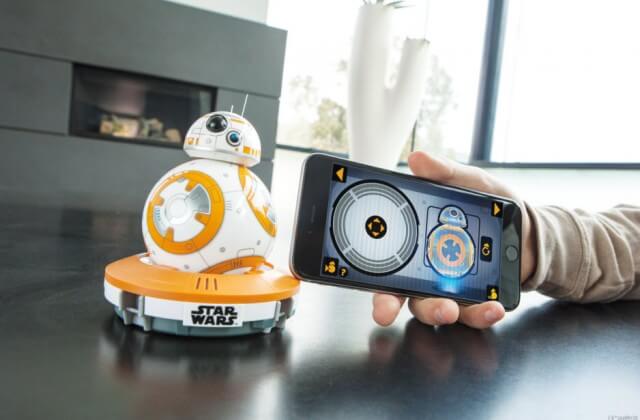 To complement your Millennium Falcon quad copter, here is something from the new Star Wars that rolls on the ground. The BB-8 droid is a fun little device I know you will love having. Control it with your smartphone or tablet and geek out. I'm taking this to work to chase the dogs around… because I can :). Find more info here.
Star Wars Science – Force Trainer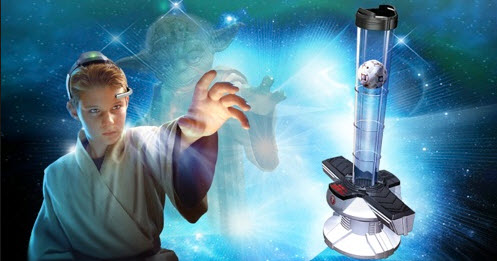 Finally I can work on getting the remote to me when it is clear across the room. This is so cool who hasn't wanted to use the Jedi Force (Telekinesis) to bring something over to them. Now we have the chance to practice moving objects with our minds. The next thing they need to work on is mind control (these are not the droids you're looking for). Find out more info here.
Star Wars AT-AT Imperial Walker LED LAMP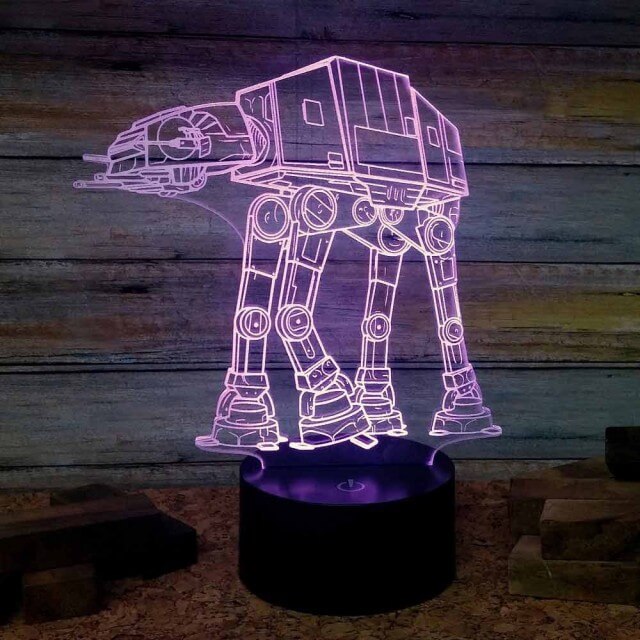 Who doesn't need a lamp in their house? I know I do, and why not make it something cool from Star Wars. The Imperial Walker lamp is a great edition to any Jedi's home. Plus this can change colors too. Find out more here.
Star Wars Death Star Waffle Maker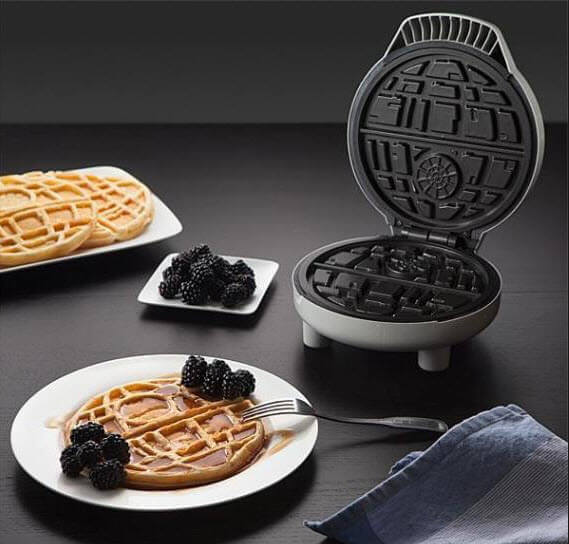 This one had to be on the list even though it is not really a gadget. When people ask what I did for breakfast I can now say I destroyed the Death Star and it was delicious. Find out more info here.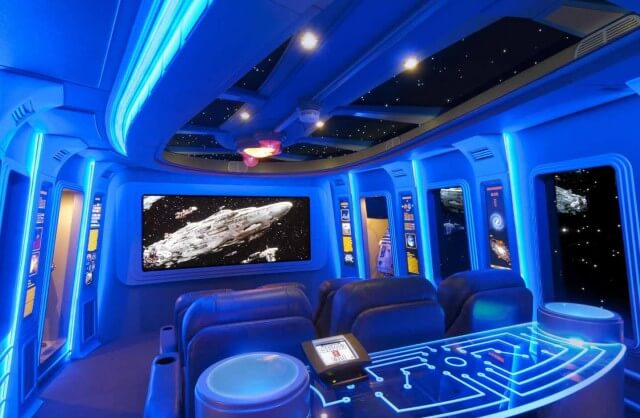 If you can find the money than you can have a home theater in your house which is Star Wars themed. Yes, I know not a gadget really but must have involved some gadgets to create it so that is good enough in my book. What would be the coolest thing to have other than this. I'm geeking out just writing about it. The company that designed this room does custom designs. They filed this room under "Man Cave." I find that very appropriate since I do not know many women who would want this. You can get more details on this here.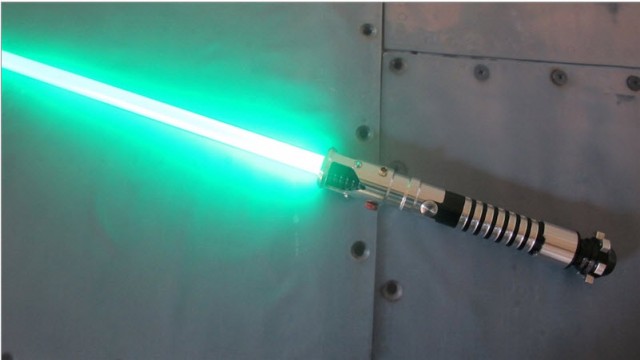 Yep I saved this one for the end. Everyone I know who is in to Star Wars will go crazy for this. The Lightsaber can be yours for not too much money. This company will customize one for you just the way you want it. We all know every Jedi good or bad must have a custom Lightsaber. Just remember not to cut off a limb when using one of these. Find out more here.
Now you will be able to show off your Jedi force to all your friends and family. With the movie coming out I really got back into my geeky side with this article. This was not an easy list to make especially with all the cool Star Wars gadgets out there, but my Jedi force guided me to these great items for you all to enjoy. Wonder if my wife would notice if I ordered one of these, or maybe all of them?
Do you have any Star Wars gadgets you want to share?