Disposable and temporary email addresses can certainly be helpful in the ongoing battle against spam. However, there are very few services which do not require some kind of registration or signup, if any. "10 Minute Mail" is somewhat unique in that that it offers free instant disposable email addresses on-demand.
We've all encountered the same or similar scenario at some time or the other; we're browsing a website when we come across a special offer which piques our interest. We'd like to take advantage of the offer but aren't all that thrilled about providing a genuine email address to some unknown entity –  that's just the sort of situation where '10 Minute Mail' comes into its own.
10 Minute Mail – How it Works
Both the concept and its implementation are simplicity personified. Whenever you need an instant disposable email address, just visit the 10 Minute Mail home page:
No need to set up an account or supply a genuine email address. Each time you visit the site a new disposable email address will be created instantly. Subsequent replies are then displayed in an associated "Messages" panel:

Email addresses are set to automatically expire after 10 minutes by default – I guess there's a clue in the name – with a further 10 minute extension available if required. Once you've retrieved the necessary information within the allotted time, the email address will simply self-destruct, never to be heard from again.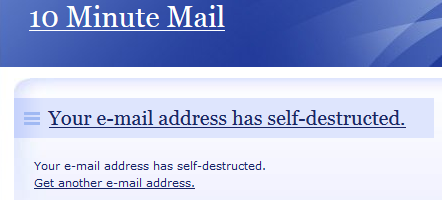 10 Minute Mail certainly has a lot going for it; simple, easy, instant, convenient, and no sign-up. Definitely one for the bookmarks.
Here's the link again, just in case you missed it earlier: 10 Minute Mail