I can think of several scenarios where the ability to lock down a PC may be beneficial, even outside of a work environment. For older children with younger siblings perhaps, or parents with children, or young adults sharing accommodation.
It's quite easy to prevent access to a password protected PC via the Windows native lock feature of course but that is not always the most convenient or secure solution. How about securely locking down a PC simply by removing a USB flash drive? That's exactly what these two free products promise to do.
Lock Down Your PC using USB Raptor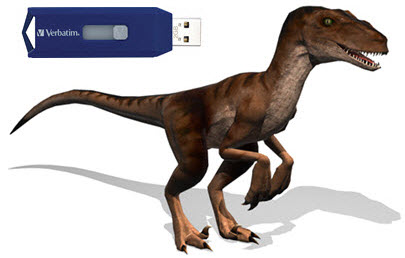 USB Raptor is a portable open source freeware available through the SourceForge repository – it should be noted that USB Raptor is still in Beta stage. Here is the developer's description:
USB Raptor can lock the system once a specific USB drive is removed from the computer and unlock when the drive is plugged in again to any USB port.
The utility checks constantly the USB drives for the presence of a specific unlock file with encrypted content. If this specific file is found the computer stays unlocked otherwise the computer locks.
To release the system lock user must plug the USB with the file in any USB port.
USB Raptor is a 10.7MB zip download. Running the software is a simple matter of extracting the files and double clicking the extracted executable, no installation required – (scans 100% clean through Virus Total). The program opens to a simple configuration window by default, involving just three basic steps – set a password, select connected USB flash drive, create a key file: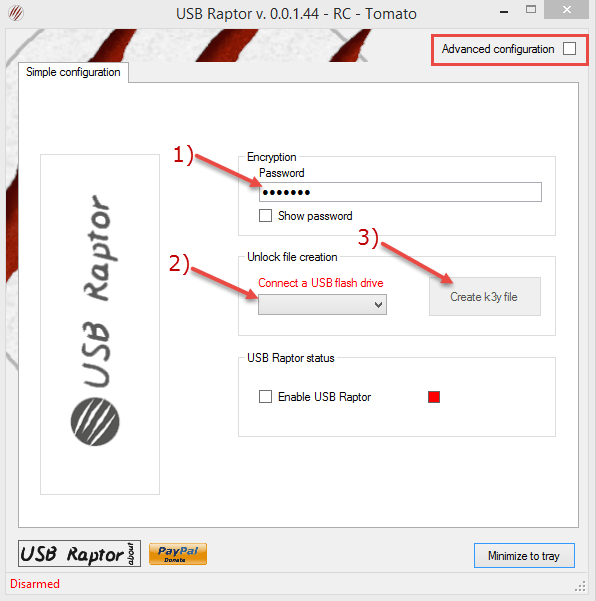 That's all there is to it, the only thing left to do now is enable protection via the program's system tray icon. Experienced users, however, may want to take advantage of USB Raptor's advanced settings – simply enable the "Advanced Configuration" option (highlighted in the above screenshot);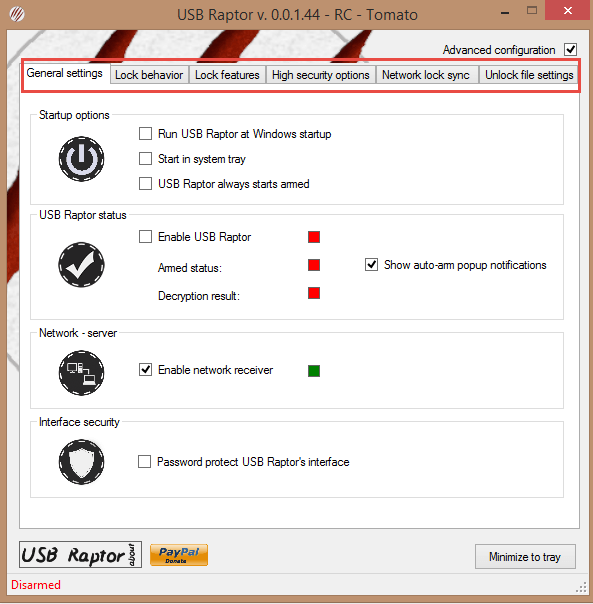 Note the various tabs now accessible across the top of the interface. Among the settings you will find here are options to harden security by linking the unlocking process to the device's serial number, enable or disable backdoor access, password protect the program's interface against unauthorized access, and disable unlocking by keys created on other systems.
Once you've configured USB Raptor to your liking, securely locking the system is a quick and easy matter of simply removing the USB flash drive. Of course, re-connecting the flash drive will instantly regain access. As a fail safe, if you should happen to misplace the USB flash drive for example, inputting the password you chose at step 1 during setup will also unlock the PC.
USB Raptor – Testing
USB Raptor's locking mechanism worked perfectly, the moment I ejected the flash drive the desktop disappeared and the system became inaccessible. However, after re-connecting the flash drive, the desktop took a little while to fully load again and one of my running programs, MailWasher (email/spam manager) had been closed down. USB Raptor is still in Beta stage so, although it's main functionality appears to be working quite well, overall it seems the program still requires some refinement.
Self protection appears to be adequate and, although Task Manager remains available via Ctrl+Alt-Del keys, it only flashes for a millisecond so cannot be accessed to terminate the USB Raptor process.
*NOTE: if you want to prevent access following a forced restart, you'll need to enable the necessary options (as highlighted in the following screenshot):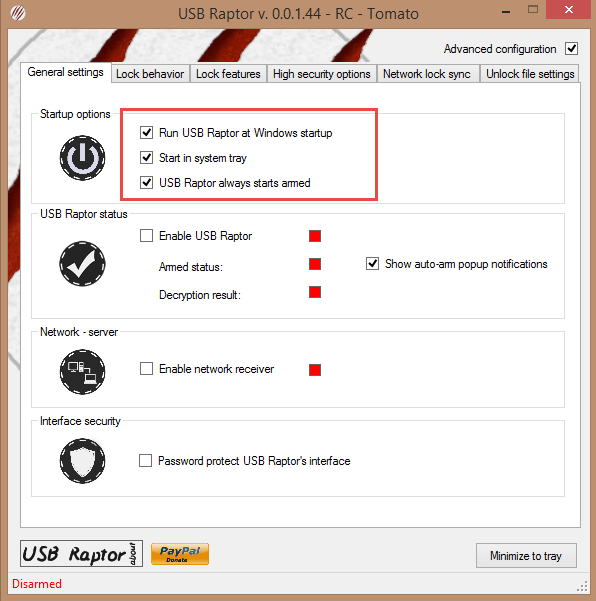 Lock Down Your PC using Predator

Predator is distributed via a typical 'Fremium' model, with a feature limited Free version available for non-commercial use plus a full featured Premium version. We'll be concentrating on the Free version here.
Predator also differs from its similarly named competitor in that it requires installation, no portable edition available. Here is the developer's basic description:
PREDATOR locks your PC when you are away, even if your Windows session is still opened.
It uses a regular USB flash drive as an access control device, and works as follows:

you insert the USB drive
you run PREDATOR (autostart with Windows is possible)
you do your work…
when you're away from your PC, you simply remove the USB drive: once it is removed, the keyboard and mouse are disabled and the screen darkens
when you return back to your PC, you put the USB flash drive in place: keyboard and mouse are immediately released, and the display is restored.
I guess the biggest difference with Predator is that it is primarily designed for corporate/enterprise users with the Premium version including numerous sophisticated security and logging features. However, the Free edition includes all features required for a home PC environment.
Download is available in separate 32-bit and 64-bit editions, make sure to choose the correct edition for your system. The 64-bit edition consists of a 3.00MB zip download which scans 100% clean through Virus Total. Installation is also clean with zero bundling or unwanted extras to worry about.
Before your can access Predator's interface with settings and options, you'll need to first setup a USB flash drive. Again, this is a very simple process – select a connected USB drive and type in a password:

Once the flash drive has been setup with a key, Predator immediately minimizes to the system tray where a right click menu provides access to preferences: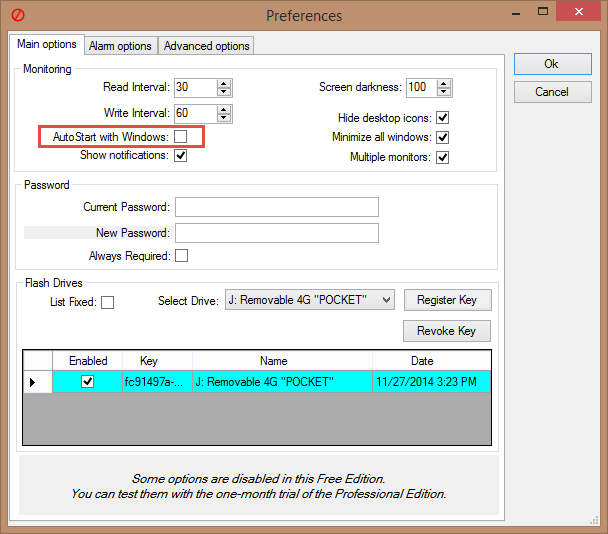 (If you want to protect against system access following a forced restart, you'll need to enable the "AutoStart with Windows" option)
As well as "Main options", an "Alarm options" tab provides settings to customize alarms (sounds), as well as an option to display an "Access" Denied" message and setup local event logging. While the "Advanced options" tab clearly indicates which options are unavailable in the free version: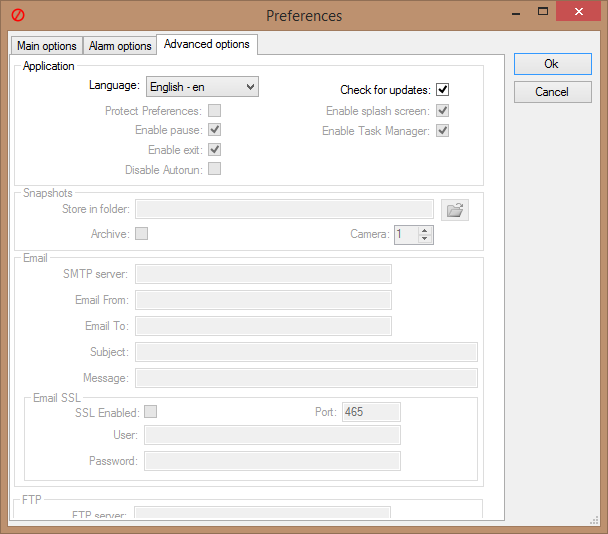 (Grayed out options available in the Premium version only)
As with USB Predator; locking the system is simply a matter of disconnecting the flash drive (don't forget to use Safely Remove), access can be regained instantly by either re-connecting the flash drive or inputting the password you chose during setup.
Predator Free – Testing
Predator locked and unlocked the system faultlessly. Unlike USB Raptor, following unlocking, everything came back instantly and the system was immediately usable again. Also, Task Manager is completely disabled under Predator's lock down and doesn't even appear as an option after pressing the Ctrl+Alt+Del keys.
Bottom Line – USB Raptor vs Predator Free
I should point out here that BOTH applications require Microsoft .NET Framework 4. However, as the latest Windows operating systems generally include .NET Framework 4, this should not be an issue.
I really wanted to plump for USB Raptor, mainly because it is portable, but also because it is open source and genuine freeware. It also includes all the right features and options. However, even though it requires installation and is part of a 'Fremium' model, I'd still have to opt for Predator, simply because it appears to be a more mature and thus reliable application (at this stage anyway).
That said, I DO prefer portable so will be keeping a close eye on USB Raptor, hopefully, future versions will overcome those minor issues.
UPDATE: 23rd May, 2015
Reader "Bud" has pointed out that there is no longer a free version of Predator available (please read Bud's comment hereunder for details). I have confirmed that this is case and Bud is correct.
So, no contest now then – Raptor wins hands down!