Once again, it's time for Android's top manufacturers to refresh their flagship handsets and give customers a couple more reasons to drop $200 and extend their contracts by two long years. While new Android phones and tablets are announced what seems like twice daily, Samsung and HTC have recently announced plans to begin to limit their numbers of Android phones they have available at any given time. So although Motorola, LG, Huwaei, Pantech, and all of the other manufacturers may be putting out new devices each month, Samsung and HTC are making a conscious effort to slow their roll (out). To mark this new, narrowed approach HTC has named it's newest model the One X. Samsung is continuing with the enumeration of the Galaxy S line (it's flagship device series), and this time around it's the roman numeral III. Both of these phones are spec'd to the max and offer the best Android has to offer at the moment. There are some major differences though, not the least of which are the UI skins applied by the companies. Let's take a look at what some people in the industry have to say about these two phones, and see how they stack up to one another.
As you can see in the picture at the top (from PC Advisor), the two phones are very similar in size. The HTC is slightly taller and wider, while the Samsung is at once slightly thinner and heavier. As far as screen size goes, the Samsung Galaxy s III is barely larger at 4.8 inches compared to the One X's 4.7 inches. Both phones qualify as "retina displays" with 720 x 1080 resolution and over 300ppi pixel density. if you choose your phones based on the screen, you won't be able to tell much difference here. One is barely bigger and one has a slightly higher pixel density, but you likely wouldn't be able to notice either difference, even during side-to-side comparison. Slashgear explains that the phones also share similar camera capabilities, with each shooting 1080p video and capturing images via an 8 megapixel rear camera.
From Slashgear:
The Samsung Galaxy S III has a plastic polycarbonate shell with "hyperglaze" coating, its 4.8-inch display is 720 x 1280 pixel resolution and is working with HD Super AMOLED technology. The front-facing camera here works at 1.9-megapixels and is capable of 720p HD video. Inside you'll find Samsung's own Exynos quad-core processor (here in the European model, anyway) and 1GB of RAM as well as 16GB, 32GB or 64GB of internal storage and a microSD slot (compatible with up to the massive 64GB cards on the market today). Bluetooth 4.0 inside, MHL-HDMI for HDTV output, and a multi-colored notification LED on the front. Inside you've also got a 2,100 mAh Li-Ion battery.
Comparing that to the HTC One X:
The HTC One X casing is also made of a plastic polycarbonate without the "hyperglaze" brand coating that Samsung is touting. You've got a 4.7-inch display with 1280 x 720 pixel resolution with Super-LCD display technology. The front-facing camera is a 1.3-megapixel shooter also with 720p video capabilities. The battery inside is 1800 mAh, and the processor inside (in the international version) is a quad-core NVIDIA Tegra 3. The USA version of this device has a dual-core Qualcomm Snapdragon S4 processor. The camera on this device is backed up by a separate chip called the HTC ImageSense processor and, like the SGSIII, has some rather impressive burst mode technology as well as camera improvements across the board.
Here's Slashgear's picture showing how similar the phones' cases appear: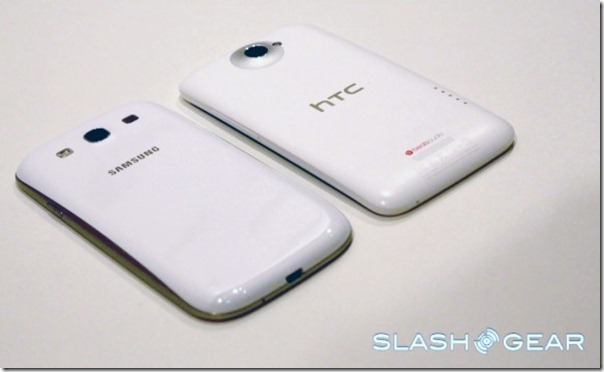 The similarities don't stop there. Both phones have the same Bluetooth standards, they both offer NFC chips, and of course, they'll both be sporting Ice Cream Sandwich, the latest version of Android. However, there are enough differences to set these two apart. To me, the biggest differentiator in these two devices is the 4G connectivity that later models of the Galaxy s III will have. HTC is not expected to release a 4G model of the One X anytime soon, so if top speed is your priority, your decision may already be made.
The other major differences between these two are related to software and battery specs. HTC and Samsung each continue with their custom UI skinning, incorporating Sense and TouchWiz respectively. While both softwares have been majorly updated and improved, most Android users generally prefer one or the other. Personally, I like HTC's smooth and bold Sense UI as compared to Samsung's rather iPhone-like TouchWiz skin. Samsung seems to also be aiming their sights at Apple in the voice recognition department, adding S voice recognition software to compete with Apple's Siri. Sure the HTC has Android's native voice activation software, which is pretty great, but it's not quite as pretty or advanced as Siri and S voice. Perhaps the coolest feature of S voice is the ability to automatically call the person you are texting, simply by lifting the phone to your ear. If S voice is the best feature of the Galaxy s III, then the included Beats audio may be the drawing factor of the One x. In the One X, Beats audio boasts an improved DAC as well as better EQ and audio software. As far as using Android phones as music players, this one is probably the best.
All of that software and hardware is cool and great, but users of the previous generation of Android phones can attest to how awful battery life can be. HTC and Samsung are both promising that we will be much happier with battery life now. HTC is including an 1800 mA battery in its enclosed case. So you can't replace the battery yourself, but you also shouldn't need to as most reviewers seem to be getting over 24 hours of battery life with heavy use. Hopefully that doesn't diminish too rapidly. The Galaxy s III on the other hand boasts an impressive 2100 mA battery with some pretty nifty power control features. Samsung, who also designs battery technology in the iPad, claims to have figured out a way to squeeze 2 extra hours out of their batteries than those of their competitors when using the same battery size in the same devices. I highly doubt the .1 inch difference in screen size is enough to make much difference in battery life, so we can expect the Samsung Galaxy s III to outlast the HTC One X in day-to-day use.
As for availability of these handsets, the HTC One X just went on sale at AT&T on May 6 for $200 with a new 2-year contract. The Samsung Galaxy s III will reportedly be available May 28th in Europe. Consumers in the US will likely have to wait an additional couple months. Hopefully during that time, all of the models hitting American shores will include 4G antennas. Expect the Galaxy S III to start at $200 here in the states.