The official release of Windows 8 is now just around the corner, and the first of Microsoft's new tablets, known as Surface, will also become available at the same time…  from October 26th.
In fact, the Microsoft store has already been set up to accept pre-orders for Surface RT, and that means we now know the exact pricing.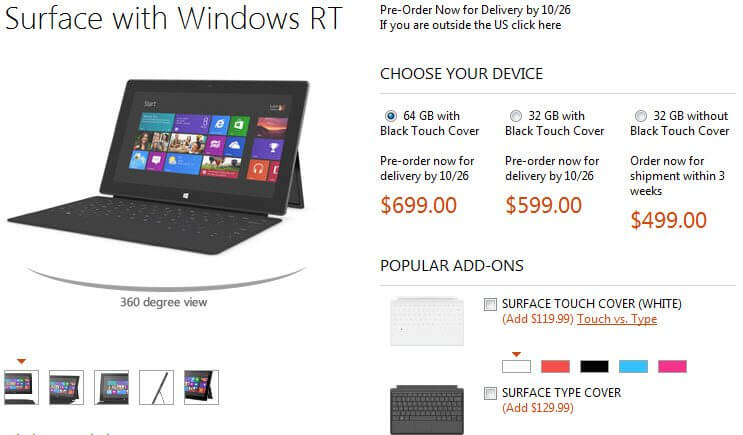 Note the prices with and without Touch Cover; an extra $100.00us to include a Touch Cover. Don't know what Touch Cover is?:
Touch Cover is an amazingly thin and ultra-light dual keyboard cover, with a spill-resistant surface, it comes in several vibrant colors to express your personal style, clicks into Surface easily, and protects your display when folded closed.
http://youtu.be/2vasc8UNl_0
According to the Microsoft Store Surface page, only 6 countries are currently included for pre-orders: Australia, Canada, Germany, France, United Kingdom, and United States. Pricing outside the U.S. is more expensive, I guess reflecting the additional costs associated with shipping. For example; prices here in Oz range from $60 to $90 extra.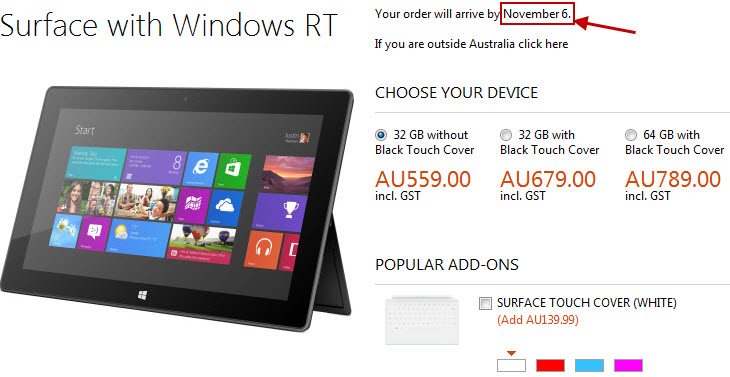 With the Microsoft Store page now live, we also have a better idea of what Surface has to offer from a technical stand point. It's important to bear in mind that this version of Surface runs Windows RT, rather than the full Windows 8 package. It utilizes an NVIDIA T30 processor, the mid-range Tegra 3 which has four cores running at 1.4GHz, coupled with 2GB RAM.
Surface will support WiFi 802.11a/b/g/n and Bluetooth 4.0 connections, with no cellular options (although it has a USB port, which could potentially open the way for the use of dongles). Besides the inbuilt flash storage, Surface includes a micro SDXC card reader, which should make for a degree of memory expandability. It also has a single USB 2 port, headphone jack, and HD video out port, as well as front and rear facing HD cams.
Credible reports also indicate that, after installation of the RT operating system and pre-loaded software, remaining storage capacity is somewhat less than anticipated – for example; the 32GB Surface apparently ends up with around 20GB of usable space. That is expandable via SD card of course, but the SD card cannot be used to add apps – only photos, movies, music, etc.
The official spec list can be viewed here: Surface with Windows RT – Specifications.
So, Surface is a little more expensive than most pundits anticipated… in my opinion though, the prices compare pretty favorably. What do you think?