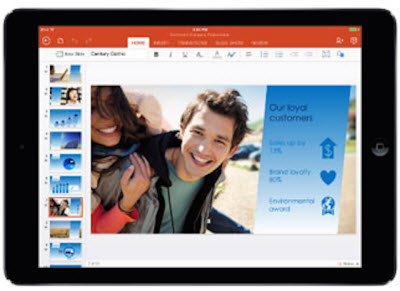 New Microsoft CEO, Satya Nadella, announced that Microsoft Office apps are now available for iPads. Word, Excel, OneNote and PowerPoint are available for free in the App Store.
In order to create and edit documents, however, customers will need subscribe to Office 365. Eligible subscriptions include Office 365 Home Premium, Office 365 Small Business Premium, Office 365 Midsize Business, Office 365 Enterprise and Government E3 and E4, Office 365 for Government G3 and G4, Office 365 Education A3 and A4, Office 365 ProPlus, or Office 365 University.
You can get a month's free subscription to Office 365 Home Premium. After that, it will cost you $9.99 per month or $99.99 per year. Office 365 Home Premium supports up to five PCs or Macs plus five tablets. Also included is an additional 60 minutes of Skype calls / month and 20GB of OneDrive storage for each household member.
With many free apps out there, including Apple's iWork suite, is Microsoft too late to the party?  Will a significant number of iPad users be willing to pony up around $100 each year to use these apps?    Or will the user base be those that already subscribe to Office 365? Well, the apps have taken the top four spots in the App Store just one day after their release.  Time will tell.