In 2002, 
Palm introduced the Palm Tungsten T and Palm Tungsten W handheld computers.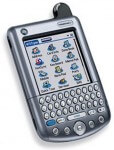 The Palm Tungsten T featured a 175 MHz ARM 925 processor, 16MB RAM, a voice recorder, Bluetooth wireless support, a 320×320 screen, a Secure Digital slot, and Palm OS 5.0 and was priced at $499.

Palm introduces the Palm Tungsten W, priced at $549, featured a 33 MHz Dragonball VZ processor, a built-in keyboard, the General Packet Radio Service network, the Palm OS 4.1.1, and a 320×320 screen.
Learn more at http://www.palminfocenter.com/view_story.asp?id=4490.