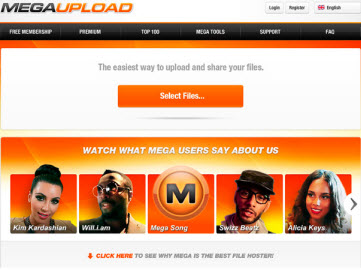 Shortly after news of SOPA's expected demise began circulating, the Feds have closed down MegaUpload, one of the World's largest and most popular file sharing sites. The site's founder (Kim Dotcom) and three others were arrested by police in New Zealand at the request of U.S. authorities. MegaVideo, the streaming site belonging to same company, and a total of 18 domains under the 'Mega' umbrella have been seized and datacenters in three countries raided.
Two corporations, Megaupload Limited and Vestor Limited, were indicted by a grand jury and have subsequently been charged with engaging in a racketeering conspiracy, conspiring to commit copyright infringement, conspiring to commit money laundering and two substantive counts of criminal copyright infringement. It is claimed that MegaUpload has caused the entertainment industries more than $500 million in lost revenue and generated $175 million in criminal proceeds.
Ironically, just a few weeks ago, MegaUpload founder Kim Dotcom was quoted as saying his 'Mega' ventures have nothing to worry about:
Mega has nothing to fear. Our business is legitimate and protected by the DMCA and similar laws around the world. We work with the best lawyers and play by the rules. We take our legal obligations seriously. Mega's war chest is full and we have strong supporters backing us.
I can't help wondering if maybe Mr. Dotcom was actually anticipating some sort of action by the Federal authorities, his statement certainly  appears to give that impression. Successful litigation is bound to have a massive impact not only on the Mega corporation but on file sharing sites in general. I expect other similar services will be anxiously awaiting the outcome.
If the actions of the Justice Department and FBI prove anything it is that there are apparently already adequate laws in place for taking down ostensibly rogue websites. Sort of makes SOPA a tad redundant, doesn't it?
<source: TorrentFreak>