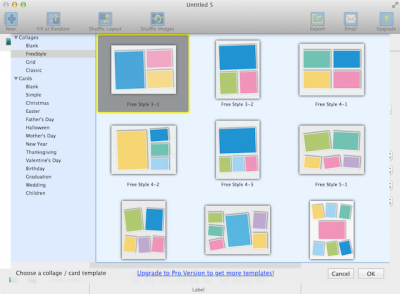 For a limited time, Softease Tech Company is offering CollageFactory Express for free.  CollageFactory Express is an app for the Mac that is a photo collage maker and greeting card creator combined in one application.
I downloaded it to try it out and I have to say that it is very intuitive and pretty effortless to use.  I easily made a photo collage and several greeting cards.
For greeting cards, over 40 templates covering all of the major holidays as well as birthdays, graduations and weddings are available.    Collages are very easy to make, with three formats — freestyle, grid and classic — available.  In both the greeting card and collage mode, you can start with a blank slate if you prefer to not use one of the available templates or formats.
You can easily add text and customize the background with an image, pattern or color.  You can save your project for further editing and export it to a file with JPEG, PNG or TIFF format when you are done.
All in all, it's a pretty nice application in both ease of use and the available options for collages or greeting cards.
No specific timeframe is specified for this special offer so, if you are interested, you should download CollageFactory Express asap.