Geek Gifts
Yes, It is that time where the holidays are over and the tax refund is hopefully coming in. What should you do with some of that extra money? Glad you asked! If you know me, you know I love finding cool tech/geeky gadgets to buy for yourself or someone else. With this little extra money I thought I would search the web for the Best Geek Gifts of 2017 and share them with all of you. Now make sure to close the blinds, turn off your phone and order some pizza. ("It's not delivery, it's DiGiorno") It is time to geek out!!
1. Tile Mate – Key Finder, Phone Finder, Anything Finder
Who doesn't need this? I have lost my keys, wallet, phone and even one of my kids once (do not judge me). Connect this little gadget to your keys and you will always know where they are. Never have to run around in a panic before work looking for them. The Tile Mate will actually ring when you are close. Just load the app and know where it is.
Product Info:
The world's best-selling Bluetooth tracker just got 25% smaller. Tile Mate easily loops onto key-chains or attaches to anything you don't want to lose so you can find it fast

Ring your things. Use your smartphone to make your Tile Mate ring when it's nearby but out of sight

Find your phone. Can't find your phone? Simply double press the button on your Tile Mate to make your phone ring -even on silent!

See where you had it last. The easy-to-use, free Tile Mate app remembers the last time and place it saw your Tile, so if you left it somewhere, you'll always know where to look

Ask others to help. Your Tile isn't where you left it?  You can anonymously enlist help in the Tile community. With over 5 million Tile devices sold, it is the world's largest lost and found network
A must-have for anybody who loses things like me. Learn more here
2. GreenLighting Solar Phone Charger – 2000mAh Window Cling Power Bank
If you want to go green and charge your phone, then this is for you. One of the things I like about it is the suction cup solar panel. Yes, if you are in your car, on a train, on a plane or just near any window just slap it on. Make sure you point the suction cup towards the sun since the solar panels are on that side.
Product info:
SOLAR ENERGY – Utilizing the natural power of the sun is not only free but it also preserves the natural resources found on Earth. The 4.5 volt, 0.4 watt solar panel will absorb energy from sunlight to recharge the internal 2000mAh Lithium-Ion battery. The convenient suction cup allows you to stick your charger to a window so even while you're indoors you can recharge your battery. Travel around knowing you won't have to worry about your phone dying.

QUICK CHARGE – Have you ever been traveling or taking a hike to find out your phone is about to die? Now you can stay prepared no matter what the situation. When fully charged, the Portable Phone Solar Charger can recharge your phone up to 40% so you can rest easy knowing you can access your GPS or make a call when needed. If you're looking to quickly recharge your internal battery just plug in the attached USB cable to your computer and the 2000mAh battery will be fully charged within 4 hours.

LIGHT IT UP – A color changing LED cycles through 6 colors illuminating the rim of the assembly while in use. Four blue LED's are located on the back and will indicate the current charge of the internal battery when needed so you can always make sure you're ready to go while a green LED illuminates while internal battery is being charged.
Great to have if you are on the move a lot. Learn more here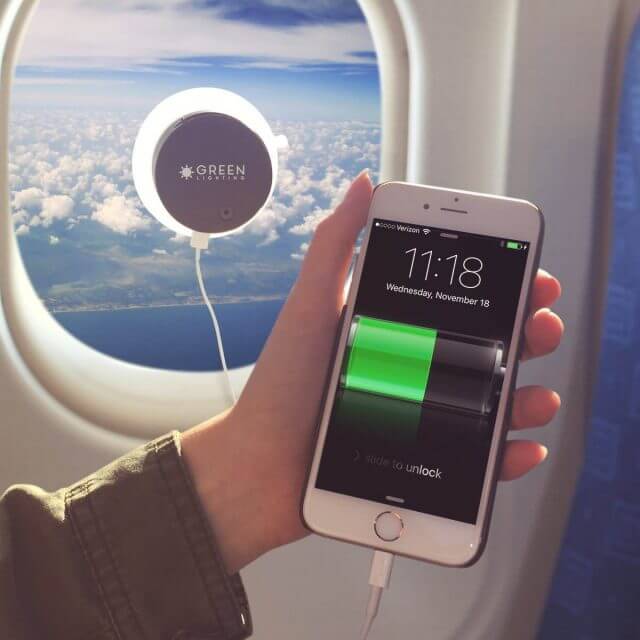 3. Pancake Bot
Now I'm hungry. Who doesn't think this is amazing? Making pancakes has just moved into the future. With three easy steps you can create a pancake in any design you can think of. Of course, if you suck at drawing it may not look like what you intended. You do get the option of choosing an image from their website just in case you can not draw. Here are those easy steps I was talking about:
Step 1: Draw your pancake with the PancakePainter software or choose a design from the PancakeBot website.
Step 2: Load an SD card with design files and insert into PancakeBot.
Step 3: Make your pancake batter, load the bottle, and watch the PancakeBot print your design!
That is it– you now can impress your family and friends with your pancake creations.  Learn more here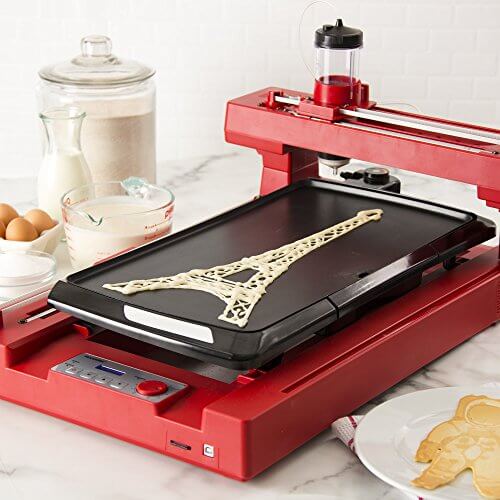 4. Azio Mk Retro USB Typewriter Inspired Mechanical Keyboard 
If you are into retro and still a tech geek, this one is for you. Some of you may not remember old typewriters with keys like this but I do. Not making any age jokes, these were even before my time, but my grandma had one and I thought it was cool. The Azio MK Retro USB Typewriter keyboard is a must for you retro geeks. This baby even makes the click sound.
Product Info:
Chrome plated body & key caps


Full NKRO

Water & dust resistant

Clicky mechanical switches (50G)

Piano-black top plate
Would look great on anyone's desk. Learn more here 
5. Portal 2 Miniature Portal Gun Replica – Fully Functional LED Lights and Sounds – Officially Licensed
If you are a gaming geek like me, then you know what this is. To own this would be a great addition to anybody's collection of geeky gaming gadgets. I don't need to say much because this video tells you all you need to know.
Product Info:
The Portal 2 Gun Mini Prop Replica! Measures 12 inches long x 5 inches tall when on the base.

Features sounds and lights that mimic the gun from the video game Portal 2! A tiny tool of serious science – the Portal 2 Gun Mini Prop Replica!

With lights and sounds just like the video game, this miniature replica of the Aperture Science Handheld Portal Device makes a great gift for fans of the video game Portal 2 . The Portal 2 Gun Mini Prop Replica features orange and blue LED lights with unique sounds that correspond to each color, a 3-way switch (blue, orange, off), and a firing sound activated by pulling the trigger.

The Portal 2 Gun Mini Prop Replica includes a display stand. Requires 3x 'AA' batteries, included.
Make sure to watch this video and pick one of these up. If you do get one, send me a picture of you with it. Would love to see! Learn more here
6. Tesla  Watch
Need a new watch and can't figure out what to get? Here you go! The Tesla Watch  and it is awesome. Now, I know many of us stopped wearing watches since our smart phones tell us the time. But this is a watch that no smart phone can compete with. Yes, it is analog but at least it is not a sun dial. This watch will make you the talk of the town with its two lighting up vacuum tube-style LEDs, weathered-brass look and the key to adjust time. Make sure to watch the video to see it in action.
Product Info:
Steampunk-styled Tesla analog watch
A ThinkGeek creation & exclusive
Weathered-brass look on metal findings plus leather strap
Japanese movement
Two light-up vacuum tube-style LEDs on top
On/off switch controls red LEDs in vacuum tubes
Think my wife will let me have one? Learn more here
7. Star Trek: TOS Bluetooth Communicator – Cell Phone Handset and Speaker -With Collectible Display Case
Now we come to my favorite one on the list. I'm a big Star Trek fan so you know this caught my attention. When I was a kid I would pretend to talk on my communicator in the backyard (yes, we used our imagination in my day). It was so much fun to pretend I was part of the Away Crew (not the guy in the red shirt) and now I can actually talk on the Star Trek communicator with my friends for real (-ish).
Product Info:
Highly accurate. Created from 3D scans of the original communicator prop with 3D texture mapping to replicate the surface finish

Fully working Bluetooth telephone handset turns your cellphone into a Star Fleet communicator! Easy to pair with any Bluetooth compatible mobile cell phone – authentic flip-to-answer action

Immersive play features. Authentic voices and sound FX from the Star Trek universe

Wireless, contact-less charging magnetic desktop display stand. Built in Lithium polymer battery

Highly realistic construction. Die-cast zinc and machined aluminum components
Make sure to check out the video below. Beam me up Scotty! Learn more here
These are my choices for the 7 Best Geek Gifts Of 2017. I think these will give you the best bang for your tax dollar. Might have to talk the wife into letting me purchase some of these.
Should I add one to the list?
—