Having read fellow author Richard Pedersen's excellent article, laying bare the details of his system, my interest was piqued and I couldn't resist the chance to show off my systems.
What I Use
I run two main computers which are predominantly gaming machines and I also use them for the more day-to-day things in life such as writing for DCT, editing my books, and the usual general usage. I also have a Lenovo laptop which I only use when travelling. My software collection isn't as extensive as Richard's, but we do share the same passion for tinkering with hardware, which in itself is a pleasurable and never-ending quest for perfect PC optimisation.
My Main Gaming Rig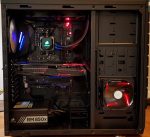 I build all my machines and have done since the late '90s, as well as building PCs for customers. This PC has always been my main gaming machine and over the years I've upgraded it more times than I can remember. From a Pentium 4 in 2005, later upgraded to an AMD Phenom II x 4 965, through to an FX 8320. I'm now running a Ryzen 2600X with the following specs:
Case – CM Storm Trooper, full tower
Motherboard – Asus Crosshair Hero VII WiFi version with X470 chipset
CPU – AMD Ryzen 2600X
GPU – Asus Strix RX580 8GB
RAM – Corsair Vengeance DDR4 2400Mhz 16GB
Cooling – Corsair H100i all in one water cooling
PSU – Corsair RM 850x full modular
Peripherals
Keyboard – Corsair RGB Strafe Silent mechanical
Mouse – AFX LM0216 (it's very heavy)
Monitor – Samsung CF591 27″ curved monitor with FreeSync, connected with a Club3D DisplayPort cable
Speakers – Cambridge Soundworks 4.1 (AD 2001 vintage)
Headphones – Corsair Raptor HS40 7.1 (a life saver)
Webcam – Logitech C170
Storage
1 x Kingston 240GB SSD
1 x Western Digital Blue 500GB M.2 2280 SATA
5 x mechanical hard drives 250GB to 1.5TB
This is, without doubt, the most potent machine I've ever used and it will play every single game I own, on ultra settings, without even breaking a sweat. Talking of which, the summers in Buenos Aires are very hot and humid, so good cooling is vital, hence the H100i and three 120mm fans in the case. My favourite game genres are first-person shooters and arcade car racing and I always choose the games that look graphically spectacular because of "Shiny Thing Syndrome" (STS).
Software
Windows 10 Pro x64 – updated to whatever Microsoft has thrust upon me, which I believe to be Ver 1809
Windows Defender – it just sits there quietly and does its thing, without nagging the hell out of me. I don't use any other form of security
Microsoft Office 2013 – I only use Word for book writing and Excel for opening spreadsheets, which seems a bit of a waste really
Snagit – the best screen capture and editing program, bar none
FastStone Image Viewer – image resizing and many more very useful image manipulation tools
Steam – the most comprehensive gaming platform on the planet. I also use Uplay, Origin and GOG Galaxy
Stardock Start 10 – because I hate tiles
EaseUS Data Recovery Wizard – I paid top whack for this remarkable recovery program and it's never failed me. Mainly used for customer PCs
HWiNFO64 – the best hardware monitoring program out there
FPS Monitor – a new kid on the block, with an infinitely customisable OSD and monitoring options
MSI Afterburner – probably the most popular On-Screen Display (OSD)  and monitoring software available
Roboform – a very easy to use password manager for which I pay a subscription. Well worth it
Vegas Movie Studio Platinum 13 (Steam version) – one of the best movie editor suites available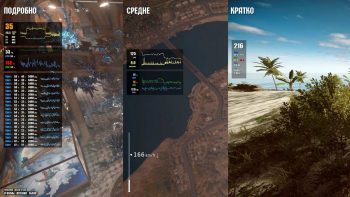 I also run numerous proprietary Programs from Corsair and Asus for controlling RGB lighting, fan speeds and other forms of monitoring, but I don't overclock either the GPU or the CPU. In fact, the Ryzen 2600X CPU has an auto-boost feature bringing the clocks up to 4.3Ghz when needed and then dropping back down. The general consensus is that, with many of these new Ryzens, overclocking just doesn't achieve very much.
My Work Rig
Although this is also a gaming rig, I use it during work hours and often need to connect customer peripherals and hard drives for testing, so really, it's more of a workhorse. I originally built it in 2011 and, apart from overclocking the CPU a tad, I probably won't upgrade it any further. The only component that lets it down is the GPU.
Case – NZXT Phantom full tower
Motherboard – Gigabyte GA770T – USB3 AM3+
CPU – Phenom II x 4 965
RAM – Kingston DDR3 1333Mhz 16GB
GPU – MSI GTX960 4GB
Cooling – Cooler Master V6 (air cooling)
PSU – Sentey 850W
Media – SD card reader and external Iomega DVD drive
Peripherals
Keyboard – Corsair Raptor K30
Mouse – Corsair Raptor M40 and Genius GX DeathTaker (yes, I know)
Monitor – AOC 23″ LED
LAN – Tenda 20 port Ethernet switch
Storage
1 x Kingston 250GB SSD
5 x Mechanical drives 250Gb to 1TB
Software
I use exactly the same software as my main gaming rig, with the addition of proprietary hard drive diagnostic programs from WD, Seagate, Hitachi, and others.
Other Toys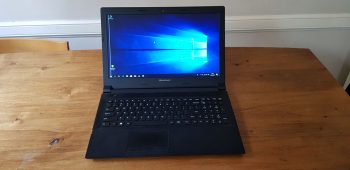 As previously mentioned, I also have a Lenovo 15″ laptop, the only computer in our house running an Intel CPU (Core i3), which I've upgraded to 8GB RAM and a 250GB SSD. I also run it with a wireless mouse, since I could never get used to the touchpad, which I've always considered the work of Lucifer himself. In fact, I bought it for a song from an American expat who was returning home and after fitting a new keyboard for him, I bit his hand off and bought it.
During my last trip to England in August, Shiny Thing Syndrome took a hold of me, so I bought a Galaxy Note 8, which is an incredible smartphone running an octa-core processor, 6GB of RAM, dual rear cameras and 128GB of storage.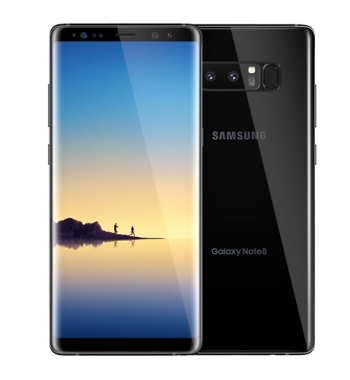 It also comes with the incredible S-Pen for doodling, and as shiny things go, it's the mutts nuts. My wife now has the Galaxy S8, which she's delighted with.
In our house, we also have three or four other PCs used by my wife and her son, as well as several others knocking about in my workshop– one of which I use for the transfer of VHS to digital as a service to my customers. All are running Windows 10, one with XP and from time to time, when the mood grips me, I play with Linux just to stay up to date. We don't use any Apple devices except for my wife's son who has a broken iPhone 7 that Santa will be solving by bringing him over to the dark side– Android.
About Me
When I'm not writing for DCT, which I have done now since Dave brought me on board in January 2014, I write fiction novels, fix PCs for my customers and ride around Buenos Aires on my motorbike. We enjoy a very speedy 100Mbps Internet connection and I often wonder how my brother, who lives in First World England, manages with his not so speedy 3Mbps (1.5 in reality). Maybe we're not so Third World down here, after all.
I'm very lucky to be able to write for DCT since there are so many subjects that come to mind and it's certainly true that I've picked up an enormous number of tips along the way.
—