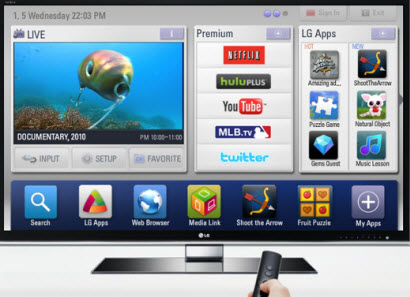 It's important to note that this story relates specifically to a smart TV manufactured by the LG company. Still, working on the 'where there's smoke there's fire' principle, it does tend to cast a shadow of doubt over the entire industry.
An LG customer living in the UK has discovered that his recently purchased smart TV is collecting and transmitting data relating to viewing habits back to the LG servers. The collected data includes a unique device ID which is associated with each channel change and also includes filenames viewed via connected USB devices. The man, who has published his findings under the pseudonym "DoctorBeet", is obviously a little bit smarter than his smart TV. He tested his findings by loading a mock AVI file onto a USB drive and connecting it to his LG TV. Sure enough, there was the name of the file included in the ensuing data stream.
Apparently, this particular TV model includes an option to turn off the data collection feature but, remarkably, setting it to "Off" did not change the behavior at all. This from DoctorBeet:
There is an option in the system settings called "Collection of watching info:" which is set ON by default.  This setting requires the user to scroll down to see it and, unlike most other settings, contains no "balloon help" to describe what it does. It turns out that viewing information appears to be being sent regardless of whether this option is set to On or Off.
Obviously DoctorBeet is a little perturbed by these findings, especially that the data is seemingly being collected without the consumer's knowledge or permission, which could definitely be construed as being an invasion of privacy. As a result, DoctorBeet expressed his concerns to LG and received the following typical 'pass the buck' response:
Thank you for your e-mail.

Further to our previous email to yourself, we have escalated the issues you reported to LG's UK Head Office

The advice we have been given is that unfortunately as you accepted the Terms and Conditions on your TV, your concerns would be best directed to the retailer.  We understand you feel you should have been made aware of these T's and C's at the point of sale, and for obvious reasons LG are unable to pass comment on their actions.
UPDATE
Following on from DoctorBeet's revelations, another LG consumer has also come forward with very similar findings, revealing that his TV is additionally pulling filenames from shared folders over his home network and broadcasting those as well.