Amazon Prime Price Going Up
If you are an Amazon Prime subscriber, you received an email this week announcing that Amazon is raising the price of its popular service to $99.
According to Amazon's website, the price change is set to occur on April 17th.  From my personal experience, that is not true since my membership is up for renewal and I am to be charged $99 for renewal on March 26th.
In case you are not familiar with Amazon Prime, it is a service offered by Amazon that includes:
Free 2-day shipping on eligible items.
Free standard shipping on eligible items.
Free Prime Instant Video access in the U.S. and Puerto Rico.
Kindle Owners' Lending Library access to members in the U.S.
Early access for members in the U.S. to download a new book for free every month from the Kindle First picks.
I routinely use the first three features and it is a great bargain for me.  Amazon hasn't raised the price of Amazon Prime since it introduced it about seven years ago.   Even at $99, it is still a great bargain for me.
That being said, if you act soon, you can secure another year at $79.    As reported by CNET, you can avoid the increase this year by disabling your Amazon Prime auto-renewal, canceling Amazon Prime to expire on its expiration date and gifting yourself Amazon Prime at $79 with a delivery date of your current expiration date.
But act soon!
Microsoft Office 365 Price Going Down
This week, Microsoft announced a new option for its Office software, Office 365 'Personal', for $69.99 per year.  It can be installed on one tablet and one computer.  Those that only need occasional use can opt to pay $6.99 / month.
The newest option is but one of several options available.
For just $30 more per year, you can buy the full version of Office 365 Home which you can 

install on up to five computers or tablets.

 

For $140, you can buy a standalone, Internet-free version of Office.

You can use the Outlook Web Apps suite for free.
Since 'one size does not fit all', Microsoft figures you'll be able to find something that fits you.
Google Drive's Prices Going Way Down
Last, but not least in the price-changing game, Google announced that it is slashing its storage prices.  The 15GB plan will remain free.  The monthly cost for 100GB of storage has been reduced from $4.99 to $1.99.  1TB of storage will now cost $9.99 per month, down quite significantly from $49.99.  In addition, monthly plans for at least 10TB of storage will be offered, starting at $99.99.
Windows 8.1 Update 1 Coming Soon – What's New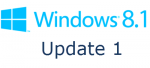 Update 1 for Windows 8.1 is expected to arrive in early April – April 8th to be exact. Apparently, the update will be delivered via Windows Updates and not via the Store. Changes are said to be mostly cosmetic, with some obviously designed to appease disgruntled desktop users – we will not see the return of the traditional Start Menu however.
The ever present "Taskbar" will now appear on the Start Screen as well as on the desktop, although it requires a mouse-over the bottom of the screen to display the Taskbar on the former.
Window Store apps will now be easier to close, integrating a title bar with Minimize and Close buttons. Again, displaying the title bar requires mouse activity, this time bumping the mouse up against the top of the screen.
Power and Search buttons have been added to the Start Screen, alongside the picture and name of the current logged-in user.
A new right click context menu has also been added to tiles on the Start Screen and the complete Apps view screen. The menu includes options to resize tiles, or pin to Taskbar or Start Screen.
It seems most of the changes included in the update are primarily designed to help make Windows 8.1 more user friendly for mouse and keyboard users.