On-demand malware scanners/removers have become an integral part of our overall security strategy these days with most users utilizing at least one of these programs to help maintain a clean machine. Antivirus software is never 100% foolproof and these types of second opinion scanners can often help identify what the antivirus lets through.
Personally, I seldom if ever scan my system using the resident antivirus – working on the theory that, if the antivirus failed to identify the malware in the first place, how sure can you be that it will identify the malware during a scan.
Fortunately. there are several very good free malware scanner/removers to choose from, with Malwarebytes Anti-Malware arguably the most popular. The beauty of these types of programs is that, when not is use, they consume very little to zero system resources. So, we can utilize as many as we like without fear of conflicts or any discernible additional load on the system.
Many users would consider one on-demand scanner enough and, under normal circumstances involving a relatively clean machine, it probably is. However, once the existence of malware has been confirmed, scanning through multiple engines would be the optimal plan of attack. Although some may be slightly better at detecting than others, they all work a little differently and what one misses during a scan another may well find. That's why professionals, who clean infected machines for a living, will always scan through multiple engines before declaring a clean bill of health.
The moral of the story is, it doesn't hurt to have several of these scanner/removers on hand, especially where portable is available.
Trend Micro Anti-Threat Toolkit – Portable and Free Malware Scanner/Remover
Japan based Trend Micro has been providing security solutions for more than a decade, including its well known free web-based scanner/remover House Call which has been around since the early XP days, long before the advent of today's popular scanner/removers. Not saying that Trend Micro ATK is necessarily the best, or even better, just that the company does know its stuff.
Trend Micro ATK is available in multiple flavors, all are portable:
As you can see from the above screenshot, 32-bit and native 64-bit are supported in both 'online' and 'offline' versions. The 'online' version, which is for computers with internet connection, scans in the cloud. The 'offline' version for computers without internet connection, including when malware might be blocking the connection, scans locally per medium of a built-in definition database.
I downloaded the Online 64-bit version which is a 24.0 MB zip file. Naturally, because of the additional database, the corresponding Offline version is considerably larger, weighing in at 46.7 MB.
Double click the downloaded executable to run the software and you'll be presented with Trend Micro ATK's minimalistic interface: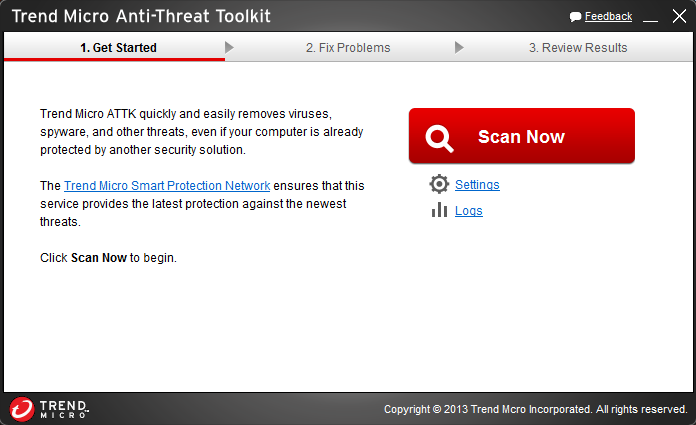 The default is set to "Quick" scan the system. So, if you want to run a "Full" system scan or scan a particular folder or connected drive, you'll need to go into "Settings" and set up your preferred scan options first: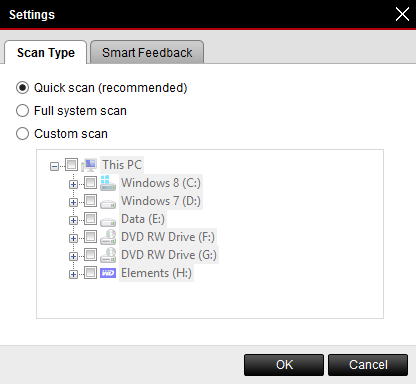 A full scan of my Windows 8.1 system took around 80 minutes to completion, so it is pretty comprehensive. The result… nil infections of course… I keep a tidy house. 🙂
Anti-Threat Toolkit detects and removes a variety of malware, including viruses, trojans, rootkits, spyware, and rogue programs. Identified malware will be listed in the interface at scan's completion with options to display additional details, fix issues that were found, and to scan again.
Bottom Line
It's always a good idea to have more than one scanner/remover telling you that your machine is clean, especially following a known infection. Trend Micro ATK comes from an experienced and reputable security vendor, plus it's one of very few of these types of tools that's portable. Definitely one for the toolbox.
UPDATE (10th October)
In response to a comment from reader Dan, here are a couple of screenshots showing ATK's results – of course, my machine is clean so in this case there was no malware to report:
Clicking on the "More Details" link opens the following: