Final Warning – Windows 10 Free Upgrade is Ending!
As a friendly reminder, I thought I would mention that Microsoft announced on May 5 that Windows 10 Free Upgrade will end on July 29, 2016.
After that date, the Operating System will cost $119, and a whopping $199 for Windows 10 Pro. If you have Windows 10 Home and wish to upgrade to Windows 10 Pro, it will cost $99. This looks like Microsoft is staying in line with their Windows 8 pricing.
Note: All prices are represented in US Dollars.
Here are five reasons to upgrade now:
It is Free Now! It won't be free later!
You Can try it out and see if you like it. If you don't, no harm no foul
You might be able to use both (see below)
You can run it in a Virtual Machine (VM) without effecting your current operating system
You will never have to feel silly buying it later
Those prices, if you are keeping score, are  a lot more than "Free". Don't be left out. Microsoft said there are now over 300 million active Windows 10 users.
Believe me, I love Windows 7 and still have it on the computer. I also have three versions of Windows 10*.
If you are not sure you want Windows 10 now, while it is still free, how bad are you going to feel paying over $100 for it?"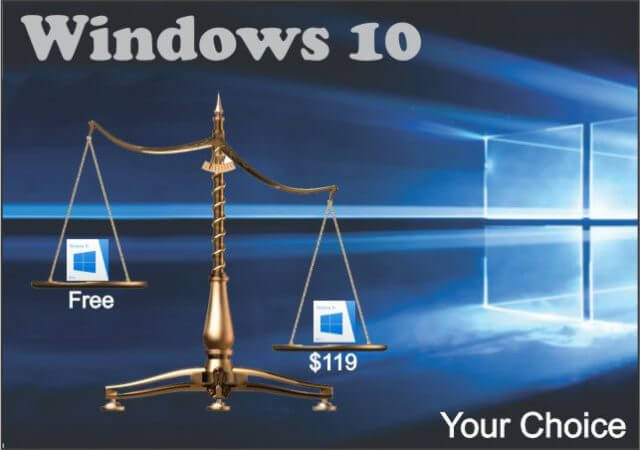 Remember, if you put in your request for Windows 10, and after the installation you don't like it, you still have 30 days to remove it from your system and revert to your original version.
*I have no idea if this will work for everyone, but I installed Windows 10 three different ways:
I first installed it from the Windows "Update Now" button while in my Windows 7 Operating System.
Then I used an official Windows 10 ISO from Microsoft with the Media Creation Tool. I had to use my Windows 7 Product Key to activate it.
Finally, I re-installed Windows 7 on a new drive and used the same Key.
Because they are all using the same motherboard and devices, I did not receive any warnings. I also have Windows 10 Insider build installed so I don't think there will be a problem for you. Once you have activated Windows 10, you will have the only Operating System by Microsoft that will not upgrade to another version number. Be assured, you will receive several updates and the one being released in July will contain major changes, but it will still be Windows 10. Final Warning – the Windows 10 Free Upgrade is ending!
As a final option, get the Windows 10 Media Creation Tool and install it in a Virtual Machine to try it out.
Summary
I really am not trying to push anyone into upgrading to Windows 10. That is not the intention of this post. I only want to make you aware of the impending deadline and if you are going to do it, do it before the cutoff date. Also, if you download it to try, you may easily move back to your previous Operating System. Finally, if you can download it and have it on your system, you can wait until Microsoft works out any bugs that might bother you.
Once you own it, you own it.
—