In the last week my father-in-law sent me an email which I quote:
Sher –

 

Trying to clean up my room.  I have a bunch of 3.5″ diskettes – some blank and some with info.

 

Are they of any use to me?  I also have the labels that affix to them.  They are yours if you want them.

 

dad
The email from my Father-in-law triggered a walk down memory lane for me.  I have not replied to his email yet.  I wanted to share some of my memories with you though.
I remember when floppy disks were actually floppy.  I  remember the 5-1/4 inch ones very well. I remember the protective paper sleeves, and the care you took not to bend the disk as you slid it in the drive, the notch on the side that you had to cover with tape if you wanted to write protect the disk, having to pull a plastic switch to close the drive.  Yup, floppies were pretty much a pain in the butt, weren't they? Transporting them was always a pain because once you bent one even a little too far, your odds of being able to use it again were slim to none.  Ever get one stuck inside the disk drive?  The little plastic or metal thing got bent and you had to get tweezers out & wish for the best.  Yup, been there done that.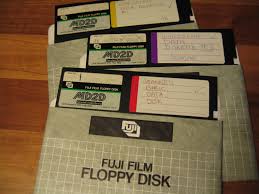 Then the evolution of the 3-1/2 inch disks took over, and you thought WOW, these things are just awesome. Smaller, more durable, and with much greater capacity — the older, bigger, floppier disks didn't  stand a chance.
The memory of 3-½ inch disks that sticks with me the most is having to use them to install Microsoft Office on my PC. There were over 30 disks that I had to put in one at a time and make sure to keep them in exact order.
What are your floppy disk memories if any?
Do you find it humorous to have nostalgia for something you would never actually want to even use again?
 Of all the software products ever released, what came on the highest number of floppy disks?
Windows 95 used 13 floppies as I recall.  I had a game called Oregon Trail which took a bunch & Police Quest Open Season… great game but had about 20+ floppies to load.
So, I think I will respond to my Father-in-law now and tell him "Thank you but no thank you on your offer."  Now, if he has some USB 3.0 flash drives he is looking to rehome, I am very open to receiving them.