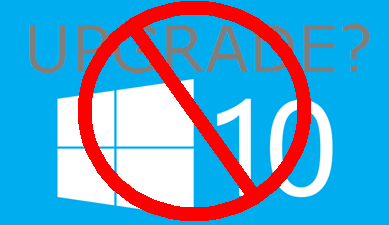 Microsoft has announced plans to broaden the availability of the Windows 10 upgrade for users still running Windows 7 and 8.1 on their computers. The company is also responding to the angry voices about the intrusive push tactics for Windows 10 by offering a good way to refuse the upgrade and stop the persistent upgrade nags. Finally.
Personally, I make a habit of learning a little bit about each update offered to my computer before allowing the update to be included in the update session. To get the info, I click the "more information" link on the right-hand side of the Windows Update window, which launches a new tab in my Firefox browser with a clue or two as to what that update does. I do this for both recommended updates and optional updates. Then, I make my own decision as to whether I should leave that check in the box, or click to clear it. If I don't want to see the update again, I can right-click on the update and select the "Hide update" option. Poof! It's gone. But, I digress…
Until now, computers that were domain-joined were excluded from the pushy Windows 10 advertising. In a move that seems intent on getting more small business computers moved to its new OS, Microsoft is making the free Windows 10 upgrade available to everyone who is not currently running an Enterprise version of Windows 7 or Windows 8.1.  Just like users who update their system through Windows Update, eligible domain-joined systems that use Windows Update for their updates will now begin receiving Windows 10 upgrade offers. The offers will begin in the U.S. this month and other countries will get them soon after. Systems that receive their updates by WSUS or System Center Configuration Manager will still not see the update advertising.
The proper instructions for opting-out of the Windows 10 offers can be found in the support article KB3080351 here: https://support.microsoft.com/en-us/kb/3080351. Following those instructions, users and administrators can block the Win 10 upgrade through the Windows Update app and prevent the Taskbar nags… err, advertisements.
If other means of suppressing the Windows 10 upgrade and upgrade offers were used on your system previously, you might want to reverse those means before you apply the proper instructions provided by Microsoft.
Further reading:
May your Windows always be clean!