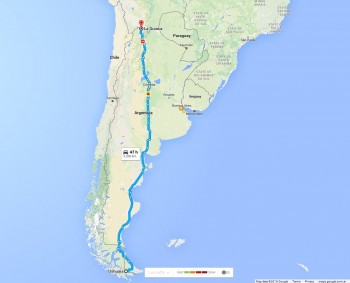 Real time GPS tracking in action
Last year the owner of Jawa Argentina completed a timed 'raid' on a motorcycle, joining the most northern and southern points of Argentina, that is to say, La Quiaca, Jujuy to Ushuaia, Tierra del Fuego, a distance of 5121 Kms. Since it was a timed trial, quite naturally with layovers, he still managed to achieve it in 88 hours, which is quite some going. On this occasion, riding on an RVM 600cc single cylinder, he hopes to cover the 4427kms in 76 hours, which would be a new record. He set off on his epic journey at 0545 local time today Friday 8th January.
On Robert's southbound adventure last year we followed him using Glympse, a real time GPS tracker which allows the user (or initiator) to send a Glympse link to others with a specific pre-set time period so that they can track your movements. Naturally, the efficiency of the tracking is dependant on the strength of the data signal of the user sending the GPS position, but I seem to remember that last year we were able to follow Robert's progress for the majority of his adventure. In fact, the accuracy of the tracking is awesome and getting better all the time.In this Earth view shot from last year we see Robert filling up with petrol and probably having a coffee in some Patagonian town on his way south.
Whilst the Glympse system is incredibly simple and accurate, it is largely dependent on the time period that the initiator sets, which when expired, will need to be renewed. I found that there were long periods when we didn't know where he was due to that self imposed limitation. On this current adventure Robert is using LocaToWeb, another real time GPS tracking app, which appears not to have a time limit, although you can probably set one.
As I've already mentioned, the data signal is key to the tracking, however the system does catch up if the signal is lost for a period of time, as can be seen from this up to date shot when the signal was lost for an hour or so.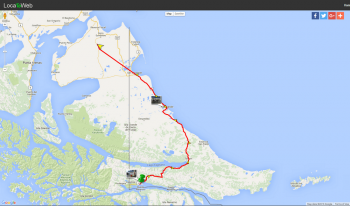 The person being tracked can also upload photos during the journey and followers can join the group chat, offering words of encouragement, which is nice. Also, the status of the tracking is also shown, so that you know whether he's online or not.

A very easy to use interface too!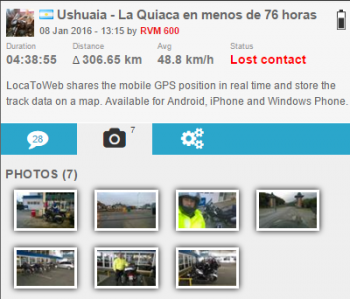 I'm planning a bike trip to the north of Argentina in the Autumn (April/May) and will definitely be adding this app to my phone, to compliment the Garmin Nuvi GPS that I use already. Here's a shot of my bike fitted with the 12v charger and GPS.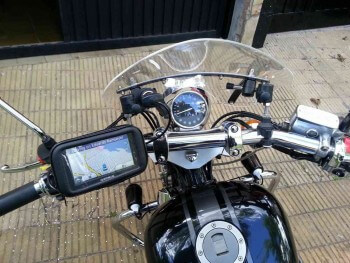 Which real time GPS tracker to choose?
So far, I've only had experience with Glympse and LocaToWeb and only as a spectator so to speak. Whilst Glympse is FREE and worth every penny you don't need to spend on it, LocaToWeb costs $0.99 to $2.99 depending on offers, but is still cheap for what it does.
Other similar apps include GPS Tracker, Personal Tracker GPS and a host of others, many of which are designed for personal safety and family security, such as Family Locator should someone be worried about their whereabouts.
From my point of view, it's a fun way of keeping up with someone you care about from a distance and you can say to yourself, "Ah well, at least they're still moving….".