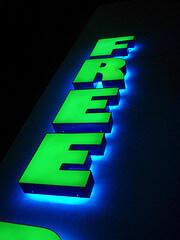 Hey, we all love free stuff – am I right – and DCT has been known to post the occasional software giveaway for our readers often with good response. Unfortunately we've been reluctant to post too many for fear of cluttering up the newsletter or that the giveaway would end before the newsletter was sent leaving some out. Do we send outdated information or have readers miss out – what a conundrum!
Welcome back my friends to the show that never ends
Beginning today you'll be able to visit our Daily Giveaway page every single day where a new and different piece of software will be given away each day! That's right, folks, shiny new software for your computer free for the taking. What's not to like about that?
It's pretty good stuff too – as I'm writing this Friday afternoon we're giving away Roboform Everywhere, which is one of my personal favorites!
What you need to know
Visit the DCT Daily Giveaway page each day by clicking Daily Giveaway in the menu at the top of every page.
New software will be presented each day.
Most software is completely free and at an extreme discount if not.
Provide your email address and we'll send you registration and download instructions.
Repeat daily for new software and a warm fuzzy feeling while basking in the knowledge that you are a software kingpin.
Disclaimer: DCT is not responsible if you fill up your hard drive with software. If you suffer from SHD (Software Hoarding Disorder) please seek help from the mental health experts at SHA (Software Hoarders Anonymous) where the motto is, "I'm not a hoarder. I really need all these programs!" Offer not valid outside the Milky Way, underwater, or to spiders – I hate spiders.