Upgrade NVMe 2230 To 2280
Many recently purchased PCs come with a 256 GB NVMe SSD. When you decide to upgrade to a larger capacity, you might notice that your NVMe has a 2230 form factor and larger capacity models carry a heavy price.
Two possible reasons for the higher price:
Most PCs tend to use the 2280 form factor making them more popular
The release of the popular Steam Deck gaming system which tends to use the smaller 2230 profile
Form Factor
The numbers used to describe the form factor of an NVMe or Micro SD slot describe the physical size in mm. The 2280 means it is 22mm wide by 80mm long. The Steam Deck only uses the 2230 form factor and the larger capacity cards are in high demand. Because of the faster speed of the NVMe, they are more popular and sellers are setting high prices.
Ultrabooks, tablets, and small-form PCs tend to use the smaller 2230 or 2242 NVMe cards while desktops prefer the 2280 and 22110 sizes. Fortunately, most PCs that have a 2230 form factor card installed will support the longer 2280 card if there is an additional retaining screw slot.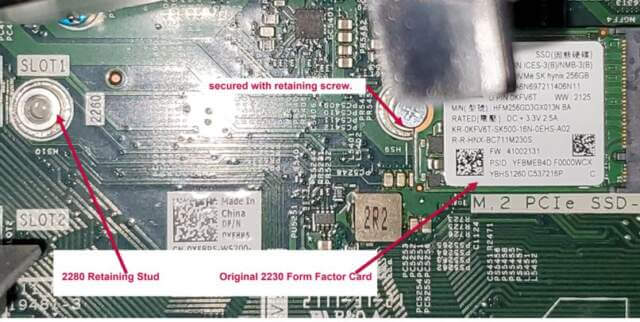 Cloning Methods
Cloning the NVMe card can be accomplished in a few ways that depend on your PC's configuration:
The first is the easiest if your PC has an additional NVMe slot. Simply plug in the new card and use cloning software to transfer the system.
Next is the most expensive. Using an NVMe cloner like the ORICO costs from $90 to $150. Extremely easy to use but much too expensive unless you repair computers for a living.
This method depends on your PC's configuration. If it has room for an additional SSD larger than your existing NVMe card, then first clone your system to that SSD and insert the new NVMe and clone it from the SSD.
A cost-effective method is to purchase an NVMe enclosure. You insert the new NVMe card in the enclosure and attach it to your USB port. Make sure the card is formatted to accept the OS and simply clone your system to the new card. Turn off your PC and remove the existing card. Replace it with your new one and you are done. The added benefit is you can put your previous card in the enclosure and use it as a fast external drive. These external enclosures can support 2230 to 2280 sizes and cost under $20.00.
If none of the above methods are available to you, the only method left is to install the NVMe on your PC and then initialize it and install a new Windows 10 or 11 operating system. You will have to reinstall your software but you will be using a clean OS.
Cloning
Cloning is not a normal computer task which can make it intimidating but with the right software, it is a simple matter of following steps. Instead of reinventing the wheel, I suggest you visit Clonezilla.org  which is free open-source software designed for imaging and cloning one drive to another.
—