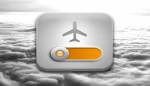 How did all that junk get on my computer? That is a question many of us have and the more junk, the longer it takes to start up and to do something.
So we run maintenance programs like CCleaner, Glary Utilities, Superantispyware, and Malwarebytes. They do a good job cleaning out stuff, but more things we never asked for seem to sneak in every day.

I know we have firewalls in Windows and we have routers that give us another layer of protection but things can still get through. I am sure you have read about hackers being able to open up the webcam on your laptop and watch you. This is why many place tape over their video cameras on their laptops so nobody can snoop on them. Then isn't it also possible for malware to get on your computer just by having it connected to the internet? Not trying to be paranoid… just saying.
Then there are those mysterious programs that "phone home" in the background while we are using our computer. Who knows how much that is slowing us down. So, if you are not in need of the Internet, turn it off until you are. Airplane mode is an easy way to do that.
When we take a commercial flight we have to switch our phones and computers to Airplane mode. We can still use everything on our devices except for what requires internet access so web searching and email are out of the question.
We can read anything on our computers, tablets, or cell phones, like articles and books and even watch movies and listen to music we have previously downloaded. No YouTube or Pandora without Internet access. We do have full access to our installed Office software even if it is Google Docs and, of course, any non-interactive games we might play.
Airplane Mode
We understand using Airplane mode when flying but why use it if we are on the ground? Searching for a viable WiFi connection or even a 4G LTE  connection on any of your devices affects performance and drains your battery.
(Note: If you need a quicker-than-normal cell phone charge, turn on Airplane mode on your smartphone. Just remember to turn it off when you are done or you will not get any phone calls.)
In the System Tray on your Taskbar click the Notifications button and then Airplane mode to turn it on. With Airplane mode turned on, all those programs that are "phoning home" won't be able to report in. With no internet access, nothing from the web can infiltrate your computer.
With it on you will not have internet access. No Facebook notifications. No email notifications. No Twitter notifications… now you can work on your offline applications without distractions. When you're ready for distractions, turn it off.
CHKDSK
Airplane mode is on but your computer is still running slowly? Perhaps it is not malware but a hard drive issue. I have had success in running the old CHKDSK program. It checks the file system for logical and physical errors and attempts to correct them.
I start with a backup just in case the corrective measures cannot make all the corrections and the system won't boot. This has not happened to me yet but "just in case", a backup is my insurance policy. Then I do a defrag using Glary or CCleaner or Defraggler to close up fragmented files. I do realize Windows does a defrag in the background but I like a more extensive one. I was surprised by how much of a difference these steps made.
Here are the steps I take to run CHKDSK: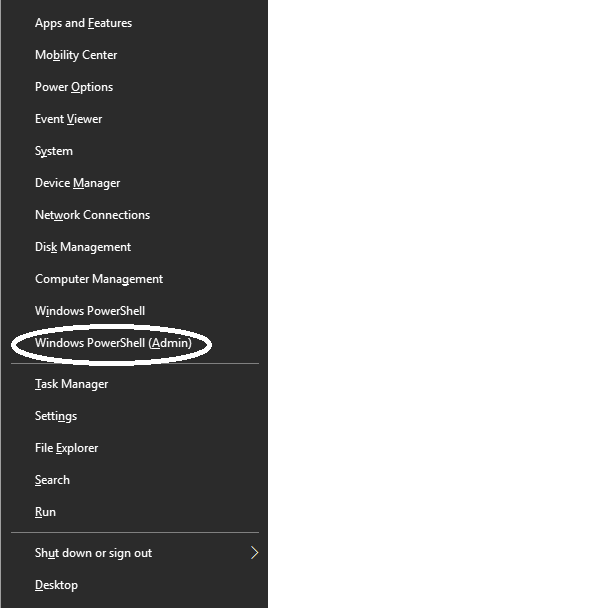 Win+X then A to open the Windows PowerShell (Admin).
(Ed note: If you still have the Command Prompt enabled in the WinX menu, then that will open instead of the PowerShell. The commands you use are the same in both cases.)

Type chkdsk /F and press Enter.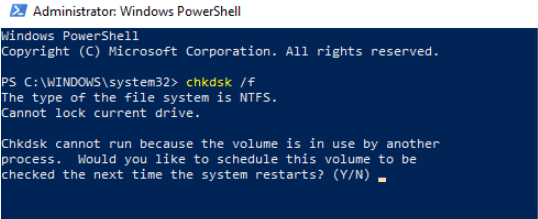 Type Y and then press Enter to allow CHKDSK to run when the computer is restarted.
Close the PowerShell window and restart the computer. Before turning control over to Windows the entire hard disk will be checked for errors and corrections will be made if possible.
This has removed the 100% disk usage I had been fighting with and sped up processing. I believe turning the internet off when not needing it is keeping me from some of those mysterious issues or at least keeping someone from accessing my computer during long idle times.
Dick
—